Birdsong… where do I begin? As my most beloved restaurant in SF, and possibly in the US, there are so many praises I have to sing about this place and their food philosophy. I've eaten here 3 times (the first in their first week of opening), the most number of repeat visits I've accumulated for any Michelin restaurant, and have tried nearly every item on their takeout menu during quarantine. This review will be focused on Birdsong's dining options during quarantine; I hope to do a fully-fledged tasting menu review once dining experiences return to normal!
Birdsong hasn't been an exception to the number of fine-dining restaurants that have had to rethink how they share their work with the rest of the world, and I'm enthralled to say that I think they've risen magnificently to the challenge. They started with an upscale casual Birdbox, and have since expanded to providing meal kits, pastries, desserts, and even offering meat from their dry age room. Though I'm looking forward to eating in their beautiful dining room again, a small part of me will be sad when they don't have the bandwidth to be making these wonderful entrees anymore. They've done a standout job of experimenting with different approaches and food that both deviate from their usual style, but maintain the quality and care they put into their cooking. I've had Birdsong 5 times during quarantine already (and a 6th if you count ordering a fried chicken Birdbox and delivering it for a friend's birthday), so I'll do a quick summary of items I'd recommend.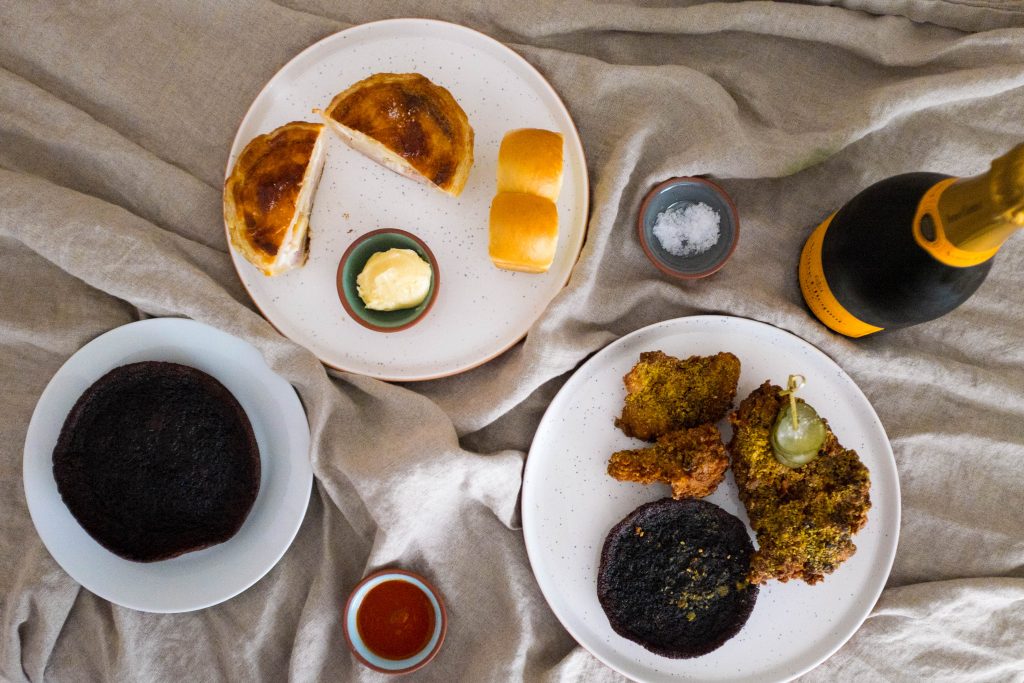 Fried Chicken Birdbox
The fried chicken Birdbox at Birdsong was the first item that came out on the menu when shelter-in-place began. It comes with a giant slab of fried chicken – with the claw included! Let me begin by saying I'm not a fried chicken person, and clarifying why. I know there are fried chicken aficionados out there, but I've always found the combination of overwhelming grease, kinda soggy skin, and pretty dry meat to be massively unappealing. It doesn't taste good, and makes me feel even worse. All of that changed with Birdsong's Birdbox.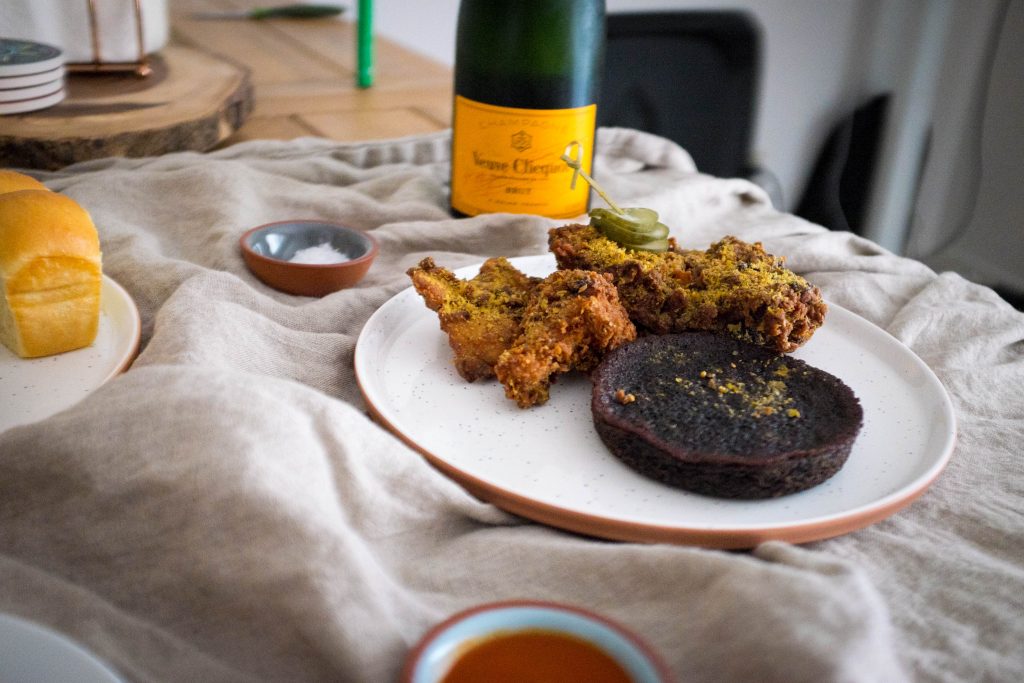 The chicken was crispy on the outside, and juicy on the inside; it was as perfect as fried chicken could be, with substantial breading, but none of the dreaded excessive grease. Accompanying the chicken is their house-made hot sauce, which I loved, though my dining companion said that the chicken was good enough on its own that the hot sauce was unnecessary! Dipping the chicken in the hot sauce and following it with a bite of cornbread and a sip of champagne* was all I needed on a delightful Sunday evening at home.
If you've been to Birdsong before, you'll know that one of the most famous items on their menu is the Peruvian cornbread. The third time I ate at Birdsong, my dining companions and I may or may not have wielded so much unfettered enthusiasm for the cornbread that they gave us another piece. Needless to say, I was over the moon to see this included in the box of goodies, and each bite of that cornbread was accompanied by closed eyes and a smile, savoring the perfect collision of taste and texture.
*Champagne and fried chicken is definitely a thing, because the acidity and fizz of the champagne cuts the richness of the chicken and cornbread. I figured that eating Michelin-grade fried chicken warranted a bottle of Veuve to be enjoyed alongside.
Duck Pot Pie
Pot pies are predictable comfort food, in the same category of excitement as chicken noodle soup. It's pretty hard to get a pot pie wrong, but it's equally as difficult to take a pot pie to a new level. Birdsong's aged duck pot pie is an adorable single-sized pastry. The mousse inside is made with duck breast, duck leg confit, duck cartilage, carrots, onions, and cauliflower, mixed together in a Parmesan bechamel sauce.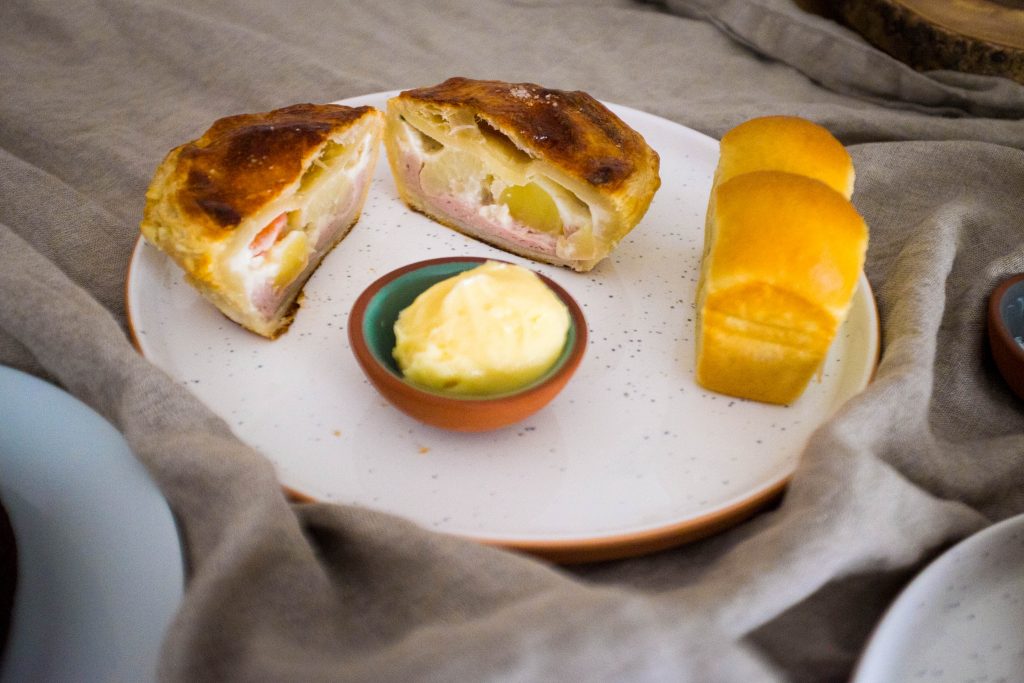 The pastry was perfectly flaky, but held its structure well, as evidenced by the photo above where the pot pie was able to be cut easily without self-destructing. The creaminess of the bechamel sauce and duck mousse coated the root vegetables well inside of the tart, and it wasn't as runny, something I often find is the case in other pot pies. The parker house rolls with whipped butter reminded me of brioche–slightly sweet and full of air, it felt like I was eating a cloud.
Strawberry Rhubarb Pie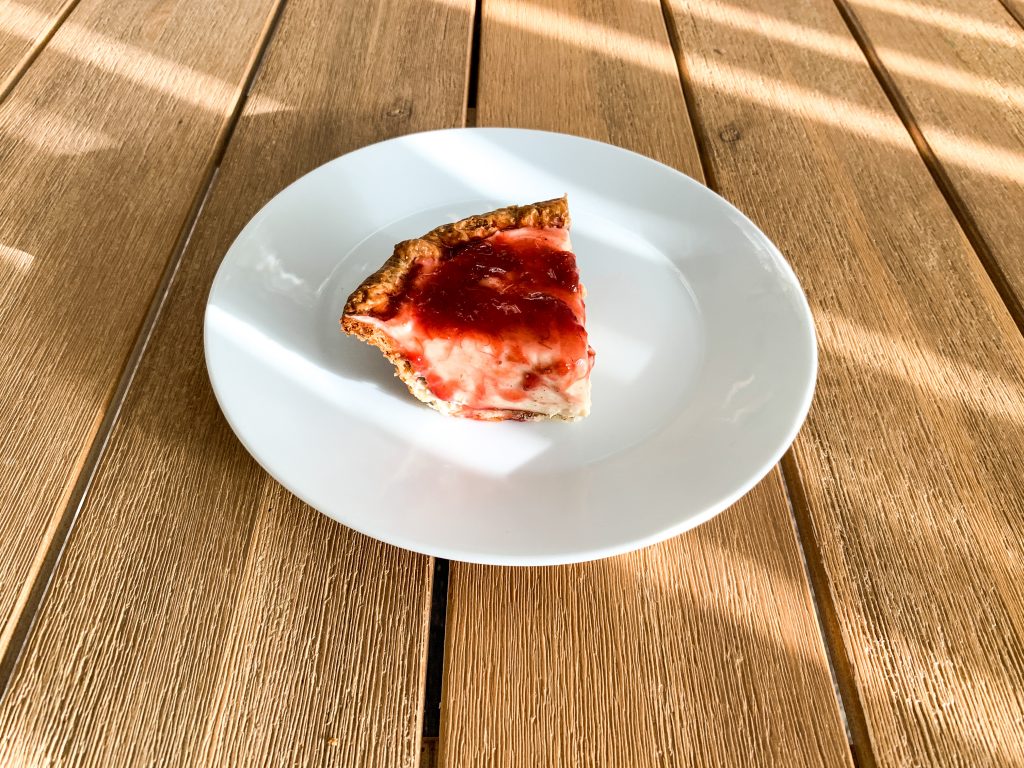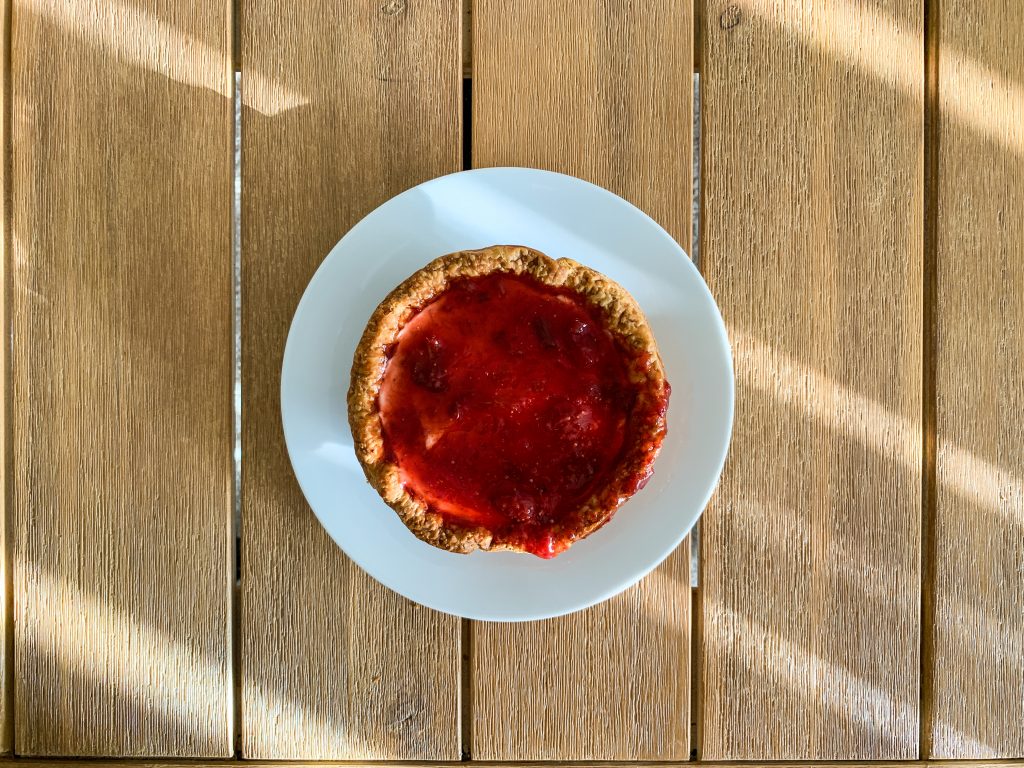 One of my favorite sweet treats on their menu is the strawberry rhubarb pie! Its flaky pie crust is lined with a thin layer of dark chocolate, filled with vanilla cheesecake, and topped with strawberry rhubarb jam, made in-house with fresh, farm-picked strawberries. The pie feeds about 4 people, so when it comes to my appetite, it feeds me, and me alone. I love that the pie isn't too sweet – the slight bitterness from the dark chocolate combines wonderfully with the fluffy texture of the cheesecake layer, and the strawberry rhubarb jam adds a tart acidity to balance out the richness of the pie crust and cheesecake. It has texture, flavor, and depth. I often feel like desserts are too rich, too sweet, or just overdone to the point of feeling sick when I consume more of them, but with this cheesecake, all of the different elements felt like they played nicely together for each bite.
While I have tried other items on the quarantine menu (the lamb kit, as well as the 200-day aged ribeye), I can't quite speak as highly of those as I can of the options in this post. I have a feeling that this has to do with cooking methods, and not the kits themselves. It's difficult to replicate the precise cooking methods Birdsong is well-known for, and reheating foods can only get you so close to the coveted real thing. I'm sure my opinion of the aged ribeye would have been much higher if Birdsong had cooked it instead of me, so I'll leave more cumbersome experiences for when dining in-person is an option again.