When I was living in China, my roommate Lili and I had staple dishes that we'd order at almost every restaurant we ate at. Dry-fried string beans were one dish that always made that list. The kick of heat from the chilis, the umami from the 芽菜, and the sumptuously blistered texture of the green beans was simply irresistible.
Now that I'm back in America, the toughest part of this dish is achieving that coveted 'dry-fried' texture, which usually requires deep-frying the beans in a hot wok, which can be difficult without a gas stove. I tried replicating the feel by blanching, steaming, and soaking the beans, but nothing would produce the same mouthfeel as the dishes I ordered in restaurants. I was actually feeling kind of hopeless and thought I'd have to resort to ordering from restaurants, until I tried roasted the green beans!
Roasting produces a really nice charred surface that is super close to the 'dry-fried' texture, but omits so much of the oil that accompanies a deep fry. The reason I can claim success on this recipe is because my current roommate (a friend I met in China) said this actually tasted better than the deep-fried restaurant version. It's super easy, so I want to share it with people who love this dish as much as I do!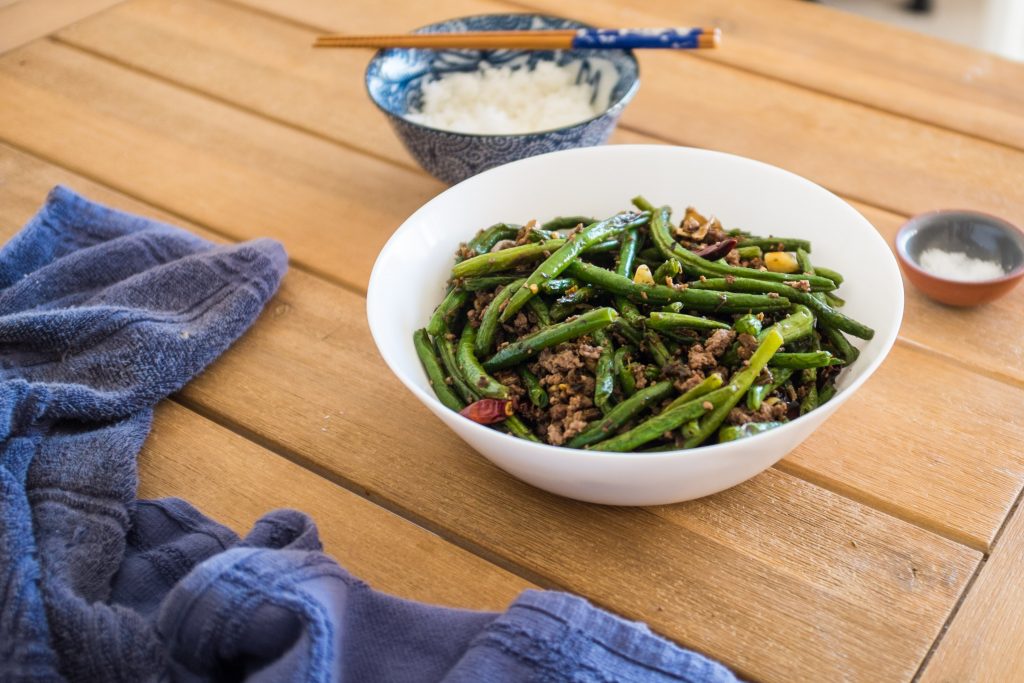 Basic Info
nut-free
gluten-free
refined sugar-free
paleo
vegan (just omit the beef)
Yield: 4 servings
Prep Time: 10 minutes
Cook Time: 20 minutes
Total Time: 30 minutes
Ingredients
150g (5.2oz) ground beef
600g (21oz) green beans
10g (0.35oz) dried chili
5g (0.35oz / 1tbsp) sichuan peppercorn
20g (0.7oz) garlic (~7 cloves)
20g (0.7oz) ginger
50g (1.8oz) preserved vegetable
Directions
Preheat oven to 425F (218C).
Toss green beans with a drizzle of olive oil & salt.
Roast for 20 minutes. Set aside after.
Preheat a wok (any high-heat pan, like stainless steel or cast iron, will do) on medium-high heat.
Brown the ground beef and set aside.
Add a drizzle of oil, and toast the dried chilis and peppercorns until fragrant.
Add garlic and ginger, stirring for 1-2 minutes.
Add the preserved vegetables, stirring for a minute.
Add the beans and beef back, combining well.
Serve immediately with rice!