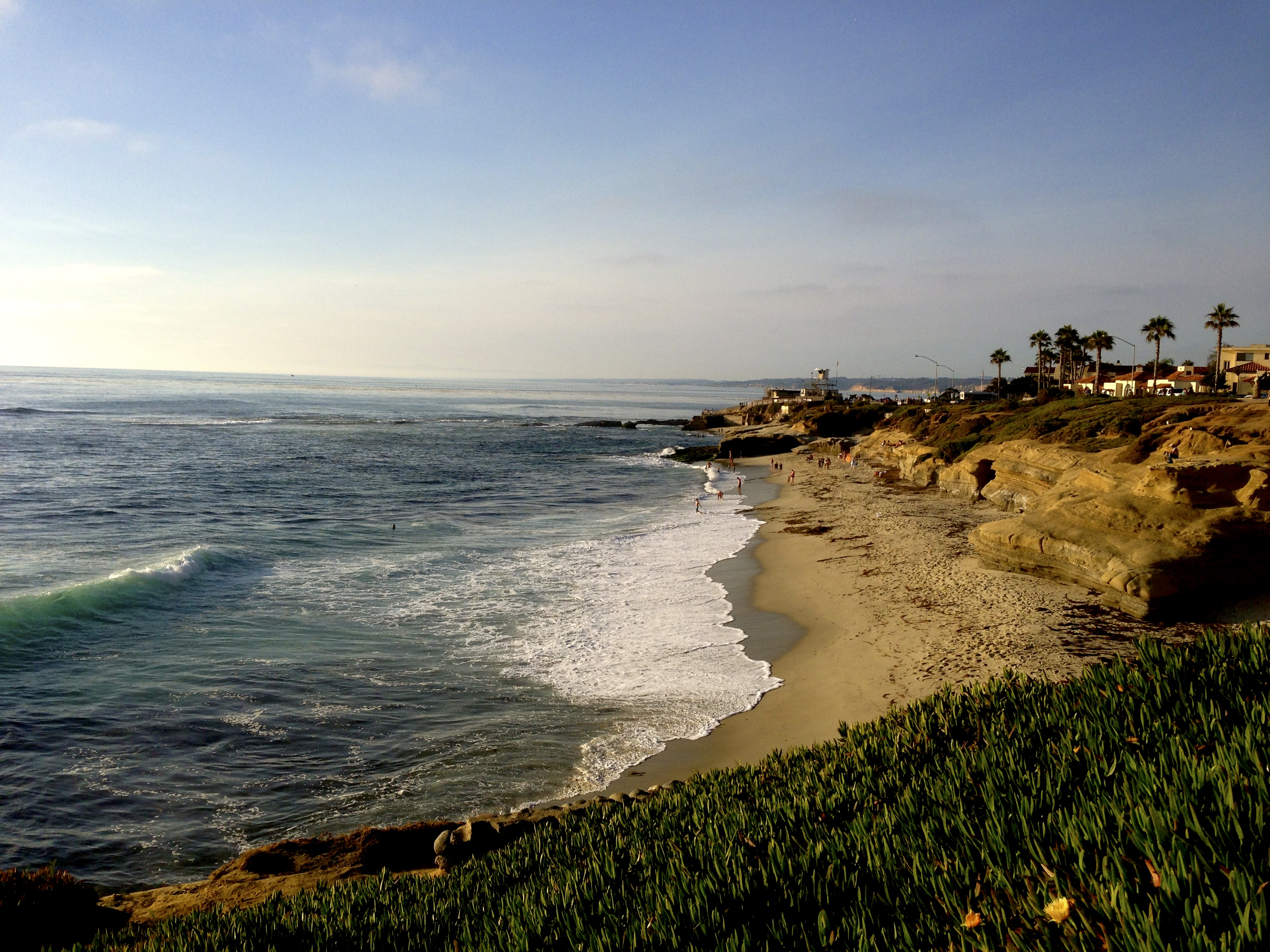 San Diego is one of the most stunning cities in the world. Surrounded by sand and water, there's a number of ways to spend your time in San Diego, especially if you love food and nature. Home to the best tacos in America, and truly world-class beaches, it's one of those places you'll instantly find yourself slowing down and stopping to smell the roses once you're there. I spent 4 years in San Diego for college, and have compiled a few of my favorite places! Places marked with two asterisks (**) are particular to San Diego–meaning you'll have difficulty finding a place of similar caliber outside SD.
Eat:
Happy Hours:
Karl Strauss (La Jolla): There is another location in Mira Mesa, but I prefer the downtown La Jolla one. They have a great HH from 4-6 where you can get flights of beers and apps for half off. Elevated bar bites that actually taste good – think chicken wings, gourmet chips & dip, and an amazing selection of beer. I usually get the flight to sample beers and some apps.
Whisknladle (La Jolla): Whisknladle does a great HH for their Sangria and some apps!
Prepkitchen (La Jolla, Little Italy): Prepkitchen is Whisknladle's sister restaurant. It's more casual but they do a similar HH to Whisknladle. However, I recommend this one over Whisknladle because they have a better selection of appetizers.
Drinks:
Noble Experiment (Downtown)**: A hidden speakeasy tucked into a random alley in downtown

San

Diego

. Reservations are highly recommended; you make them by texting 619-888-4713 up to a week in advance. They have some out of the world drinks; if you come here, tell the bartender your taste preferences as opposed to ordering something off of the menu and they'll whip you up your most vivid fantasies, liquid form! Cocktails are some of the best I've had in the world; their bartenders are exceptionally talented.
El Dorado Cocktail Lounge (Downtown): El Dorado was one of my favorite places to grab a drink in downtown. They have expert bartenders and a long, delicious list of cocktails. They also have a happy hour pretty late into the night (so after dinner cocktails would be perfect).
See:
La Jolla Cove (La Jolla)**: There is SO much to do here at La Jolla Cove! You can do water sports such as kayaking, snorkeling, etc. watch the sea lions, or just walk along the pristine walkways admiring the Pacific Ocean. Tons of natural California beauty.
The Cliffs (La Jolla)**: One of the most magical places to catch a sunset in

San

Diego

. It's right across from the UCSD campus. Kind of tricky to find if you haven't been there before. I recommend going a bit before sunset (around 7:30PM) because street parking is sparse around that time. When you make the right turn onto La Jolla Farms road, you should drive a bit and see a big gate on your left side, which is the entrance to the cliffs. People propose here all the time—seriously stunning, world-class viewpoint.
Potato Chip Hike (Poway): A moderate hike on the Mt. Woodson trail with a rock shaped like a potato chip at the end! I recommend going early because it's popular and can get crowded. Great views all the way up.
Torrey Pines State Reserve (La Jolla): There are a ton of great hiking trails in Torrey Pines, and most of them are pretty easy/relaxing to do. It's a beautiful and secluded area, so if you want a hike where you can talk and hang out throughout (with great views of the beach), this is the place to go!
Windansea Beach (La Jolla): One of the most beautiful beaches in SD. It's a little more tucked away and remote so there are not as many people there.
La Jolla Shores (La Jolla): Family friendly beach that is super clean and a great place to tan, swim, or hang out for a day! I used to picnic here all the time with friends 🙂
Brewery Tours (everywhere, but mostly northern

San

Diego

County):

San

Diego

is probably second to Portland on the West Coast when it comes to famous breweries, and most of them offer tours! Depending on what kind of beer you like, there are a ton of great places to take a tour and do some tastings. I recommend Stone Brewery or Lost Abbey, but if you Google you'll find several more.
Balboa Park**: You can easily spend a whole day at Balboa Park! There are so many things to see and visit. I recommend the botanical garden and strolling through the art museums. It's huge and you definitely won't get bored there, especially if the weather is nice out.
Coronado Island: Coronado Island is beautiful and there is a ton of outdoor activities you can do out there! I've only been a few times but you can kayak, hang out at the beach (I personally like La Jolla's better though), and there are a number of parks.
You've probably noticed by now, but the majority of my recommendations are in La Jolla. I lived in La Jolla during college, so it's the area I'm most familiar with, but it's also my favorite by far! It's the most untouched, cleanest, most beautiful, in my opinion. La Jolla is extremely family-friendly, and the ultimate place to relax and walk around. People are great, there are dogs everywhere, and the town is super adorable (think little boutiques and local eateries lining the streets towards the beach).
If you're going to San Diego for a few days, I'd recommend you pick and choose based on the neighborhoods listed in parentheses to make the best use of your time. Start with La Jolla and work your way down to Pacific Beach, North Park, and Downtown.