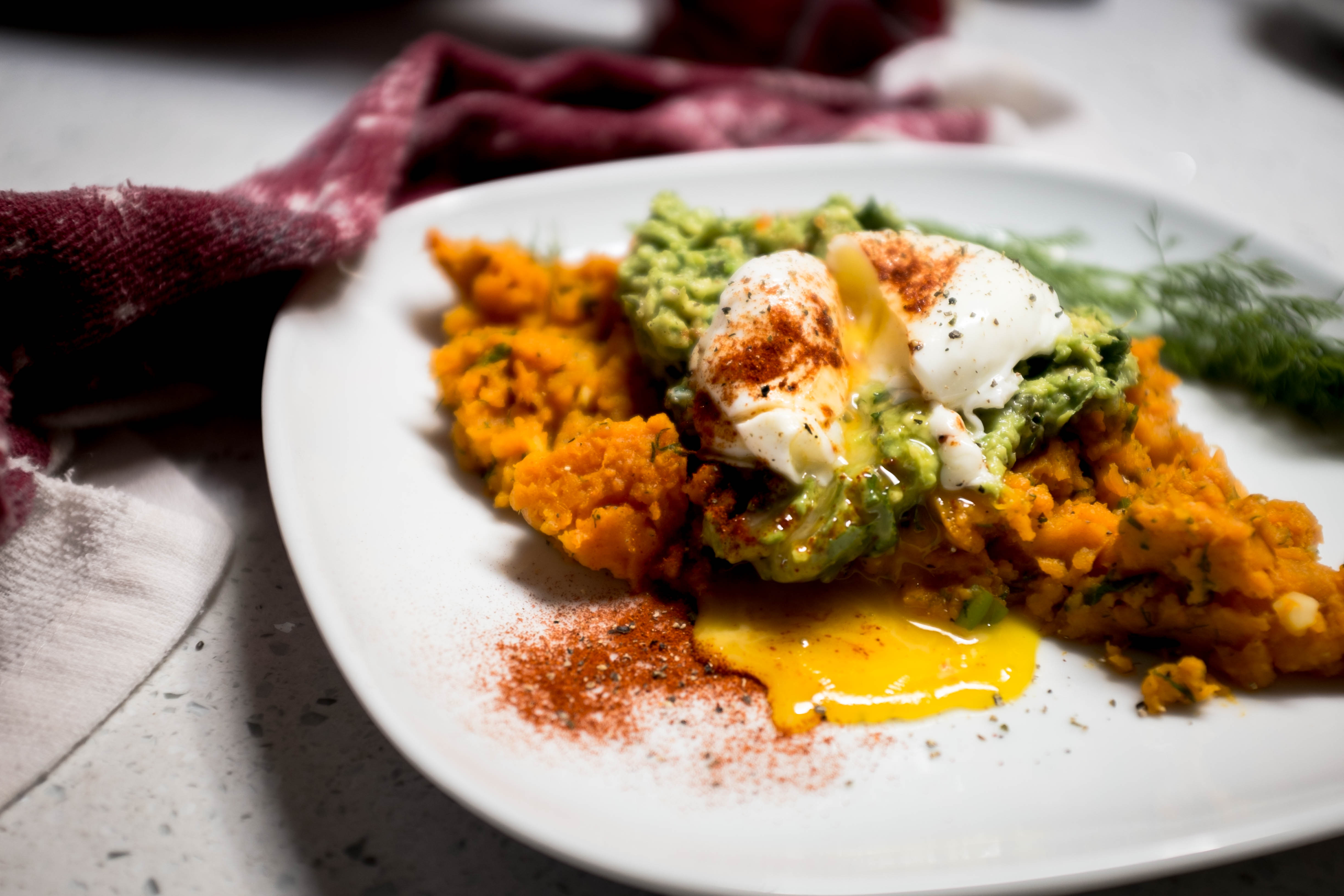 It's been a long time since my last post, hasn't it? Since my last post back in November, a handful of other priorities have surfaced in other areas of my life that brought about a wave of reflection on how often I wanted to post new recipes and commit to sharing new culinary experiments. At the end of the day, being in the kitchen is like coming home and sinking into a warm bath; my muscles relax, and my stress dissolves as I rhythmically rock the blade of my knife over sprigs of fresh herbs. The kitchen is a place where I can create love without restriction, and share it with others. When I'm experimenting with a new creation, there's no pressure to produce or impress. Ultimately, I decided that the cooking content on my blog should reflect a similar philosophy; beyond being a joy to make, and a joy to consume, there's nothing else that I really want to define the food here.
With weekdays that are typically very full and demanding of time, I love carving out time for a slower brunch on the weekends, consuming it with my nose in a book, and taking my time savoring each bite. Slower brunch usually involves poached eggs and mashed avocado, because those are two breakfast staples that I think taste entirely different when made fresh, and simply aren't indulgences I can afford during my work week. However, instead of spreading the avo on toast like I normally do, I was feeling a bit adventurous today, and decided that I wanted to pair my favorite duo with a carb source that typically isn't seen alongside avo and poached eggs: sweet potato!
Sweet potato isn't usually found in the same dish as mashed avo and poached eggs, because it can be tricky to make the sweet potatoes in a way that complements the two other savory items. This presented me with a fun little challenge: how would I be able to make savory sweet potato? The answer is deceptively simple: a boatload of herbs, garlic, and seasonings. The beautiful thing about this recipe is that it's easy to customize based on whatever herbs you have on hand. I used scallions and dill, but there's no hard-and-fast rule to follow here. It's a great way to clean out your fridge and use up some remaining fresh herbs that seem like they're on the verge of going bad. I will say that I think using fresh herbs and garlic, as opposed to pre-minced garlic and dried herbs, folds in an unmistakable savory aroma. And don't be afraid to use a lot of garlic and herbs, because the sugars in the sweet potato will dominate the flavor profile otherwise.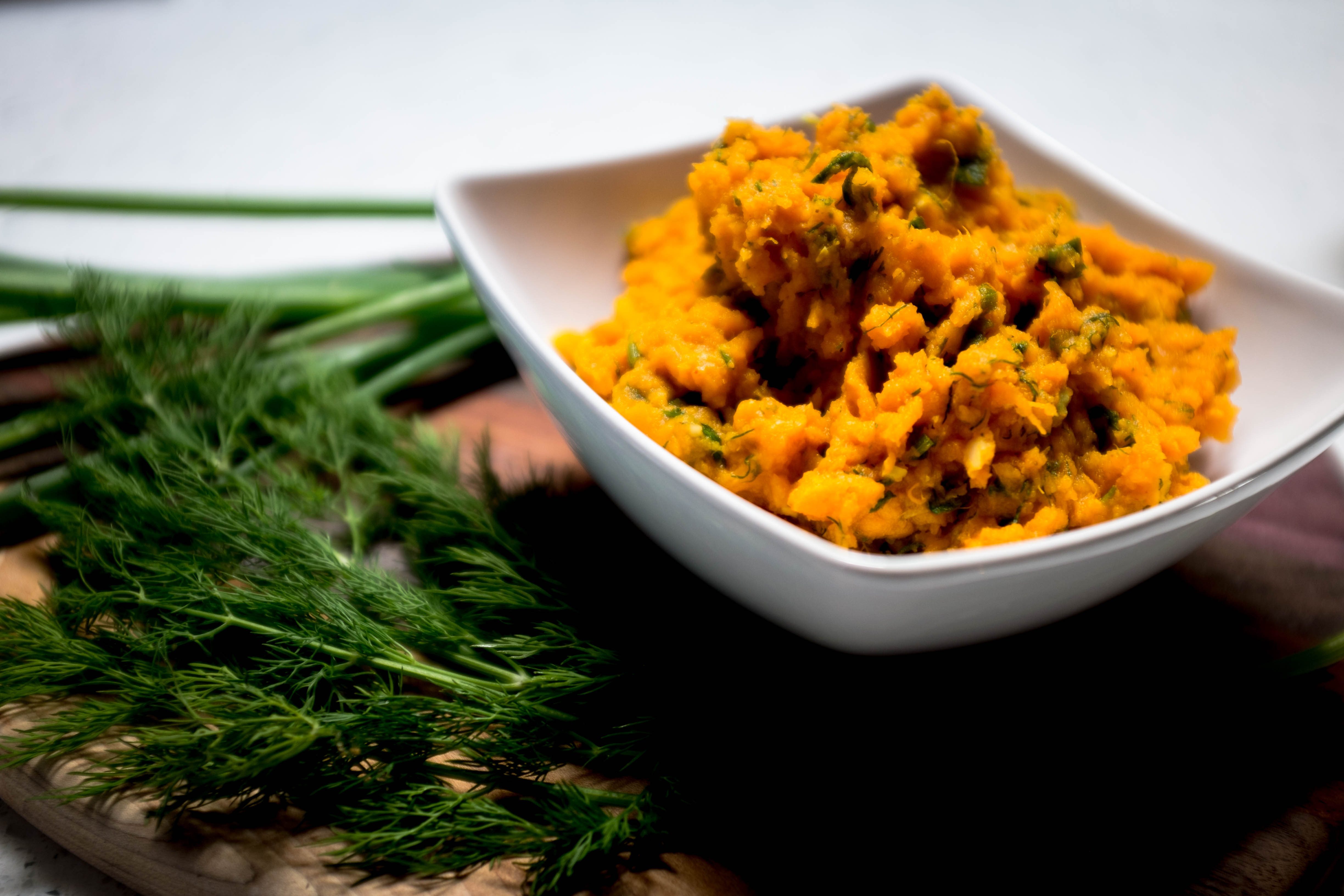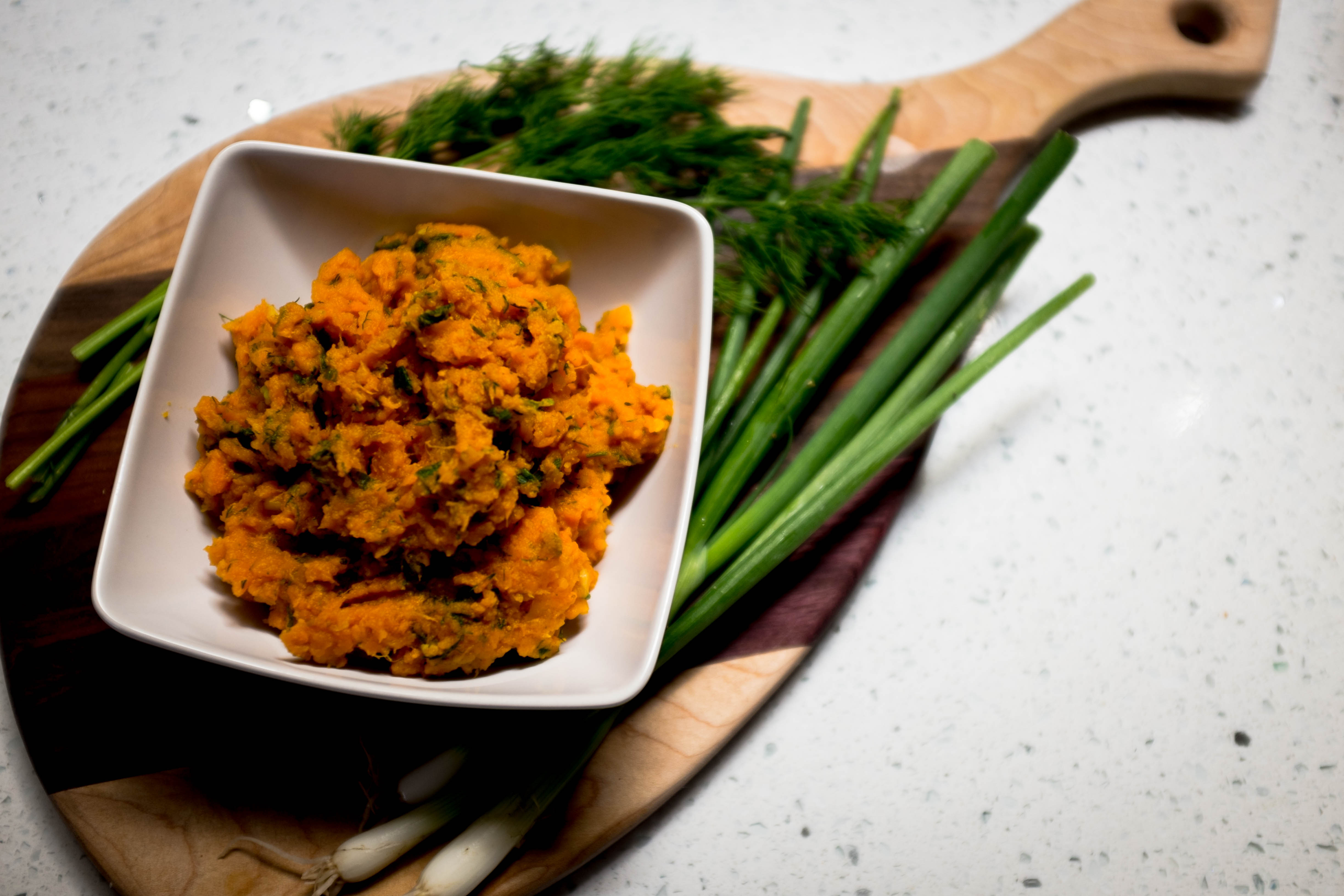 Cook time: 30 minutes
Ingredients:
2 sweet potatoes
6 cloves of garlic
6 sprigs of dill
6 sprigs of green onion (scallions)
Paprika powder
Onion powder
Tumeric powder
Apple cider vinegar
Salt and pepper
Instructions:
Wash, peel, and cube the sweet potatoes. Some people like the skin of the potatoes in the mash, so you can also leave it on for more texture.
Place the sweet potatoes in a large pot (I used a Dutch oven), and cover them with water. In order to shorten the cooking time, I use an electric kettle to boil the water separately. Once the water is boiling, reduce the heat to medium so that the water is a gently rolling boil, and let it cook uncovered until the potatoes are soft enough to easily slide a fork in and out (roughly 10 minutes).
While the potatoes are cooking, mince the garlic, and roughly chop the herbs. I only used dill and onion in this recipe, but you can honestly use anything you want!
Drain the potatoes and transfer them back into the same pot. Using a fork or spatula, mash the potatoes, which should be easy if they're cooked enough.
Fold in the apple cider vinegar, herbs, and spices (paprika, tumeric, onion, salt, and pepper), adjusting the seasoning ratios to your liking.
That's it! This is such a versatile, simple side to make that pairs well with just about anything. Use it in place of white mashed potatoes when serving a steak. Spread it on a slice of toasted rustic bread. Layer some smoked salmon and capers on top of it, drizzled with a bit of lemon juice. This morning, I made my favorite avocado mash (recipe coming soon!), and poached an egg on top, letting all that yolky goodness bind the different textures and flavors together. It was one of the best slow brunches I've made in ages.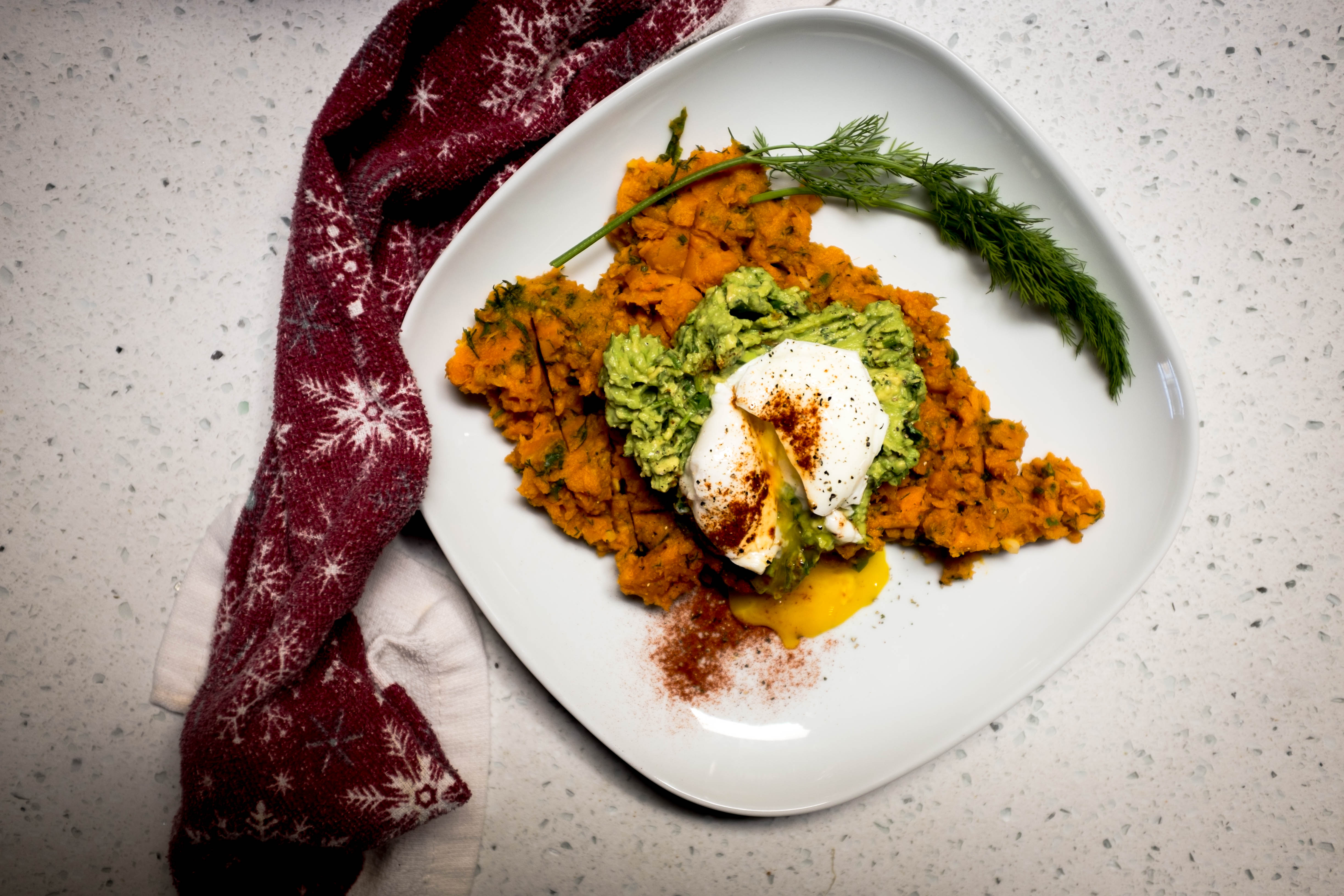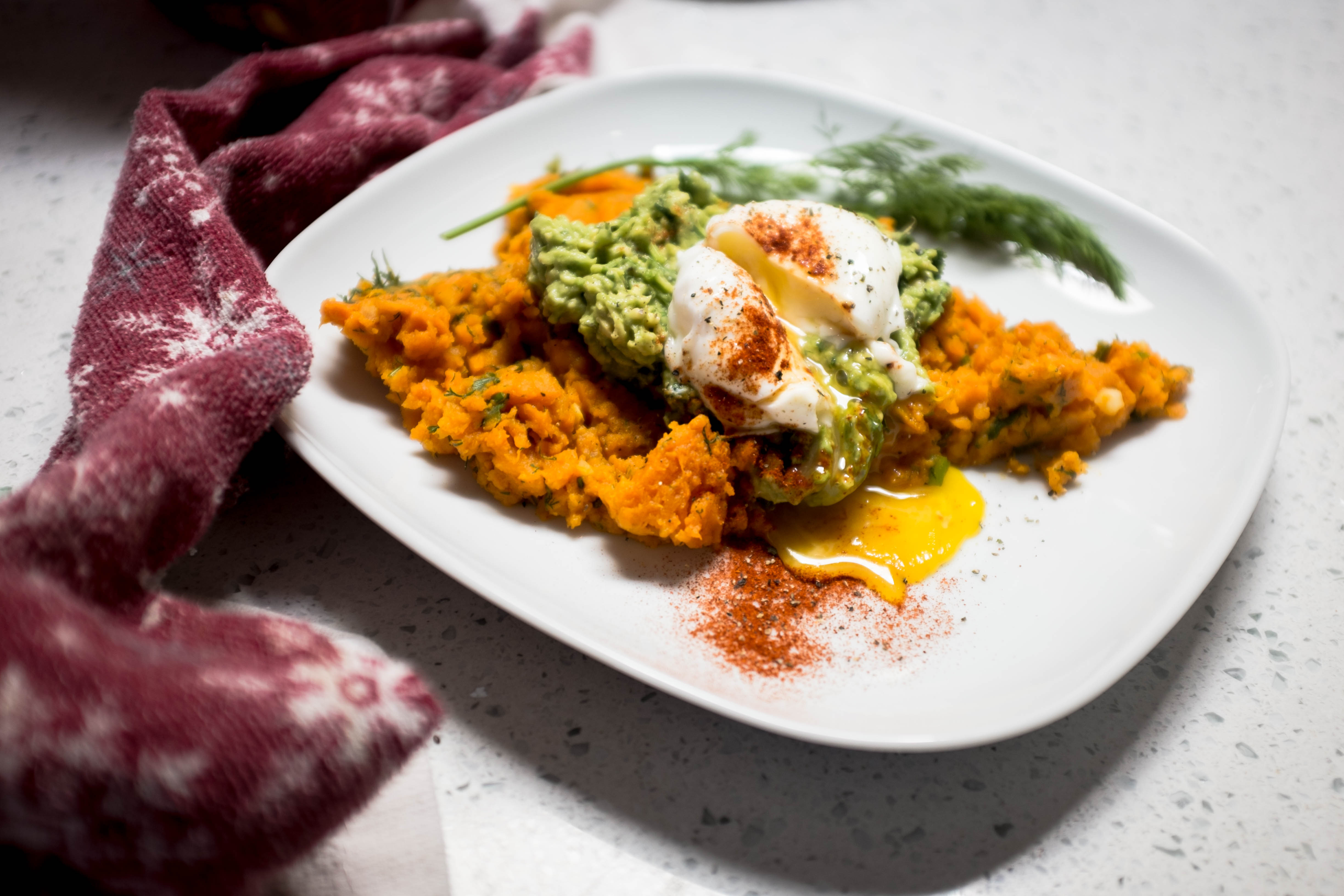 If you try this recipe out (or do any variations on it), let me know in the comments below 🙂 Happy lazy Sunday brunching.