Since I was a little kid, 担担面 (dan dan noodles) have been a staple when my family orders at Chinese restaurants. The first time I went back to visit Chengdu, my hometown, I'd beg my mom to let me eat them every day. My flavor of choice for most Chinese foods is 麻辣 (mala), the quintessential numb-spicy taste ubiquitous in Sichuan cuisine. In major cities in Sichuan (such as Chongqing, where most of my family lives), dan dan mian is street food, served for 15RMB and scarfed down as a quick lunch on a workday. Despite originating in Sichuan, most dan dan main variations in the rest of the world tend towards a sweet peanut sauce. If you're looking for that variation, you're in the wrong place. I like my dan dan mian with a formidable mala kick.
Something else that Chinese food is known for is including gluten and meat in everything. Even veggie dishes are often cooked in animal stock or lard, resulting in a fattier, richer umami taste. Dan dan mian is typically not gluten-free because it contains soy sauce and noodles. In this recipe, we swap out soy sauce for coconut aminos, and wheat noodles for buckwheat noodles, both of which are great gluten-free substitutes. The minced topping in dan dan mian is made from minced mushroom instead!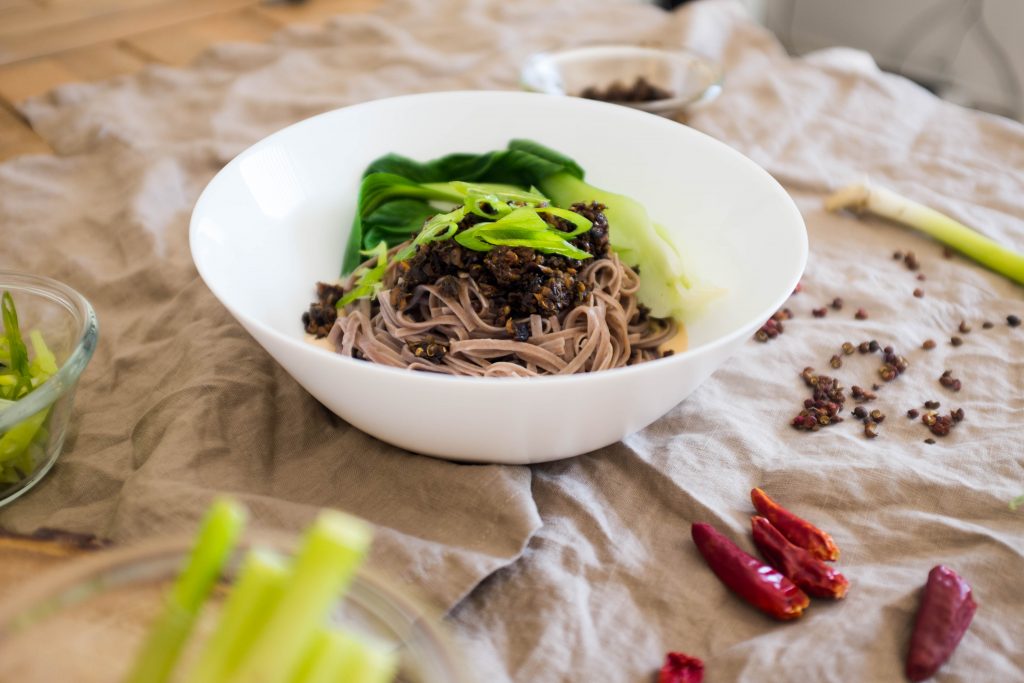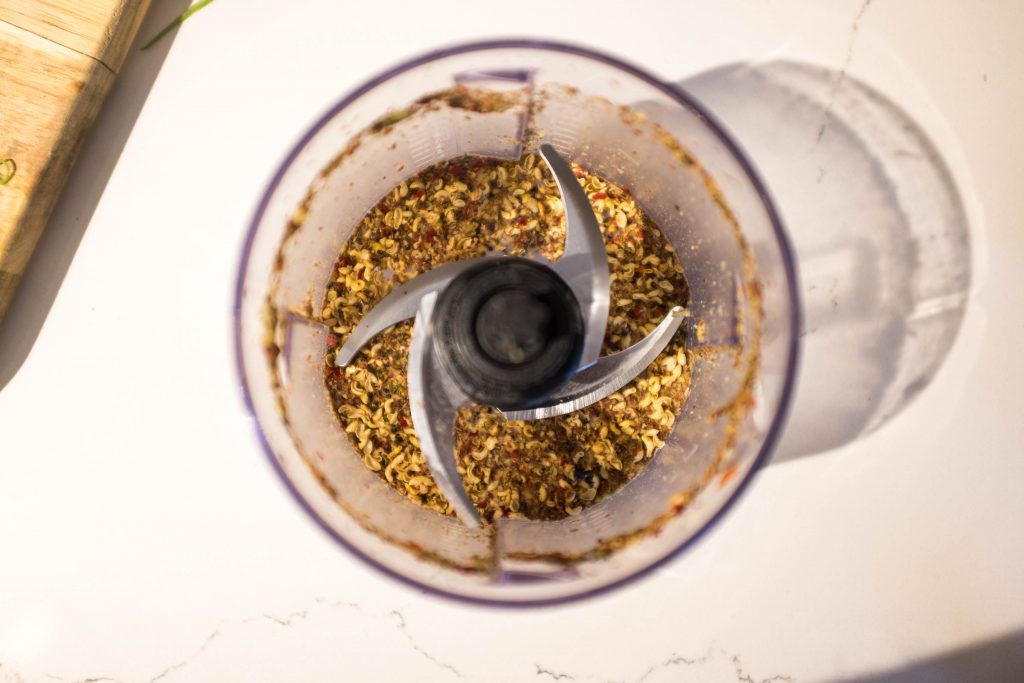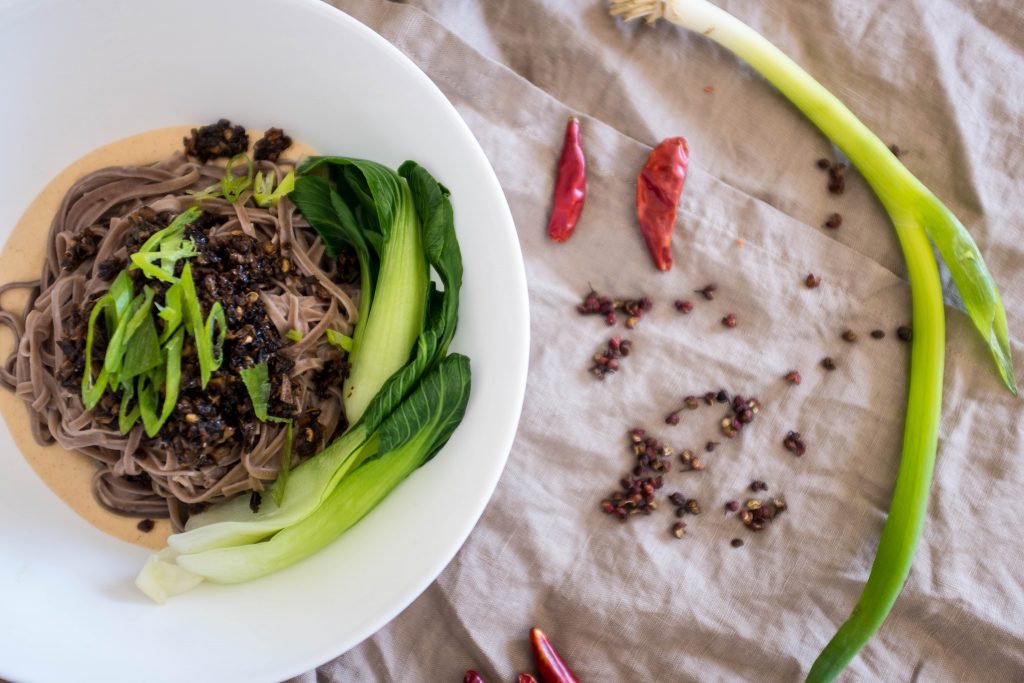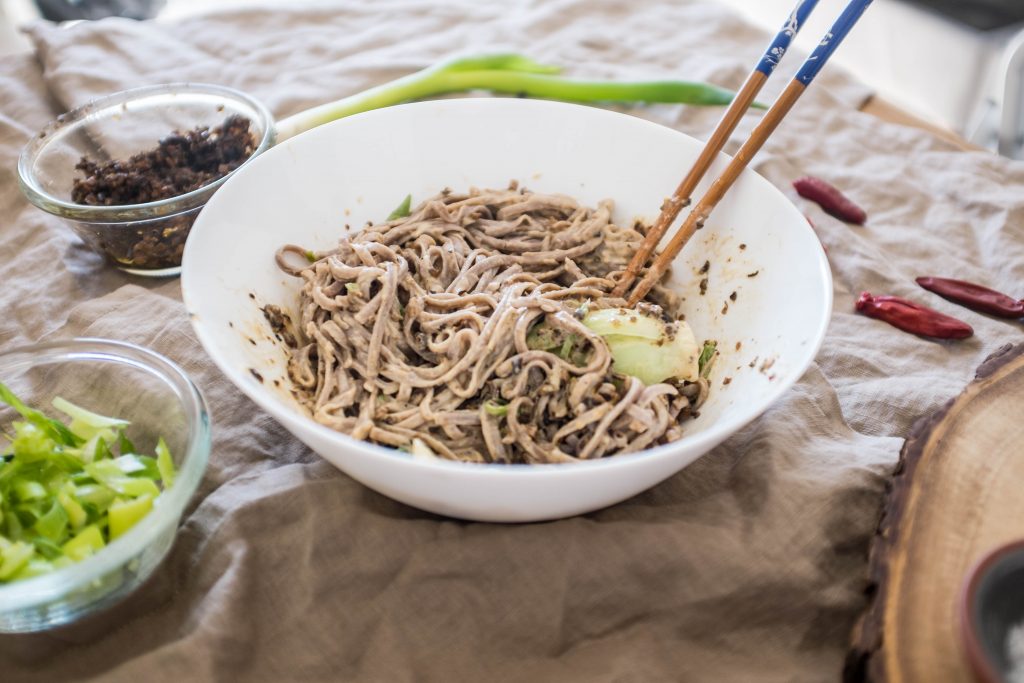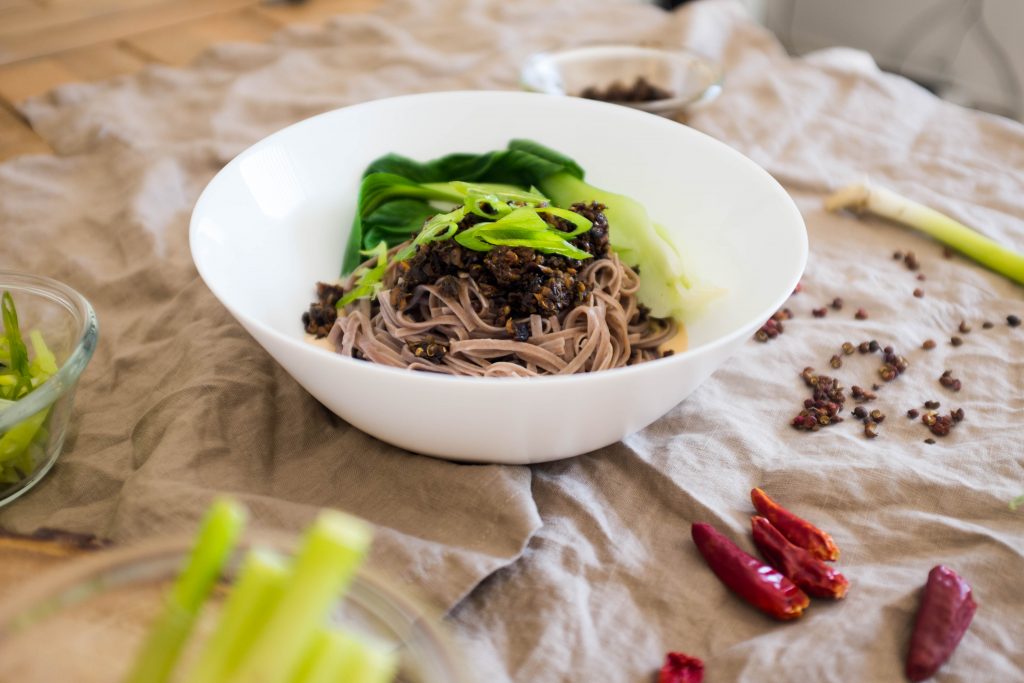 Ingredients (serves 2)
Minced Mushroom Topping:
蘑菇 100g mushrooms, minced*
姜 1 tbsp ginger, minced
胡椒 2 tbsp Sichuan peppercorns, ground**
辣椒 2 dried chili peppers, ground**
椰子酱油 3 tbsp coconut aminos
醋 1 tbsp vinegar (I used rice wine vinegar)
芽菜 2 tbsp preserved vegetable**
Sesame Sauce:
芝麻酱 2 tbsp tahini
芝麻油 1 tbsp sesame oil
辣油 1 tbsp chili oil
Other:
荞麦面条 100g buckwheat noodles
小白菜 2 baby bok choy bundles
香葱 1 tbsp thinly sliced scallions
Directions:
In a food processor, grind the ginger, peppercorns, and chili peppers. I like to roughly chop the ginger before putting it in the food processor.
In a pan that can handle high heat (a wok works best, but stainless steel worked great in my case), heat a copious amount of oil with a high smoke point (I used avocado oil) until it's hot. What we're trying to replicate is the hot flash cooking method typically used with a wok. You'll want to use a generous amount of oil so the mushrooms are properly fried.
Add the mixture of spices from the food processor and let them sizzle until you can smell the aroma (about a minute).
Add the minced mushrooms and cook for about two minutes. The oil should coat the mushrooms.
Add the preserved vegetable, along with soy sauce, chili oil, and vinegar, tweaking the ratio of the three by tasting and adding a splash more of whatever you feel is missing.
For the sesame sauce, mix the tahini, sesame oil, and chili oil in small bowl, adjusting the ratio of the three until it fits your liking. I like my sauce a little runnier, so I also mixed in a few tablespoons of water until the consistency was right.
For the noodles, bring a pot of water to a boil. Add the noodles and the boy choy leaves and turn the heat down to medium, cooking for 5 minutes. Drain the water.
Portion out the noodles and bok choy into two bowls. Pour the sauce over the noodles, add as much of the minced topping as you'd like, and garnish with scallions. Toss immediately to prevent the noodles from drying out and clumping together, and enjoy!
Notes:
* Shiitake mushrooms have worked best for me.
** Amazon sells 芽菜 (preserved vegetable), dried chilis, and Sichuan peppercorns, but these ingredients can also be purchased at most Asian supermarkets.
*** The key to all cooking is to continuously test as you go along! This is definitely true for both the mince and the sauce.