People might bill me as a hater for saying this, but I've never been a big fan of Los Angeles. Too spread out, too much traffic, a little too materialistic. In fact, I actively try not to spend too much time in the city, but as I have tons of friends living there, it's not always avoidable. One thing I will admit is that Los Angeles' food scene has always been impressive. Though SF has a considerable lead in quality when it comes to fine dining, and many molecular gastronomy experiences, LA trumps SF in: Korean food (absolutely no competition), Mexican food, and casual-chic, which is what I'd categorize Osteria Mozza to be. I'm extremely, extremely critical of casual-chic restaurants, as they're difficult to execute well. Dishes need to be approachable (no plating tweezer action to be seen), yet elegant and refined in flavor, texture, and presentation.
I was honestly a bit surprised that there wasn't a wait and plenty of reservations available when we decided on a whim to go. Given that Nancy Silverton has been featured on Chef's Table and has notched several other impressive achievements underneath her belt, I expected there to be more demand in visiting this restaurant, but am secretly glad there wasn't because it means I might not have gotten to experience it otherwise! To add a bit of context, I had **extremely** high standards for this restaurant, because a good friend of mine declared: "I only want to celebrate my birthday here of the rest of my life". I probably couldn't say that about any restaurant I've ever tried, despite boundless love for many. Anticipation was high for every item, and did not disappoint.
There's a small piece I want to share about the sommelier, who was probably the most impressive part of this restaurant. Candidly speaking, I know close to nothing about wine–only that it's a lovely way to accent food when paired correctly. Given the range of flavors we ordered, nothing specific stood out as we turned the pages of the wine list. When asked about our price range, we opted for a bottle in the $50-$70 range, and the only requirement beyond that was "something not too dry". As soon as sommelier left the table, I wondered aloud, "I should have told him I'm not a fan of cabs, don't want something too full-bodied, and something that's not too acidic.. some fruity or floral flavors would also be nice". Our sommelier came back with just one bottle—at first, I was a bit surprised, having expected him to be back with 3 or so choices and allowing us to whittle down the selection from there, but he confidently said he thought he had found the perfect wine for us. Doubt grew in my mind, until he described the wine as "medium-bodied, with berry accents, not too dry, not too acidic". It was pretty much as if he already knew what I had forgotten to explicitly mention to him, and one sip of the wine later, I was sold on the idea that our sommelier was actually a mind-reader.
What I'm really here to write about is the experience of aged balsamic, handmade pastas, and bombolones. So without further ado… let's get into the dishes. I apologize for the image quality on these photos–still experimenting with the best way to shoot in low light without behaving too obnoxiously in a nice restaurant!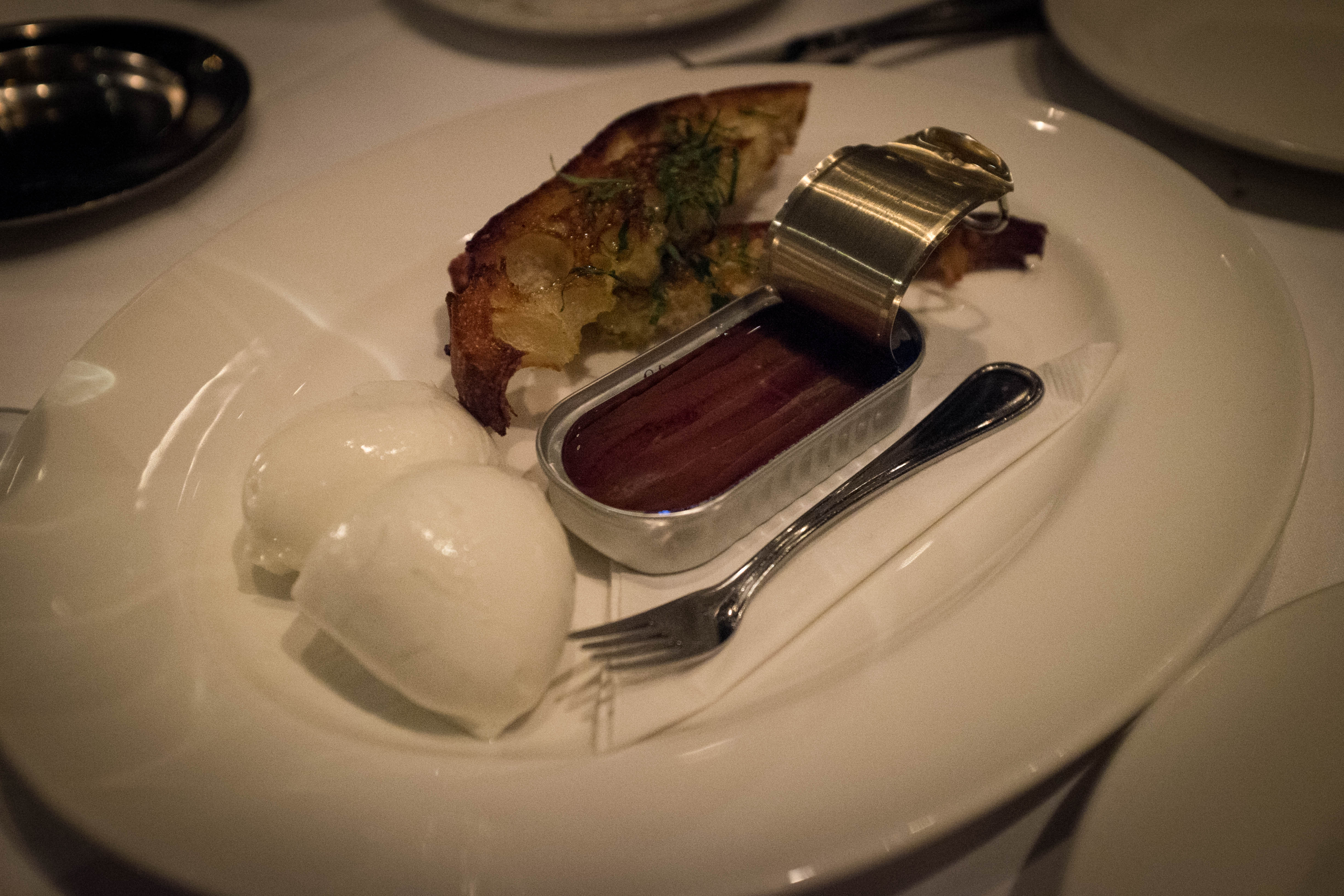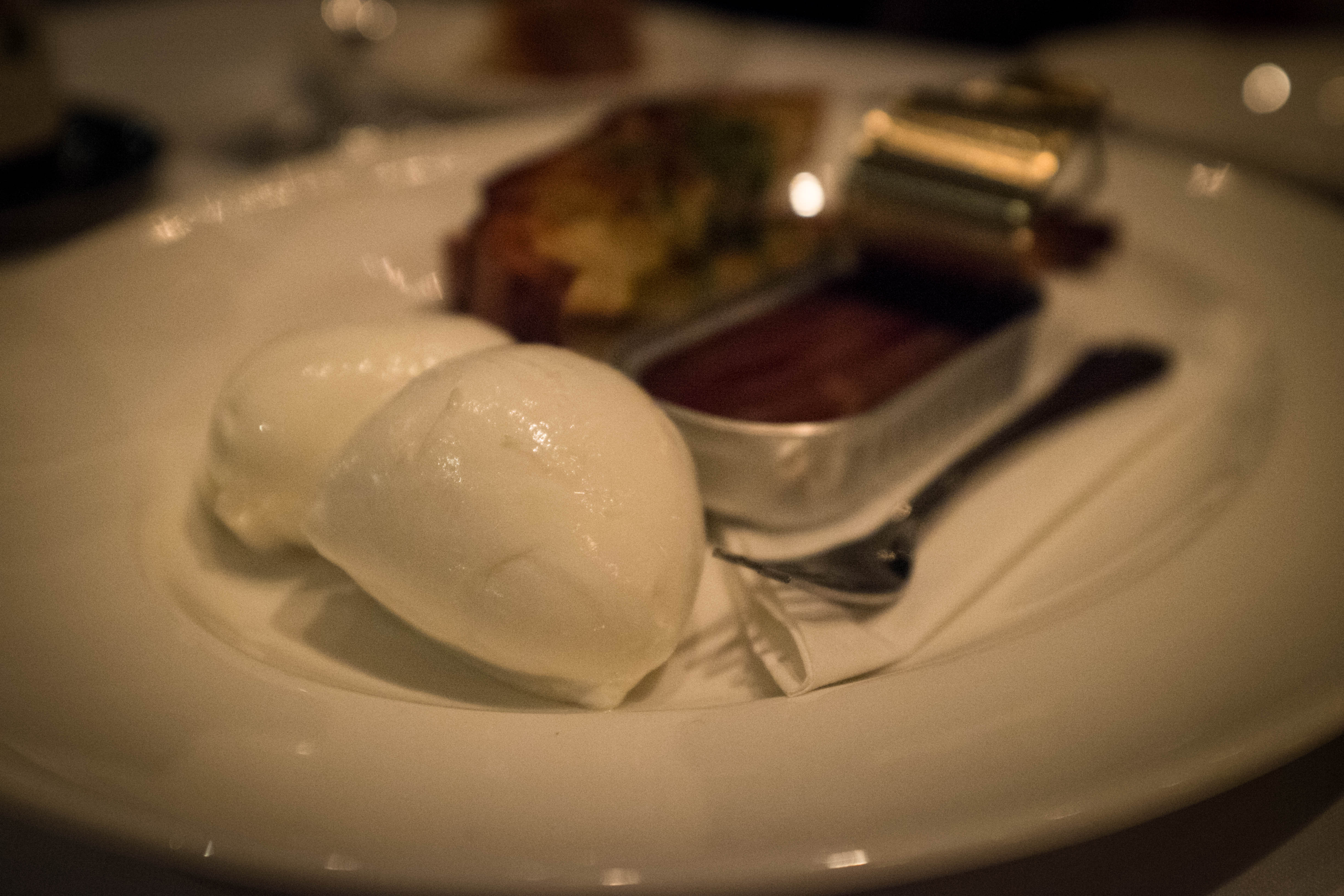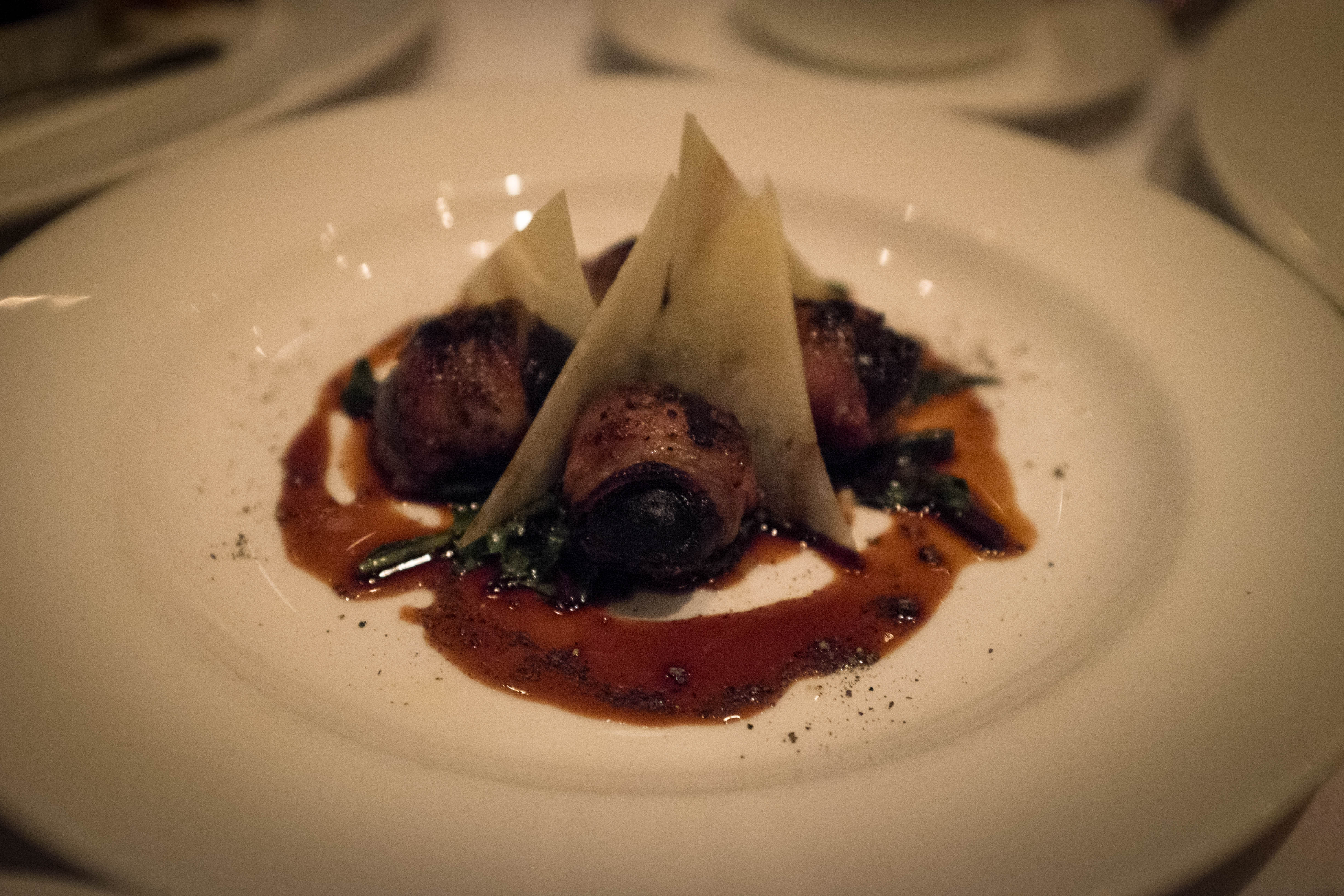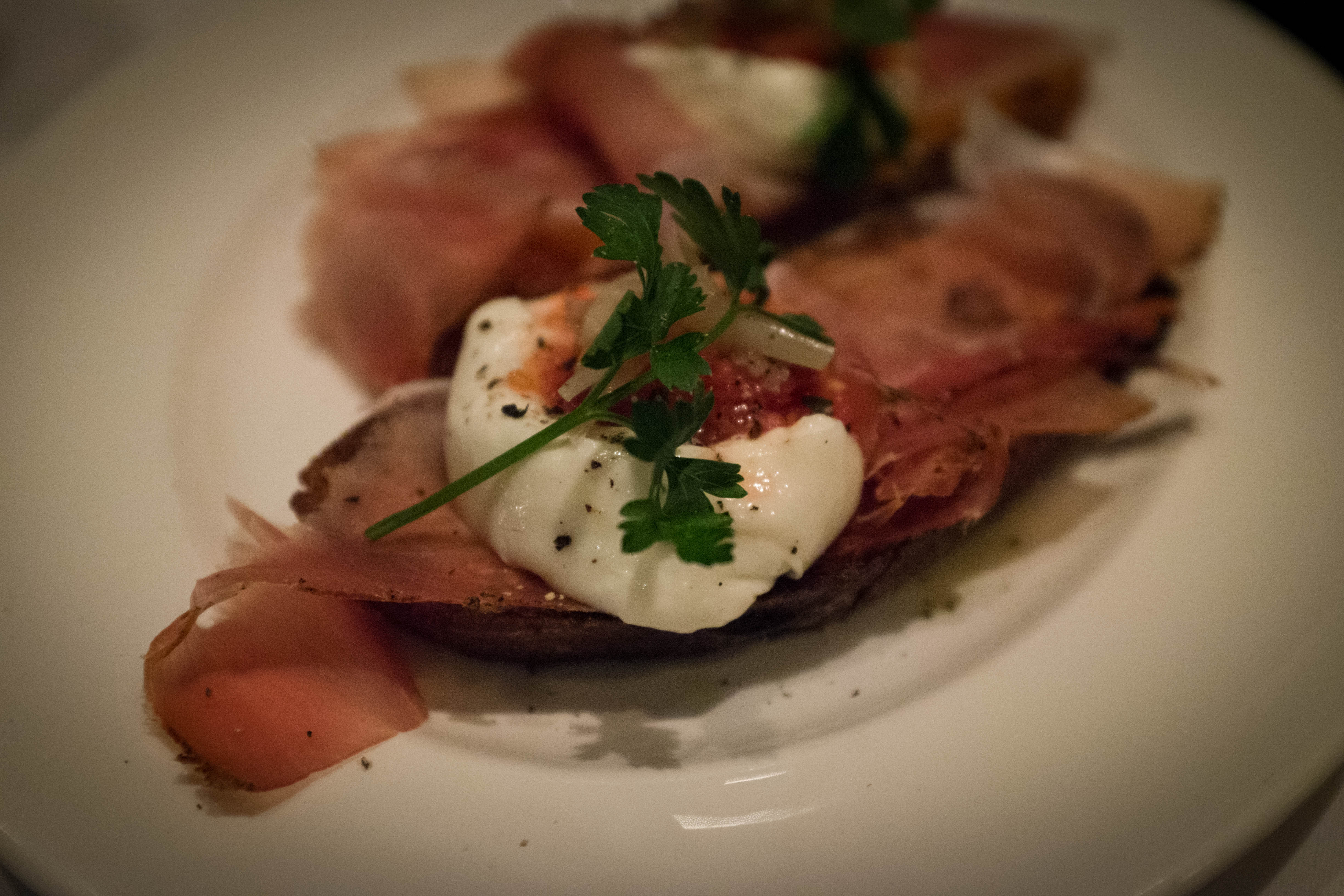 Burrata & Pane al Pomodoro: early girl tomatoes, speck & pickled ramps (10/10): I'm partial to burrata as it's my favorite cheese, but the table was in agreement that this was a knockout dish. It was a beautifully bright cheese: the texture felt reminiscent of gooey marshmallows, the sweetness subtle and simply divine with the sweetest crushed tomatoes I've ever had in my life.
Sweet Corn Capallecci (10/10): As a devout fan of chanterelle mushrooms, but only an occasional consumer to their somewhat prohibitively high price tag, I absolutely loved this dish. It was a definitely summer pasta; as I've only ever sampled capallecci stuffed with cheese, corn was a pleasant new experience for me. Chanterelles don't have quite as earthy of a taste as other mushrooms do, and they really added a layer of complexity to the salty-sweet dynamic at play. This dish could have easily been come out of a streetside trattoria in Florence, and eating it transported me back to the summer I traveled Italy a few years ago.
Fonduta Ravioli with 20 year old aged traditional balsamic from Modena, Italy (10/10): The clear favorite of the night was this ravioli. Not only was the fonduta unequivocally the best filling I've ever had inside a ravioli, but I'll get a bit more into the aged balsamic they used. Fonduta isn't a cheese, it's a concoction that can be thought of as fondue, made with fontina cheese and thickened with milk, eggs, and butter; in contrast, traditionally Swiss fondue makes use of wine and cornstarch, so fonduta comes out lighter and less "cheese-like" than fondue. If cheeses were textiles, this fonduta would be Chinese silk.

Incredible fonduta aside, what makes this dish special and unique is the 20-year old aged balsamic from Modena, one of the only towns producing balsamic vinegar in the same way it was produced for Italian royalty back in the day. Small things like this and asking a lot of questions about how food is sourced and prepared can provide a lot of insight into how thoughtful a restaurant is in designing their culinary experience, and how seriously they take their craft.
Balsamic vinegar bears many similarities to wine in its production process – both are made from grapes and fermented in barrels, and the longer, the better. It's important to make the distinction between traditional balsamic vinegar and the type used on salad, which generally lacks the complexity and nuances that come with a longer and more rigorous production process. How interesting is it that some of our most delicious food are produced through the process of fermentation? There's an entire organization in Italy solely dedicated to identifying and categorizing different types of balsamic, and the highest-grade type you can get has been aged 20-25 years. We were essentially drizzling our pasta with the Hermes of balsamic vinegars; it's crazy to realize that the grapes from this vinegar started fermenting when I hadn't even learned multiplication yet.

Bombini (10/10): Bombolones can be thought of as miniature fried donuts, and these were served with blueberry compote and lemon marscapone. Though I do think that this is the "safe choice" for dessert, knowing what to expect isn't always bad. I'm personally a huge fan of leveraging lemon against sugary flavors, and using fruit reductions to infuse sweetness. This was one of those dishes where each component contributed something different—the donuts contributed the texture, the blueberries added sweetness, and the lemon balanced both the density of the donuts and the sweetness of the blueberries. Each piece on its own would have been lackluster, but they worked well in partnership with each other.
Torta Della Nonna (4/10): this is the one dish I actively disliked in everything we ordered, and our table came to the consensus that it tasted like a rubber shoe. It didn't have much flavor and was so dense for what it was, and the honey didn't do anything to either enhance the flavor or offset the richness. According to a friend and fellow foodie, Torta della Nonna is Nancy's most famous dessert, but I have to say that our table unanimously felt the bombini outshined this selection by a long shot. It's unfortunate because dessert is the final impression of a meal, and finishing strong leaves you basking in completion and bliss, rather than wanting for more.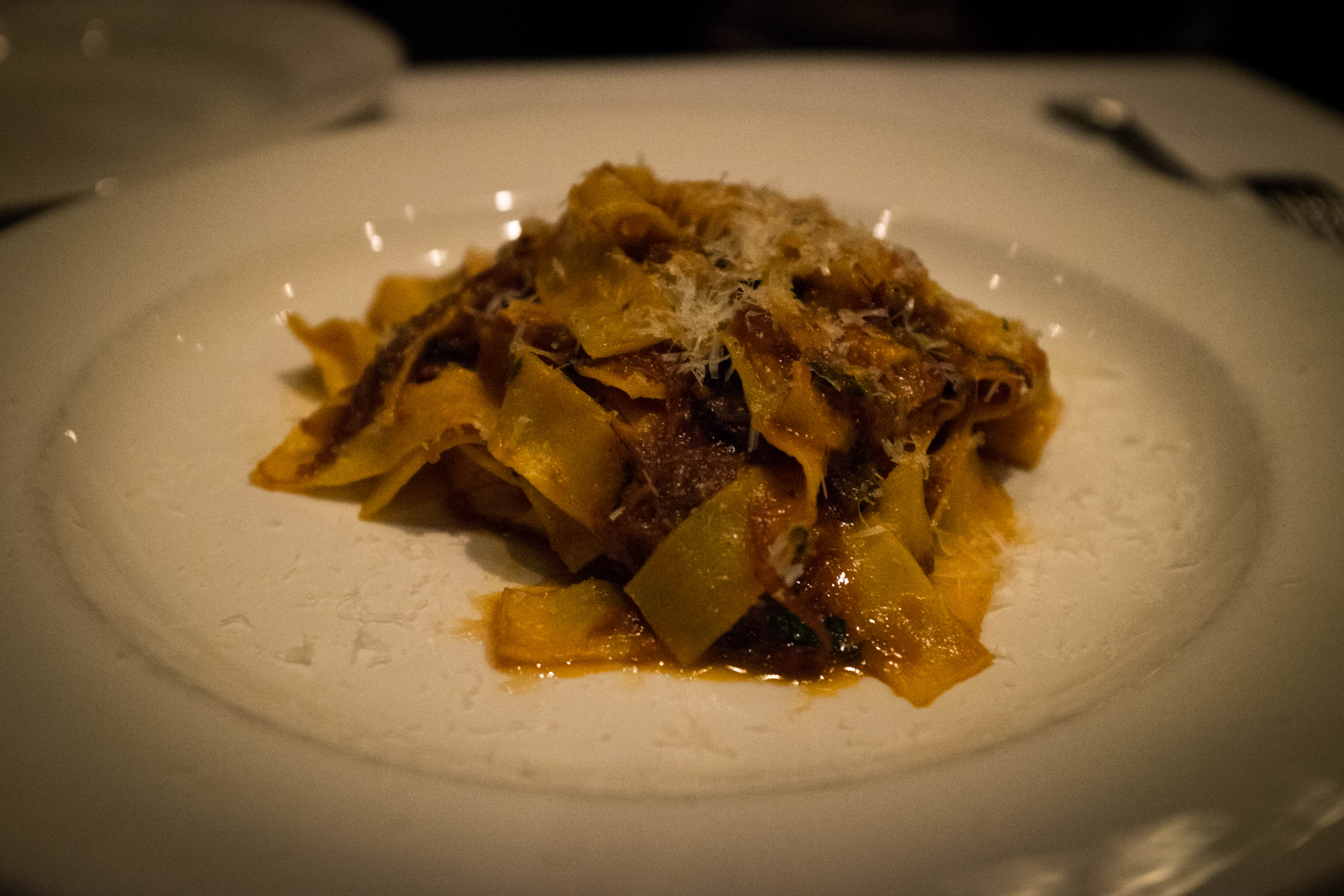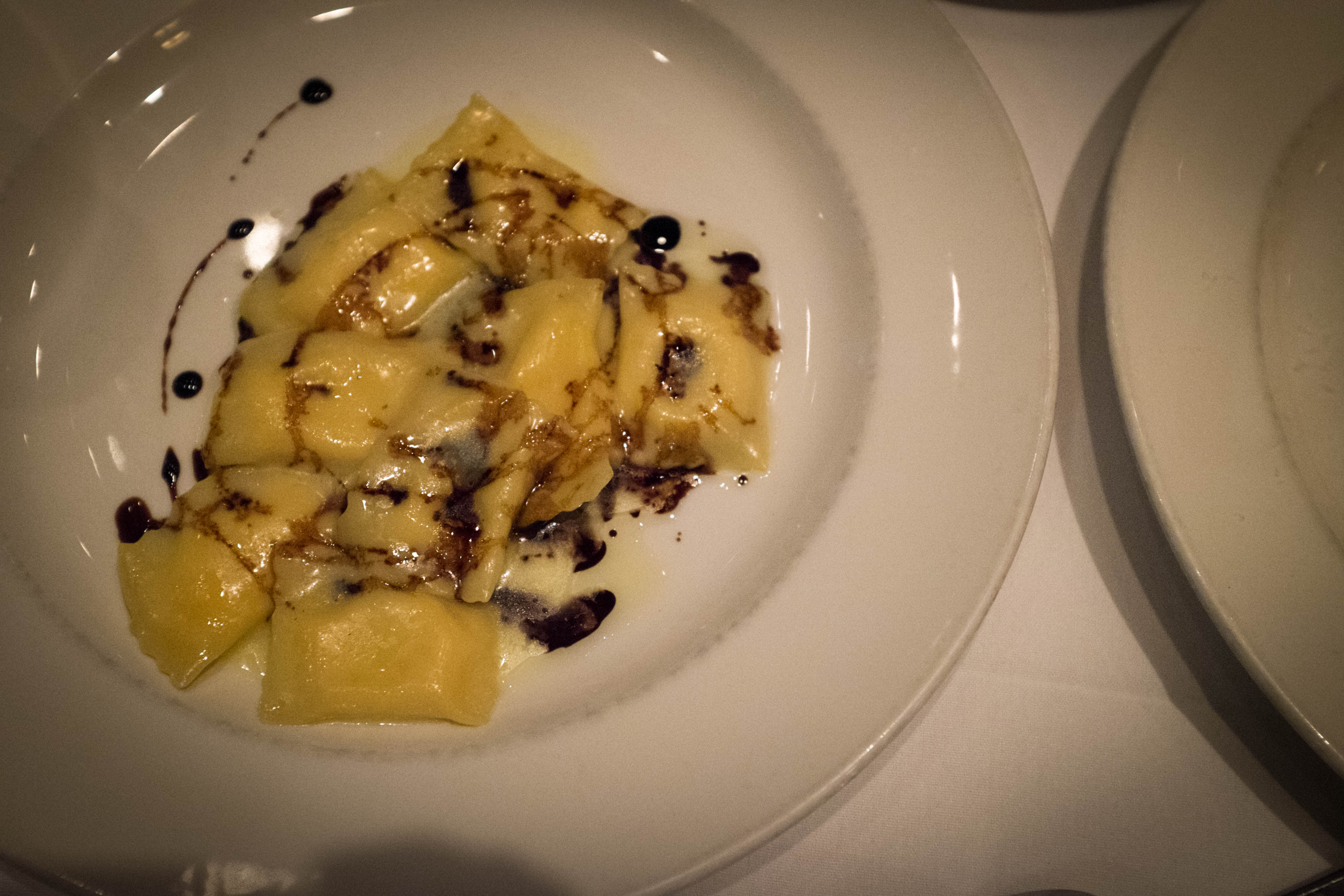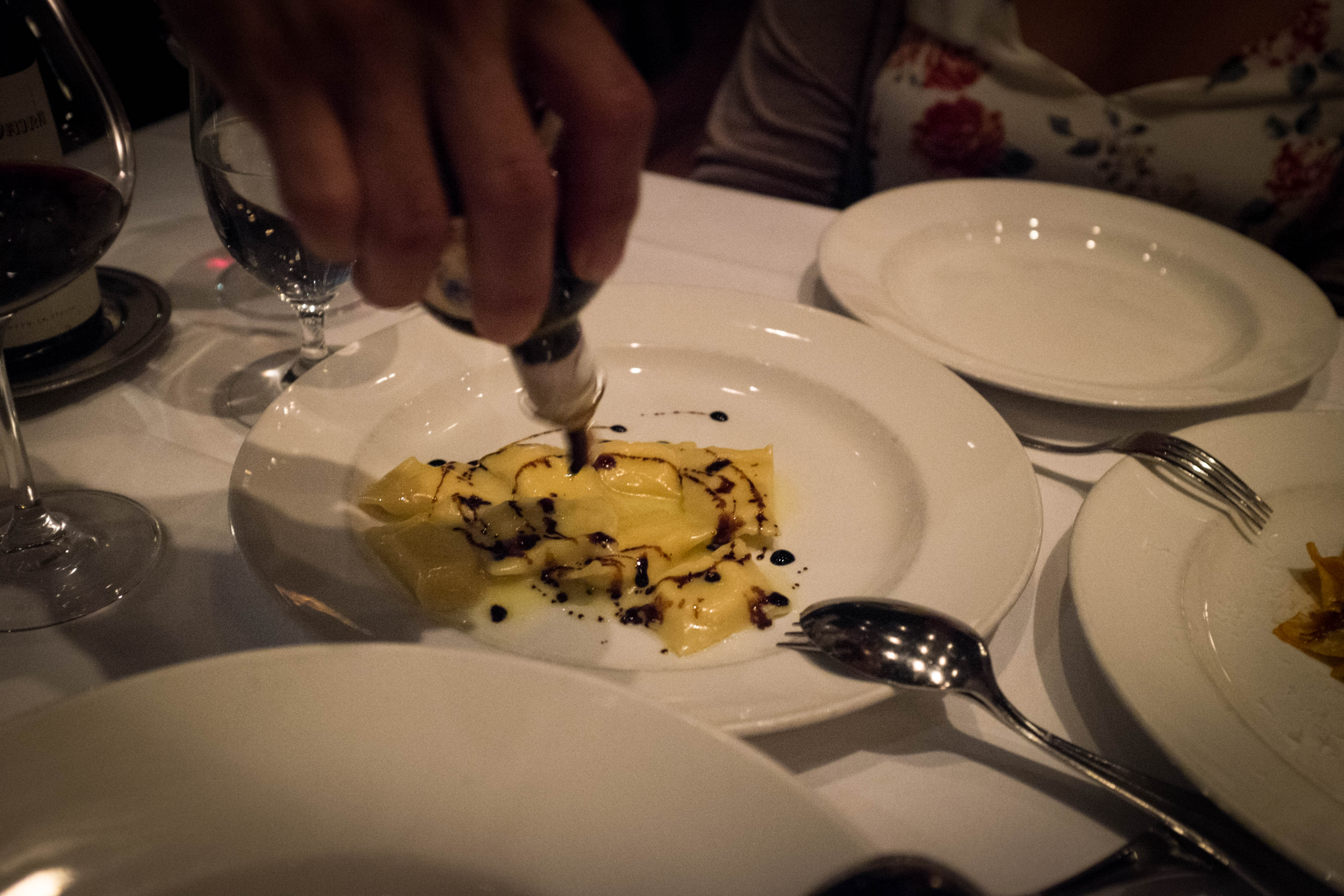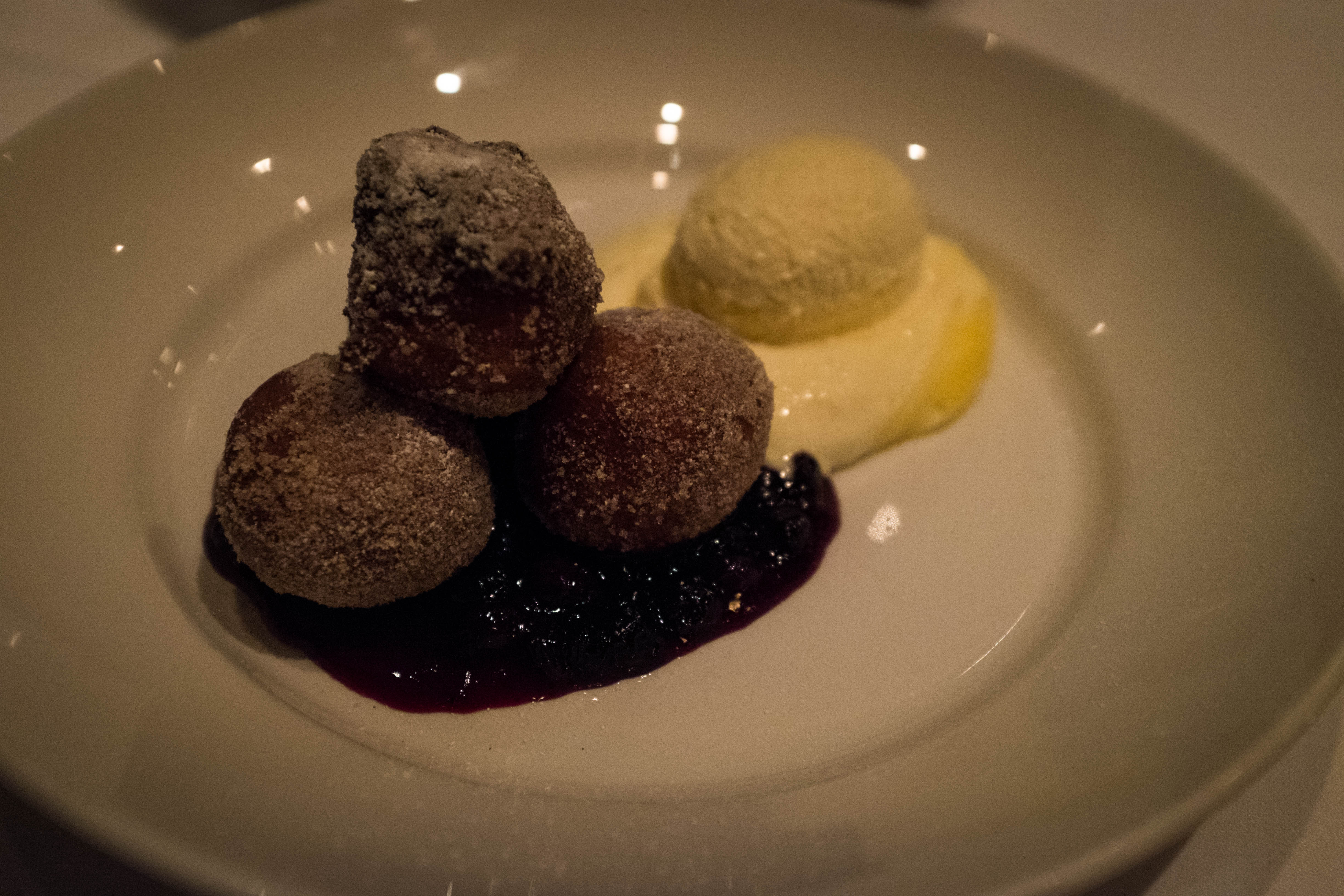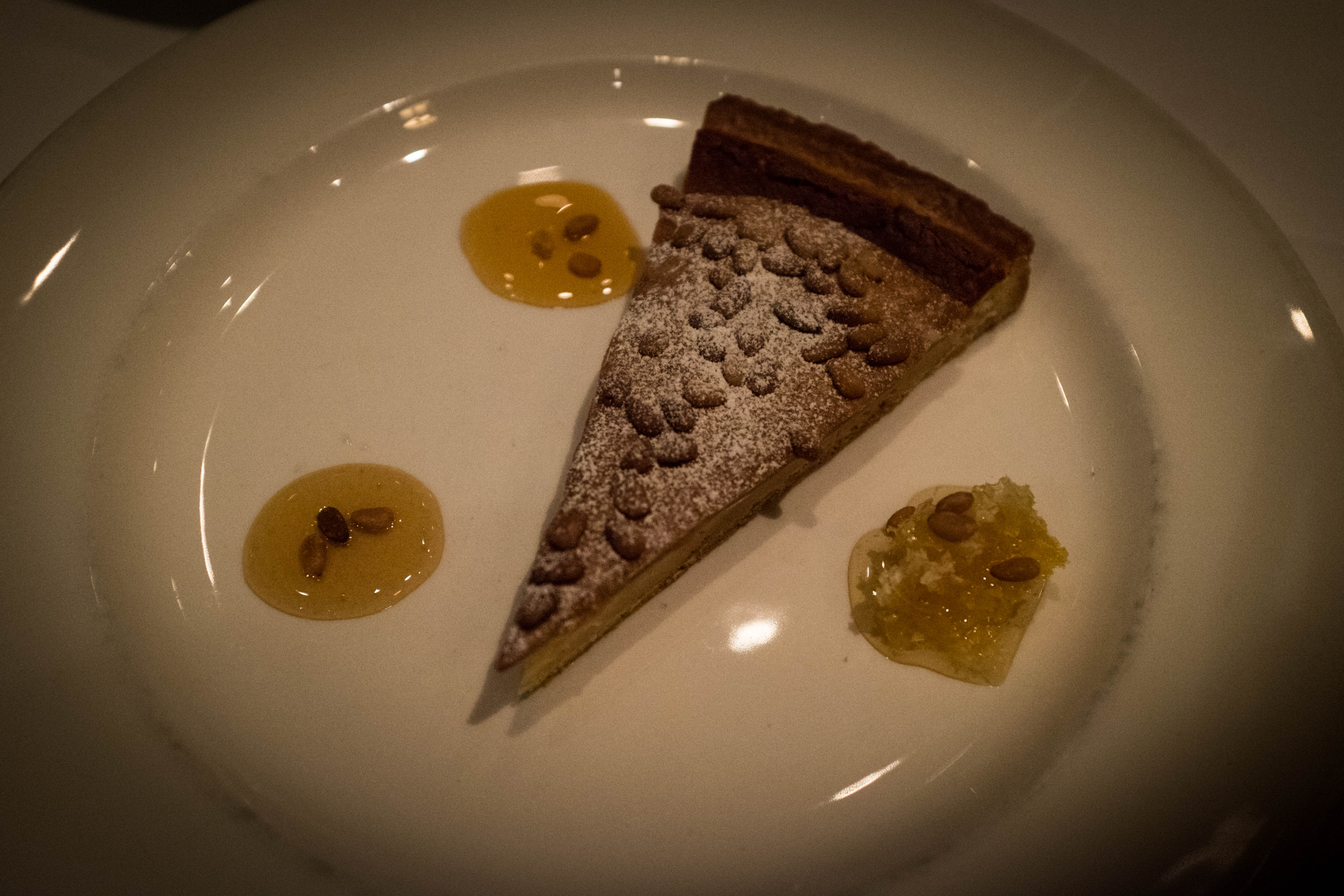 The tagliatelle with oxtail ragu, grilled figs, and mozzarella with anchovies and garlic toast were also delicious, but my philosophy is that when I can't vividly recall the experience and how I felt eating that particular course, I tend to omit in write-ups, preferring to draw attention to dishes that I felt made the experience stand out. There was a baked peach dessert that I was so curious to try, but my dining companions capped me at two desserts this meal, so I could only longingly gaze over at a neighboring table's – it's definitely something I plan to include in my next meal here!
The one gripe I have about Osteria Mozza is that I would have liked for them to serve the dishes in a way that allowed the flavors to build off of each other in intensity and richness; it's worth noting I believe the experience could have been twice as excellent if I had consumed dishes in a different order. A good example were the two cheeses and the grilled figs that came out at the same time. Cheese has a broad spectrum of tastes and textures, and the way both of these were prepared only served to further distinguish them from each other; while the burrata was mild and sweet with the tomatoes, the mozzarella experience was strongly characterized by the saltiness of the anchovies. The pancetta wrapped figs were totally different and should have followed the two cheese plates. Though it was still heavenly, by the time I took my first bite of burrata, my palate had already been calibrated to the saltiness of the figs and anchovies. Part of me feels as if I should have been able to discern the most sensible order of consumption based on their ingredients in them, but this is also something the restaurant can easily solve for by making suggestions or being more thoughtful in the order they bring out dishes. We fared better in the guessing game with the pastas–I don't think my tastebuds would have appreciated being hit with oxtail ragu first.
The ultimate verdict is that Osteria Mozza is the best Italian restaurant I've tried in the US (very similar to how I felt Sushi Yoshizumi was the best sushi restaurant I've had outside of Japan) – nearly all the dishes felt thorough and complete. I love that their menu is seasonal, and felt very much like I could have been at an indoor trattoria in Rome if I went by the food and wine alone. Indulging in Osteria Mozza felt like a playful summer night in Italy, and I definitely see our paths crossing again 😉