The serendipitous magic of planning as I go has been serving me really well in Portugal. By complete coincidence, a friend and I found out that we'd both be in Porto at the same time, and as it turns out – we are a foodie match made in heaven. After poring over a couple of travel blogs, I was really intrigued by O Paparico's philosophy – every dish is 100% made from ingredients that have been sourced from various parts of Portugal, and they use these to recreate Portuguese classics in an innovative way. The same goes for their wine pairing – rather than choosing from all of Europe, they contain their selection to Portuguese vineyards, which is completely fine by me, since they're some of the best in the world.
There are a few options you can take at the restaurant – a Portuguese tasting menu, a sharing menu (selection of 2 starters, 2 mains, and 2 desserts, all made in portions for two), or a la carte. We opted for the sharing menu at 190 EUR, and one wine pairing at 50 EUR. Every time I try to handle a wine pairing solo at a restaurant, I end up leaving too tipsy to taste the subtleties in food, so I'd highly recommend splitting the pairing unless you have an extremely high tolerance.
After an amuse bouche of caviar in chilled lettuce soup, our meal opened with a small "picnic" from the kitchen. They even played on the concept by bringing out the dishes in a basket, and placing a miniature "picnic blanket" on our table! This was paired with a Cuvee from the Douro Valley, one of Portugal's finest countrysides for wine production. I can't say I know too much about wine, but this sparkling beauty smelled like countryside flowers, white summer peaches, and wasn't at all as dry as other cuvées I've felt ambivalent about in the past.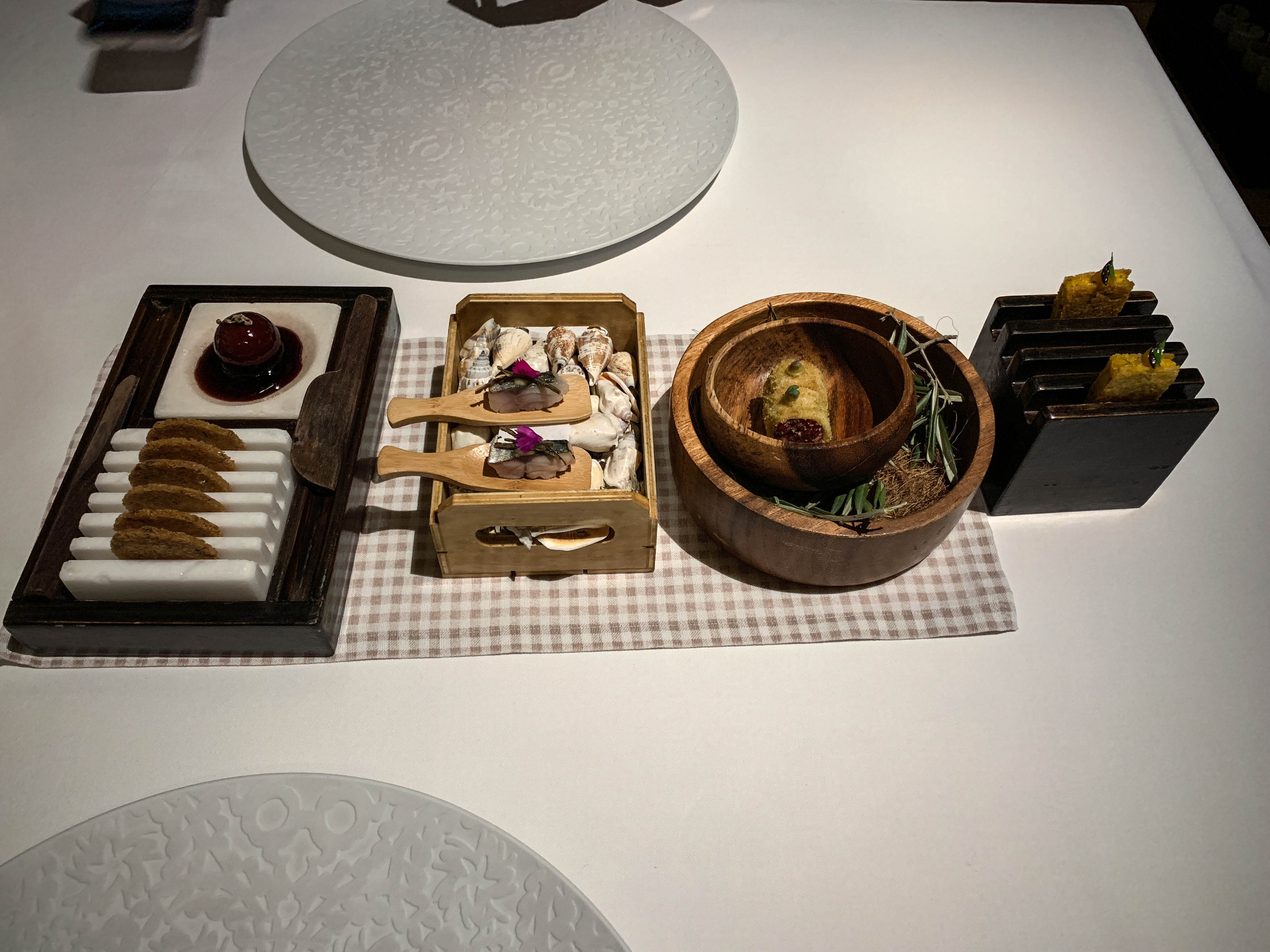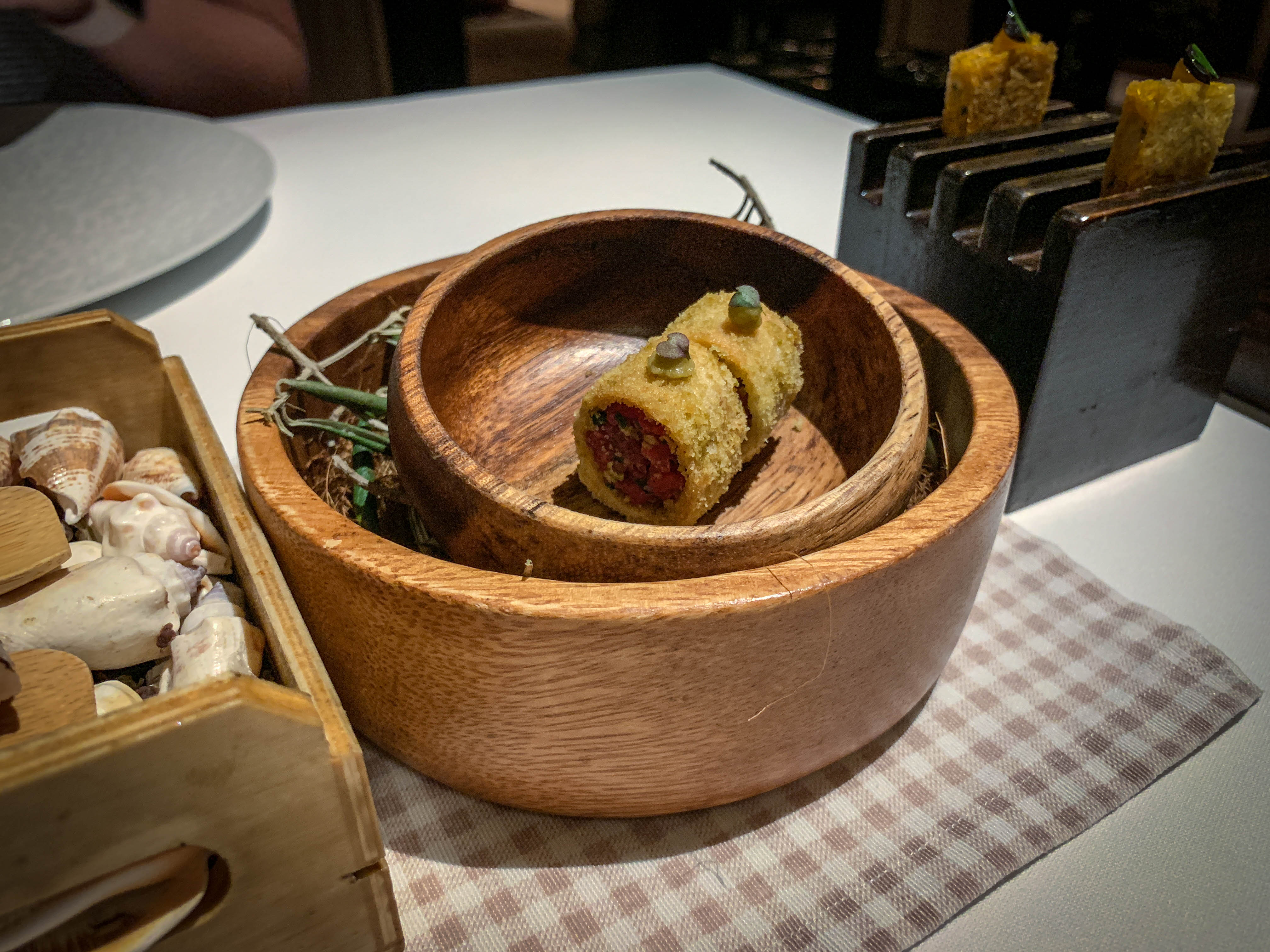 First up was the codfish prepared with egg, and topped with a small black olive (the two squares in the back right of this photo): codfish (or bacalhau) is a very common fish in Portugal, and is prepared several ways – one of the most popular is to fry it. This was a rendition on the fried codfish that tastes hearty, but often heavy, at many local restaurants. Because cod really has no flavor of its own and relies heavily on seasoning to bring it to life, the black olives and eggs worked well against the fish.
Old beef tartare was, unsurprisingly, incredibly fresh, with the outside coating providing a wafer-like crunch that created a new layer of texture against the beef. I think these small bites might be my favorite part of any fine dining meal – they approach you at your hungriest and most alert but must remain light, engaging, and intriguing to set the tone of the conversation the rest of your courses have with you.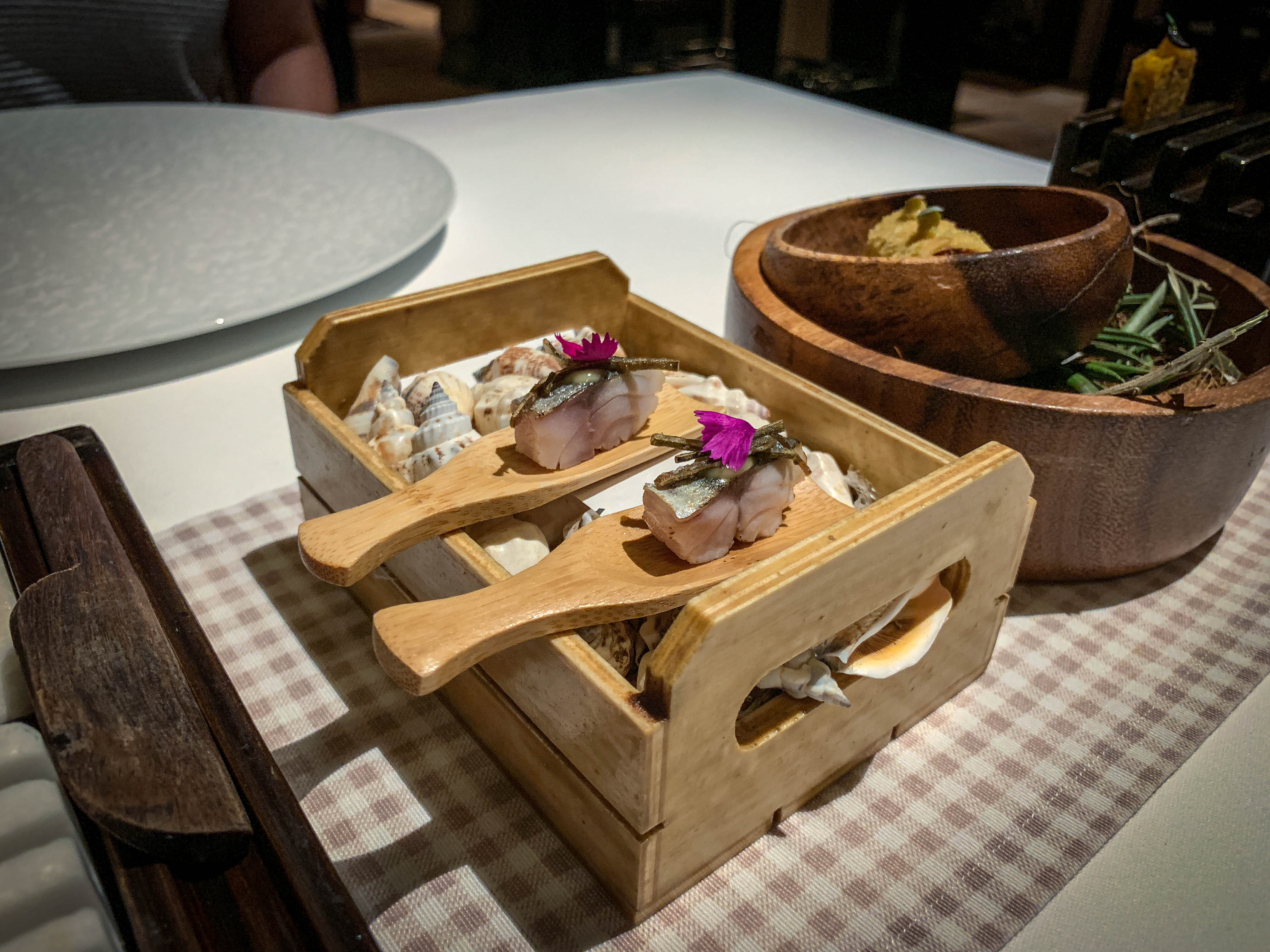 Fresh grilled mackerel with seaweed: Mackerel, as well all know, tends to carry a "fishy" taste that can be a big turn-off for many diners. One strategy is to eliminate that completely, but what O Paparico did was preserve it in a way that came off fresh and enticing; it tasted more like a hint of the sea, rather than a punch of saltwater. Tender yet firm, this was my favorite item in our starter picnic.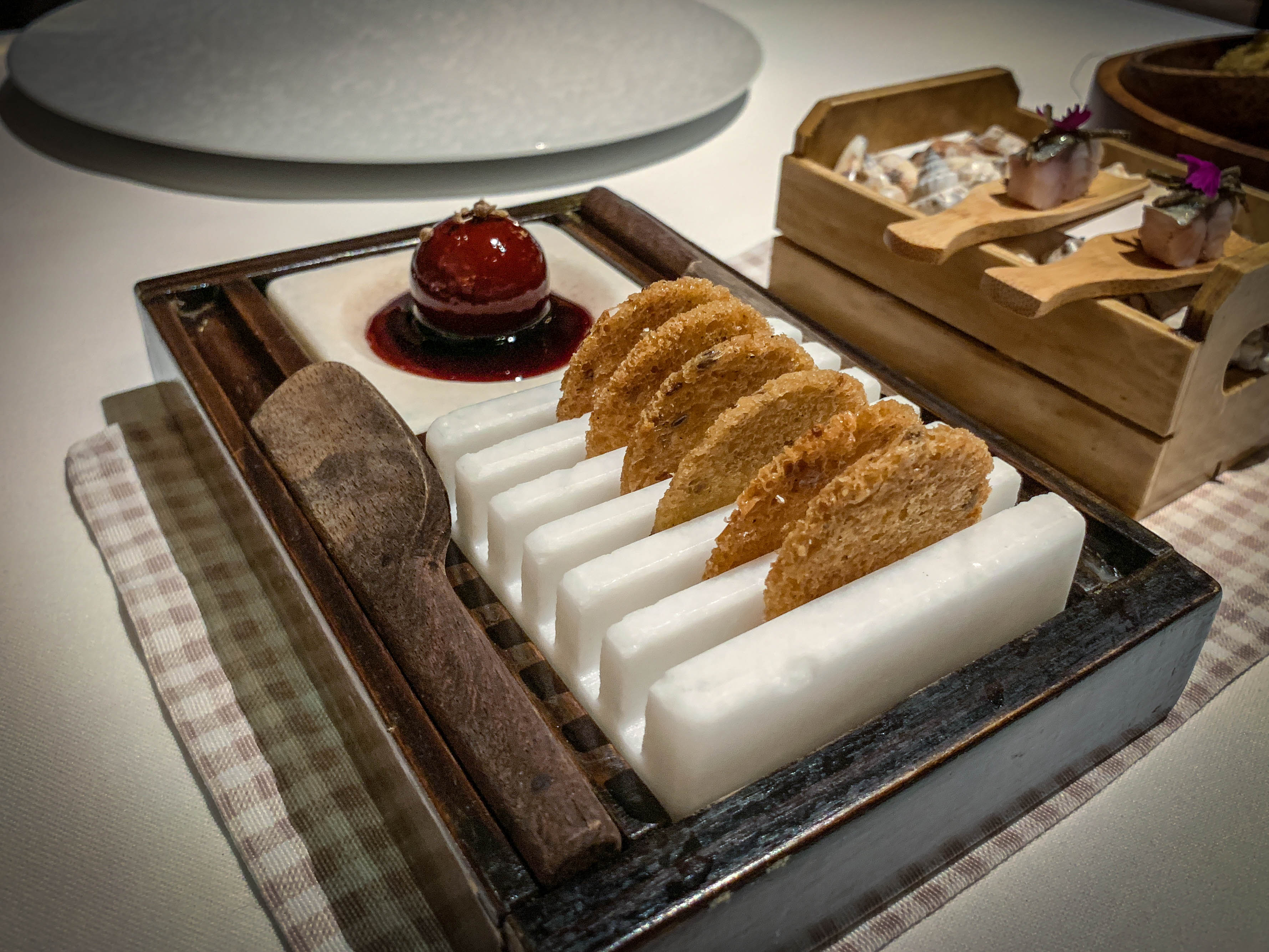 Veal liver with Port wine sauce, topped with fennel seeds: I'm not sure if I would have liked this, but the Port wine sauce was the saving grace here – I am typically a fan of foie gras in pâté form, but veal is a little bit gamier, and a little less rich. That being said, the Port wine sauce was incredible, completely masking the gaminess of the protein with its mostly sweet, and slightly tangy, flavor.
After our "picnic", we were served housemade bread that was clearly freshly baked – when our server sliced the sourdough a small pillow of steam escaped from the bread. Oh, the satisfaction! How often is it that we get to have bread fresh out of the oven? Not an option even if you're the first in line at the Mill on a Monday morning in SF.
We were also served folar transmontana – Transmontana is the northern, mountainous region of Portugal, where this bread comes from. it was like a sweet roll with bits of cured ham surprises inside. The bread wasn't very photogenic, but that piece of carby, fatty goodness was probably one of my favorite parts of the meal.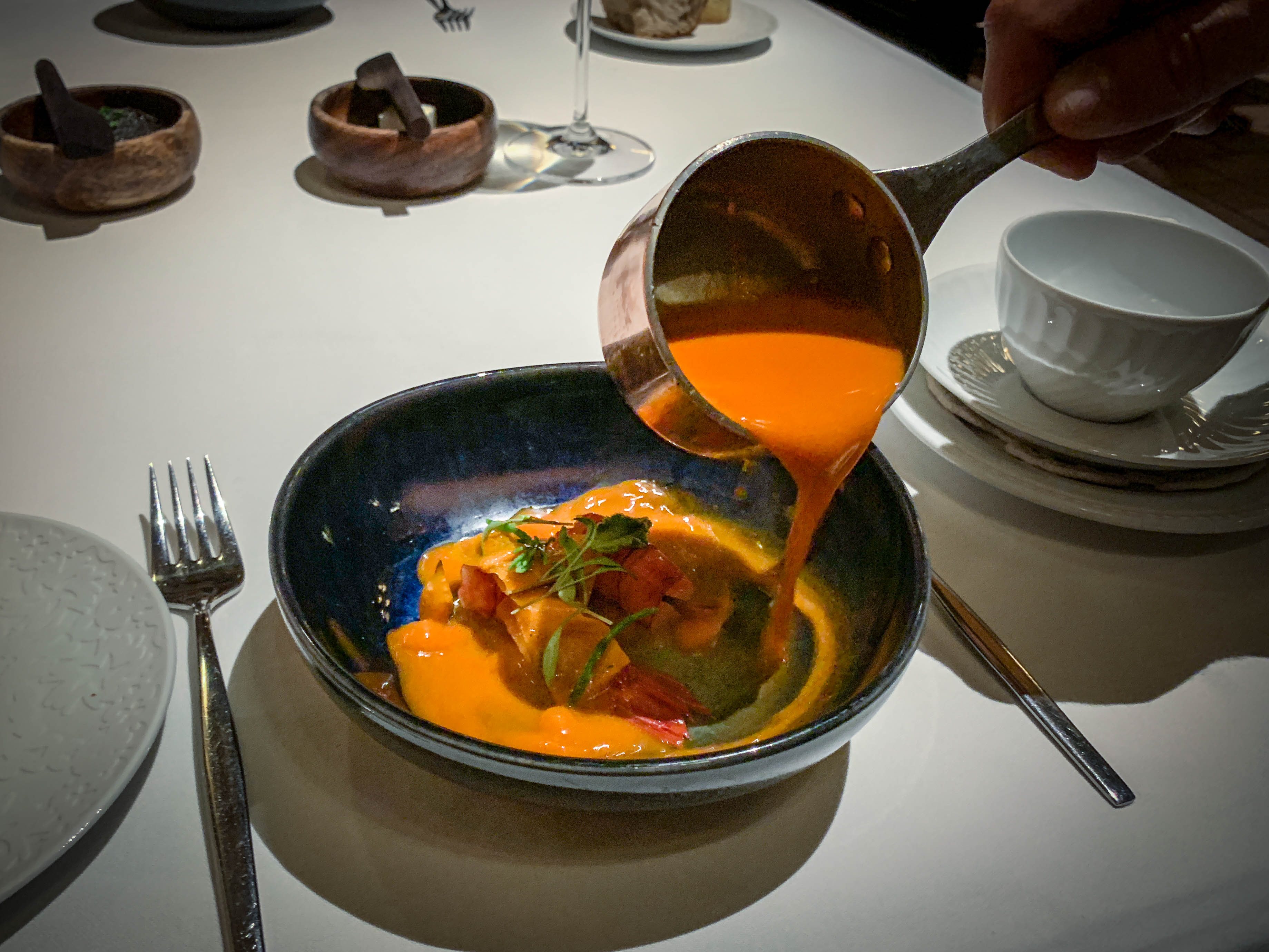 "Caribineiro" with carrots "a Algarvia" and Sand Dune's Vegetables: I'm pretty sure the carrots are hidden in this photo, but they were the no bigger than the size of my pinky nail. I don't think I've ever seen baby heirloom carrots that small, or that I instantly took to so much. The texture of the shrimp was somewhere between sashimi and fully cooked shrimp – juicy and plump without the stickiness of sashimi rawness.
This dish was paired with a 2011 Tiara from the Douro Valley. According to our sommelier, 2011 was one of the best years for the Douro Valley, as evidenced by the freshness and minerality of this elegant wine. It was light with an almost spicy tingle.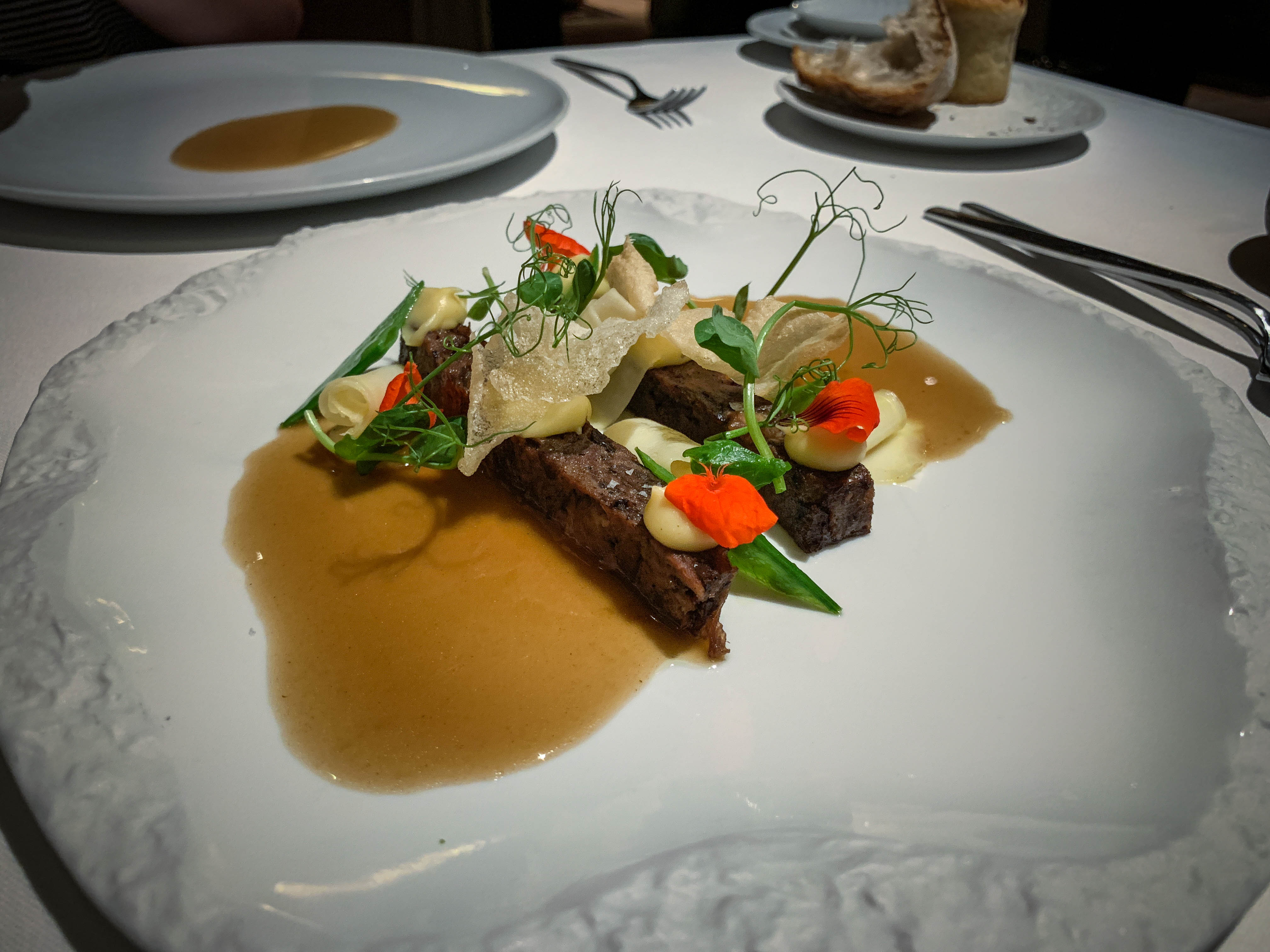 Traditional "Jardineria" of Oxtail: With a sauce made from simmering the bones of the ox, and vegetables from a special supplier in Portugal that they've been working with for years, this oxtail is from a special cow that is only raised in Portugal, and oh boy… I'd willingly splurge on a ticket just to have this oxtail again in my life. I was a little surprised they didn't provide a knife to cut the meat with but soon discovered why – the instant my fork met the cut, the oxtail slide apart easily. It was like slicing butter and eating it, only richer, more velvety. Garnished with sweet potato cream, fried parsley root, and edible flowers, I can say this was my favorite of the night.
Paired with a 1996 Vinho Tinto, this was a blend of 10 different grape varieties. The Dão region sits just south of the Douro Valley and is famous for their red wines. My nose was definitely a bit overwhelmed by a smokiness that reminded me of whiskey, but upon tasting, it was so, so, so smooth, with a nibble of heat at the end. I'm partial to white wines, but I think this red might have been the one to change my mind.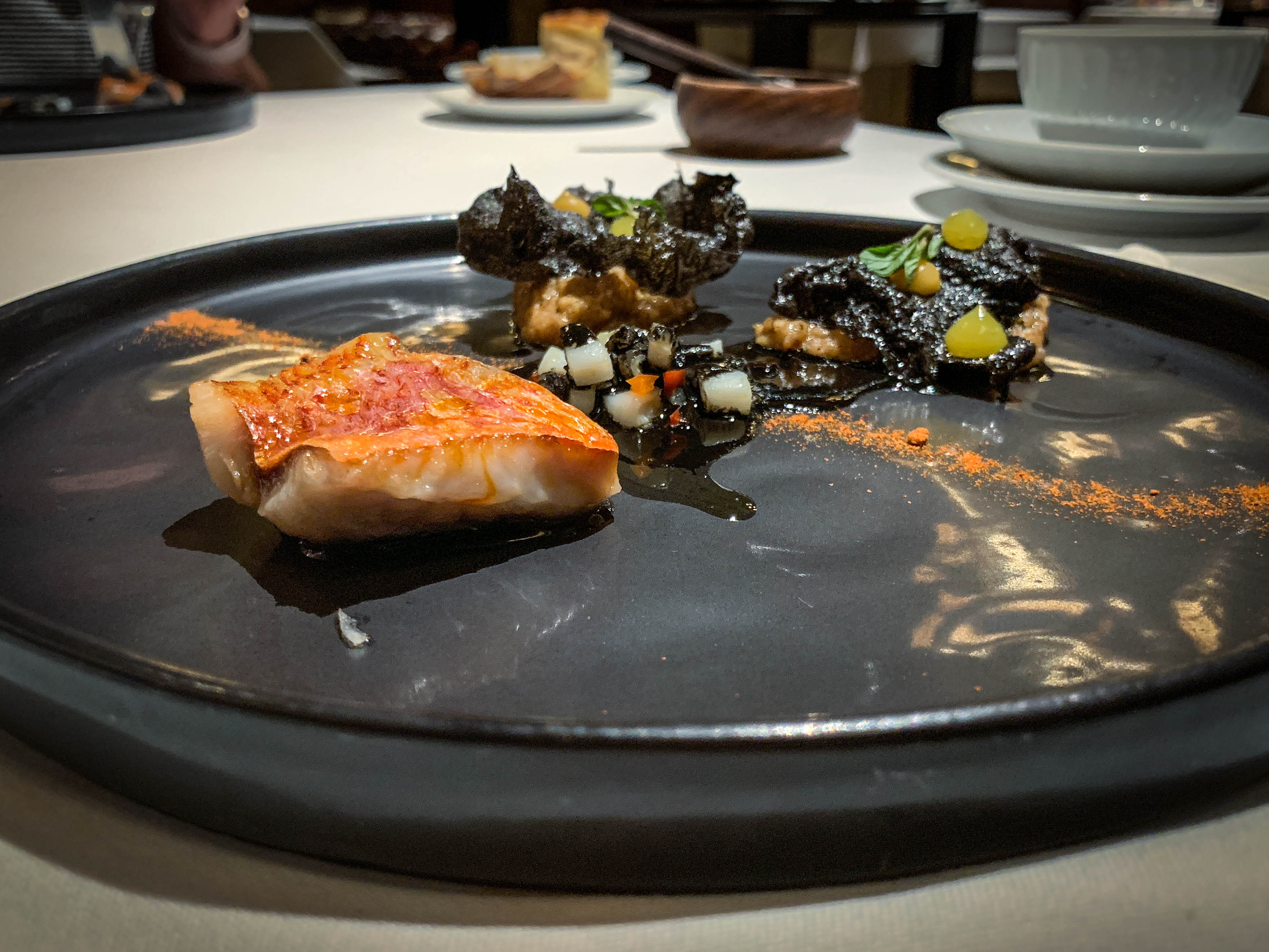 Red Mullet with Cuttlefish and "Alentejana" Fried Crumbs: I think what wowed me most about this dish wasn't the red mullet, or the cuttlefish, or even the fact that the sauce was made from the ink of the same cuttlefish–it was the fried crumbs. What vaguely resembled soggy Chinese meatballs to me, turned out to be one of the most complex and interesting tastes of the night. It tasted almost like a warm, coarse, fish paste – I'm aware I'm not exactly selling this dish all that well, but trust me when I say I had never tasted anything else like it in my life.
This dish was a great example of how O Paparico utilizes different parts of the animal they're working with to bring out various ways of tasting it. Similar to the oxtail, in this dish the rice cracker was infused with cuttlefish ink and topped with a sauce made from the mullet fish's liver. The only other restaurants I've been to that take such a holistic and innovative approach to cooking have been Saison (SF) and Birdsong (SF). I was really impressed to see O Paparico embodying this philosophy as well because they have access to so much amazing fish, meat, and produce across the country.
Paired with a 1991 Poco do Lobo from the Bairrada region, close to where Coimbra is located, our sommelier actually warned us that we probably wouldn't like this wine unless we paired it with food. He was right – it skewed towards the acidic side, and I'm not sure I did actually like it more with food; it was one of those wines where you could tell it was good, but my preferences didn't really align with this one.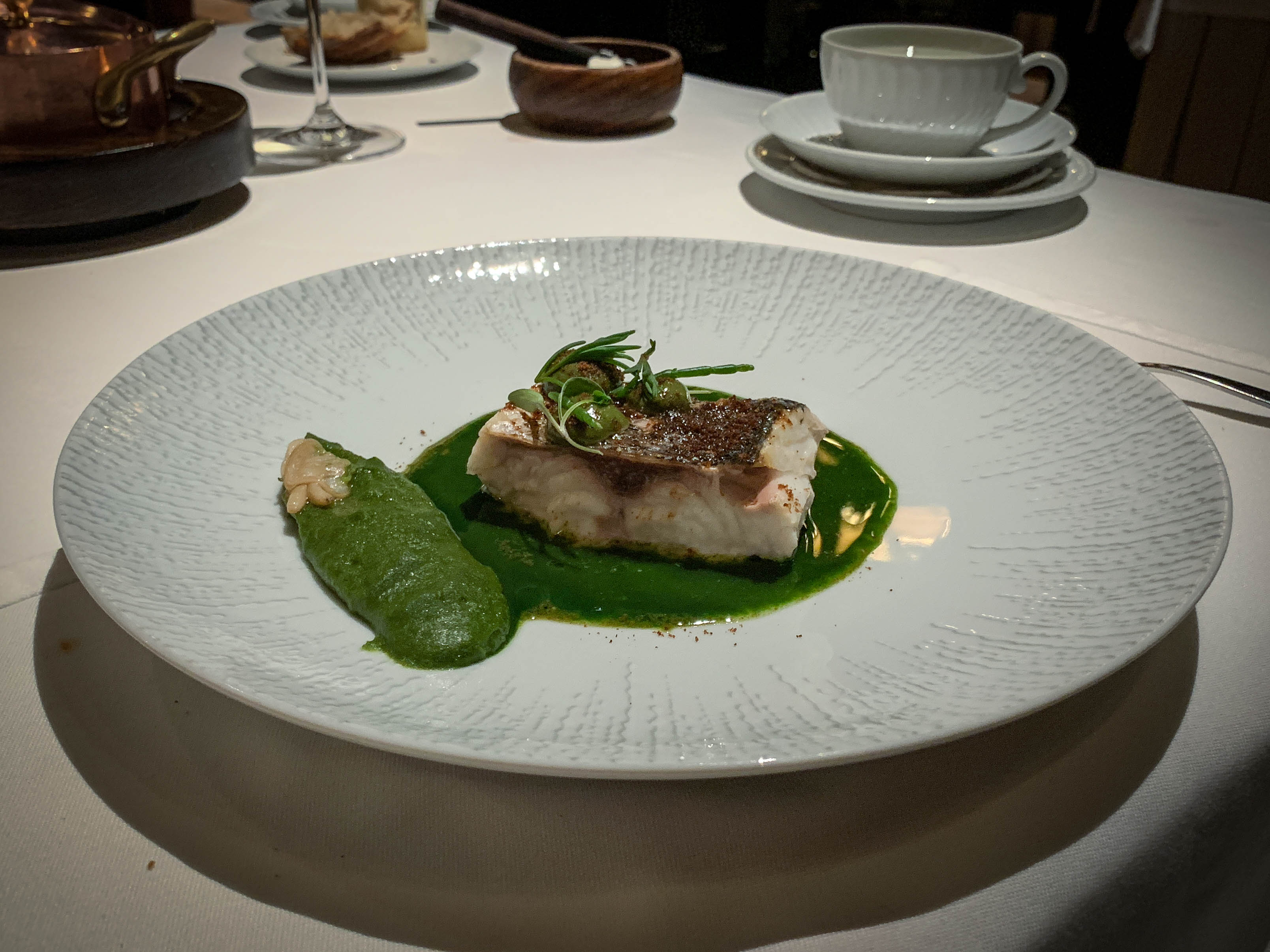 Line caught sea bass with Bulhão Pato's Style Xerém: Sea bass with three different sauces: one made of clams, another made from plankton from the sea where the sea bass was caught, and another from the natural juices of the sea bass. Although my dining companion didn't quite enjoy this one as much (and generously gifted her sea bass to me!), I'm a big, big fan of sea bass, and this one, in particular, was picked out directly from a fisherman that they work with in the northern part of Portugal. The entire dish is made without salt, flavored only by the salt of the sea.
It was complemented by a 2006 Munda from Dao – though many a winemaker has made an attempt to grow these grapes, this particular variety thrives on the specific microclimate that the Dao region is known for. As with all the wines we had up to this point in the night, it was light and floral with notes of melon.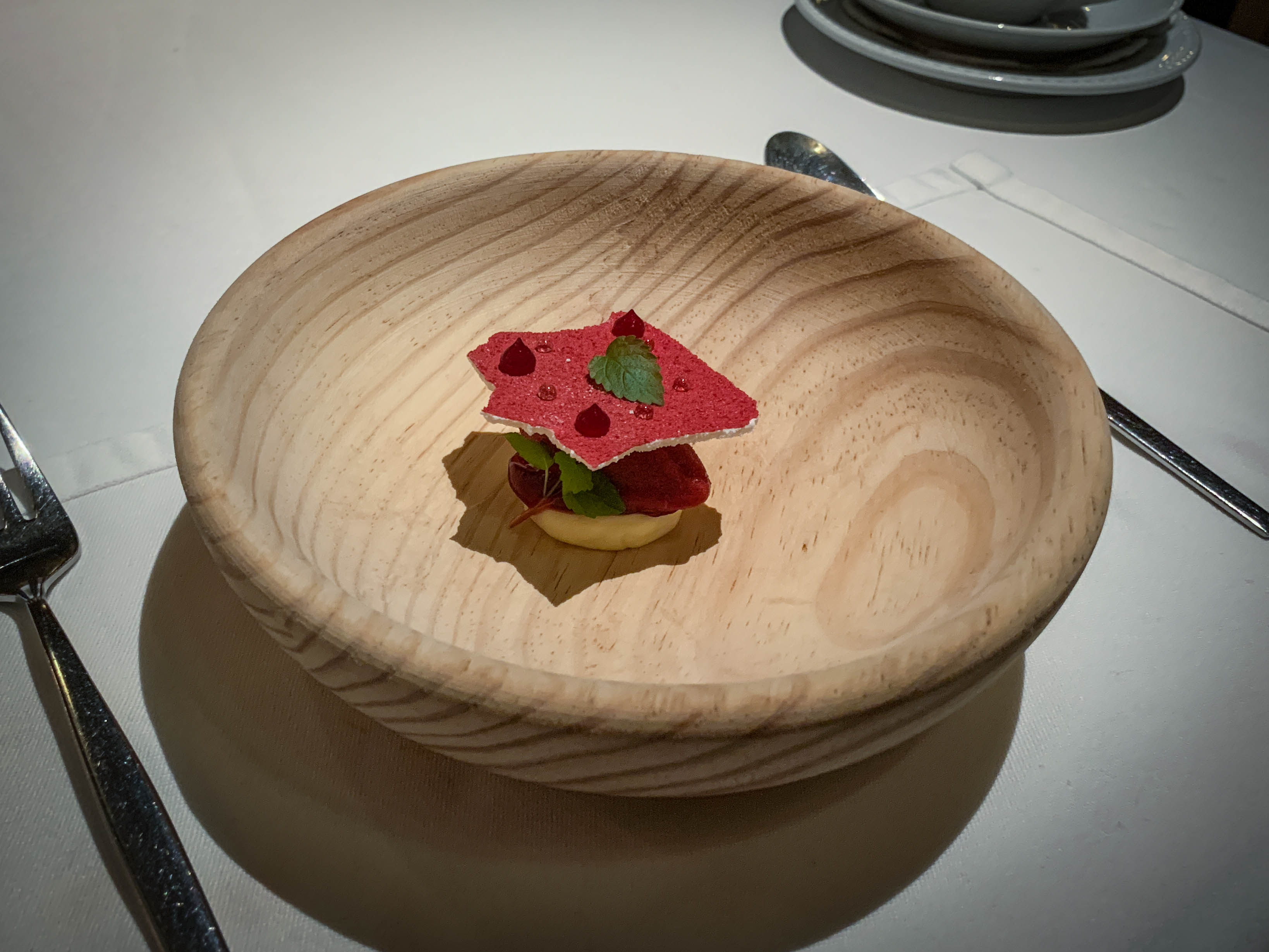 A surprise palate cleanser of pomegranate and yuzu ice cream, topped with a light meringue, came next: This was probably the only thing on the menu that wasn't rooted in Portuguese ingredients and cooking, but at this point, I could care less–O Paparico had made pretty much every course amazing thus far, and this was no exception to the pattern: it was a light and beautiful way to reset the palate for desserts to follow.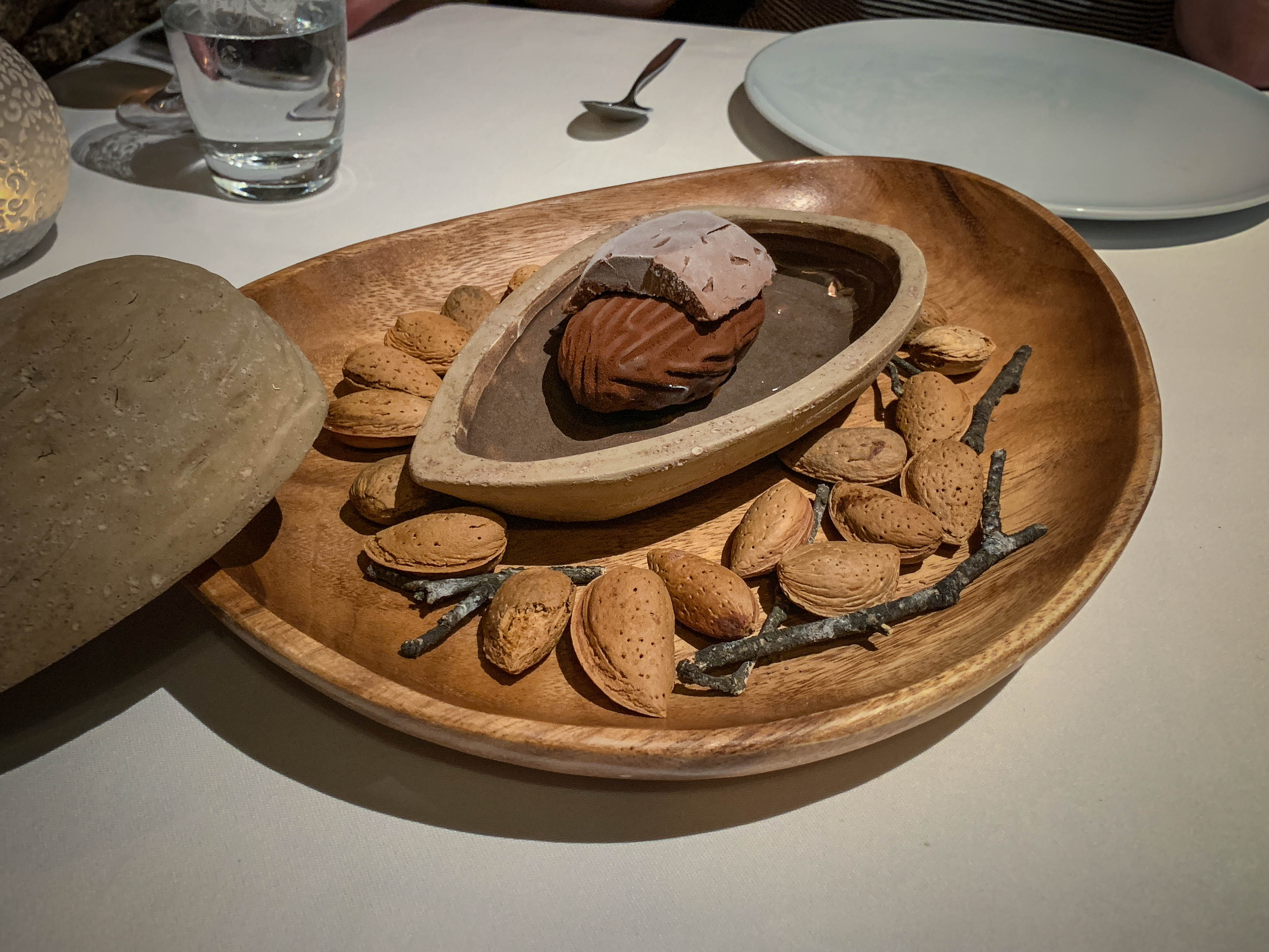 For dessert, our first was the almond "transmontana". I mentioned the Transmontana region earlier, and it also turns out they're famous for almonds! This was a deviation from the otherwise dainty dishes that had been served to us throughout the night. It was like a chilled chocolate almond sculpture and would have been too decadent for my taste as there was cream inside. But by now, I've realized our sommelier is part genius because he couldn't have chosen a more perfect beverage to bring our two desserts full circle.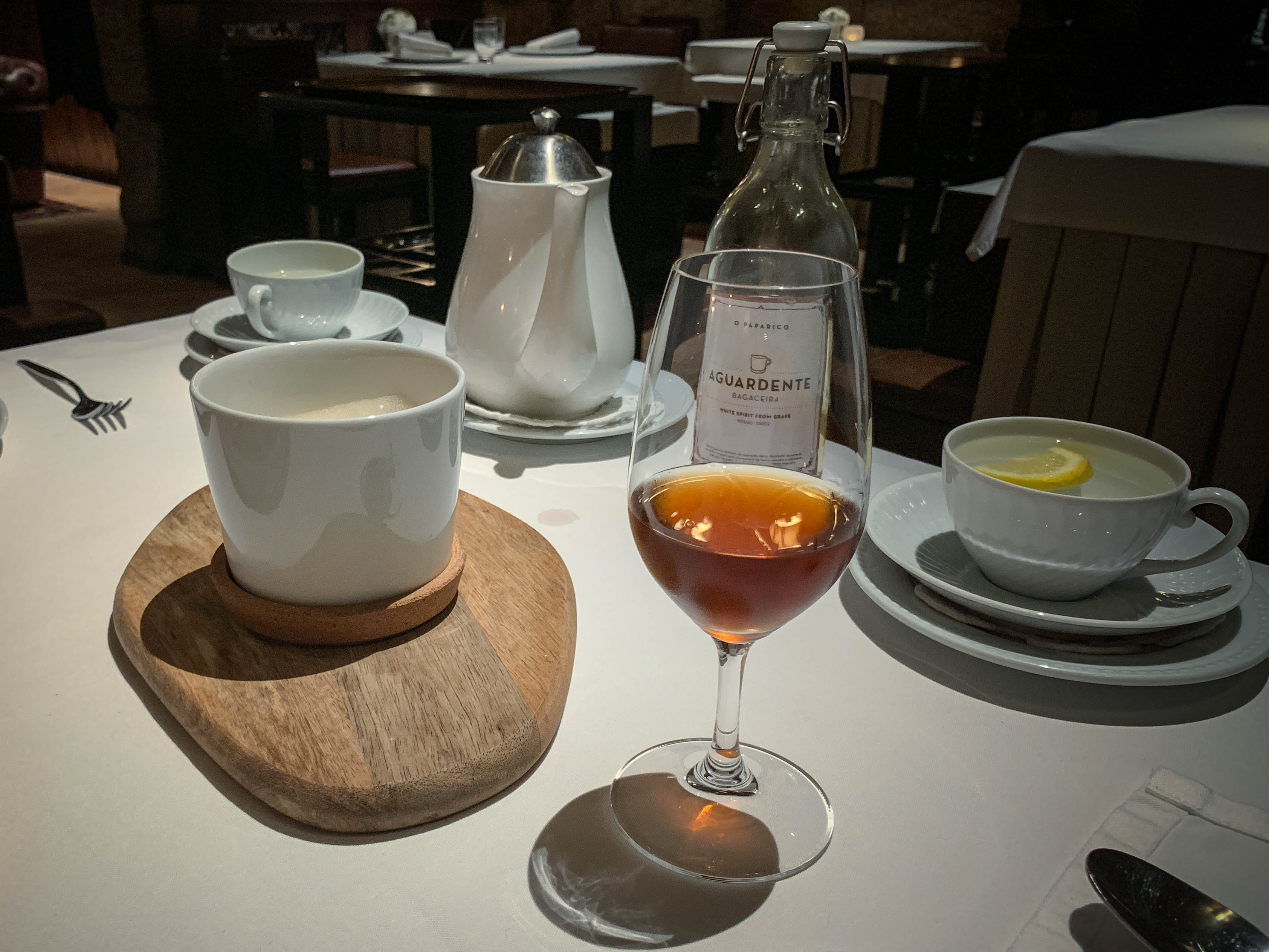 Our other dessert, and the one that keeps revisiting me in my dreams, is a "cafe com cheirinho", O Paparico's take on a coffee flavored mousse. Portuguese people typically like to end a meal with coffee and a bit of brandy so they mixed the two together. The brandy, in this case, is Aguardente, which literally translates to "burning water". Aguardente de Medronhosis made with medronho berries, which grow from strawberry trees but more closely resemble lychees. Quite strong (it's known as "firewater" in English), it should only be sipped in small amounts at a time and enjoyed with caution. This is Everclear, Portuguese style and fine-dining-refined. They source the brandy from a local farmer and process it in-house so it behaves more like a liquor, and … I involuntarily start salivating when I think about this dessert. One spoonful to the bottom of the bowl slices through all layers to present you with the most perfect mousse, the daintiest microfoam, and a crunchy surprise from coffee beans at the bottom.
Both of our desserts were served with a stunning 40 year old tawny port – the highest grade of Port in the world. I've written about this in previous posts, but it always moves me in a hard-to-articulate way when I eat food that has been on this planet longer than myself. It feels like you're consuming history, drinking in a story several decades long through small sips from a glass. Tawny Port is the sweetest of the port wines, laced with undertones of caramel and butterscotch. It's a gorgeous amber color and smells like culture. The Portuguese dream is really just to stay in one night, and Netflix and chill with a bottle of tawny port, and an endless number of pastel de natas.. which I might have done on this trip.
Oh, and the service! Too often do we find ourselves venturing out to wonderful establishments, only to have the experience marred by pretentious attitudes or a lack of care. This was absolutely not the case at O Paparico, where the staff took the time to answer every one of our endless questions about how they source and prepare the food.
We were there for 4 hours, and I can honestly say this was one of my favorite dining experiences in all of Europe because it doubled as a gastronomic history lesson where I was fed a steady appetite of knowledge about Portugal's culinary and wine philosophies. It felt less like a formal dining experience and much more like a private tasting without losing any of the finesse expected from a high-grade restaurant. O Paparico is very much one of those restaurants I'll be encouraging people to visit and make detours for when they visit Porto; not your typical meal, but a memory to last me several years into the future.