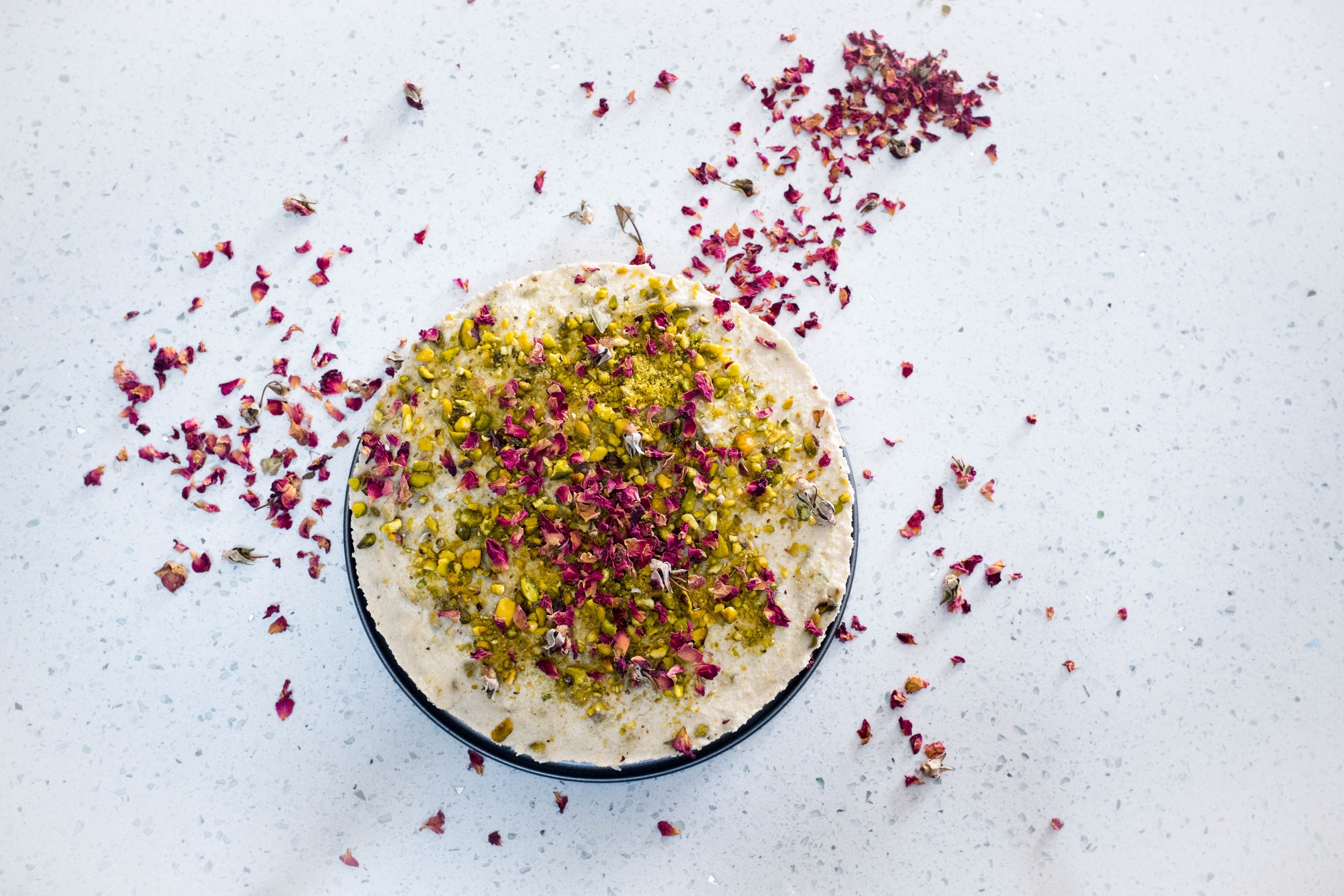 Welcome to the first recipe on the blog! It's an exciting endeavor to sharing the results of my kitchen therapy—one I think I've put off for far too many years. Better late than never, right?
Like many great recipes, this one was born out of a mistake (or an oversight, rather). I was making dessert for my birthday, and had planned on trialling two recipes: a honey lavender cheesecake, and a rose pistachio cream pie. Ever since returning to the US and reacquainting myself with the greatest ice cream in the world (Bi-Rite Honey Lavender), I've been on a honey lavender tinge. I also love delicate rose infusions in my desserts and tea, and simply couldn't decide which to make—so I thought I'd give both a shot.
Unfortunately.. this didn't exactly work out according to plan. There was no lavender essence at any of the stores I visited, and I couldn't order a pie tin in time. The oversight on my part ended up a blessing in disguise; my hybrid cheesecake turned out beautifully, and received a lot of positive feedback from taste-testers.
This recipe should be created over a full day or two. Although the actual cake-making only takes 15 minutes or so, the cashews need to be soaked, and the the cake needs to be frozen, both of which ideally happen overnight. Besides timing it well, this cake is almost comically simple to whip up, and is jammed packed full of whole ingredients that are dense in nutritional value so you and your guests can enjoy dessert guilt-free 🙂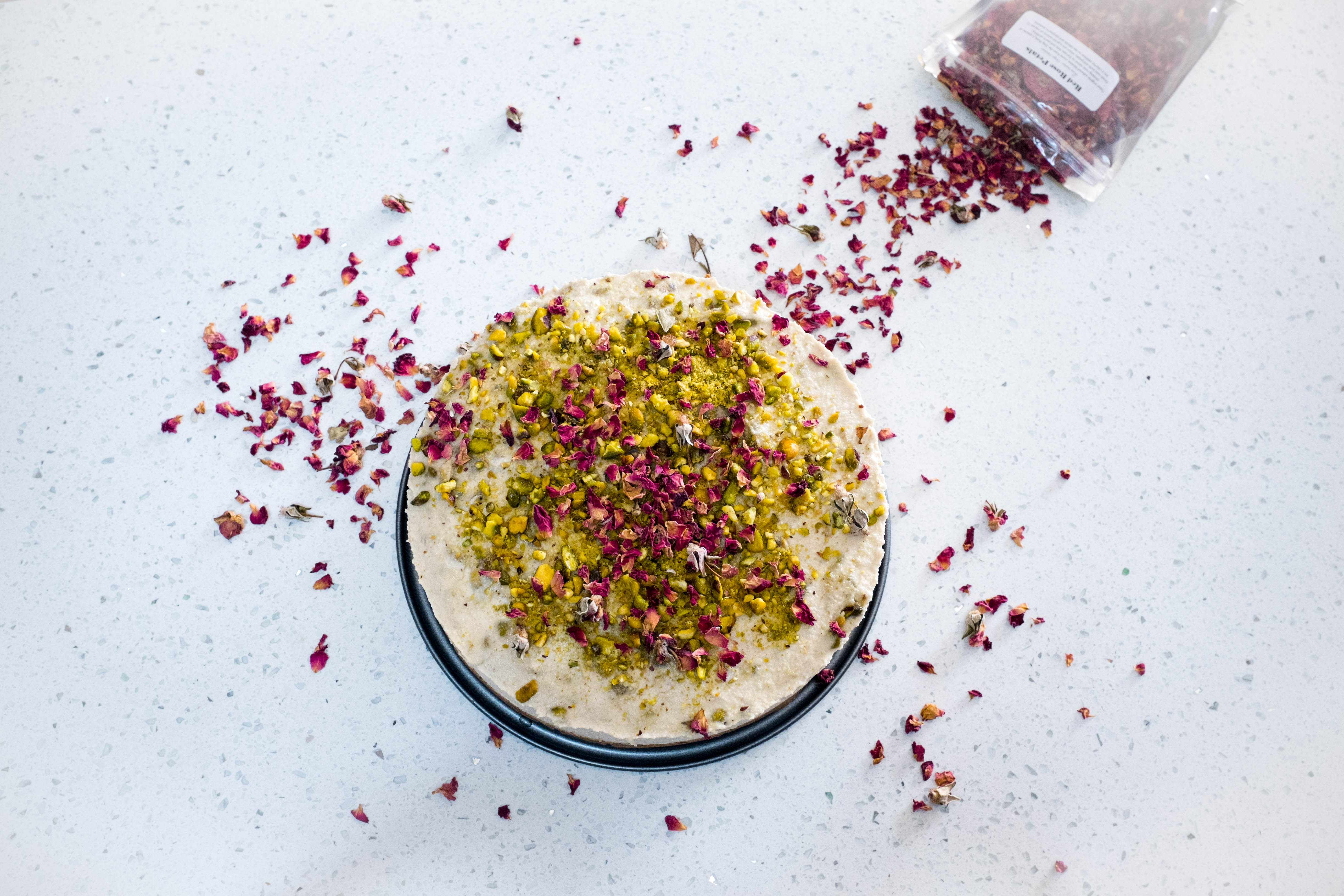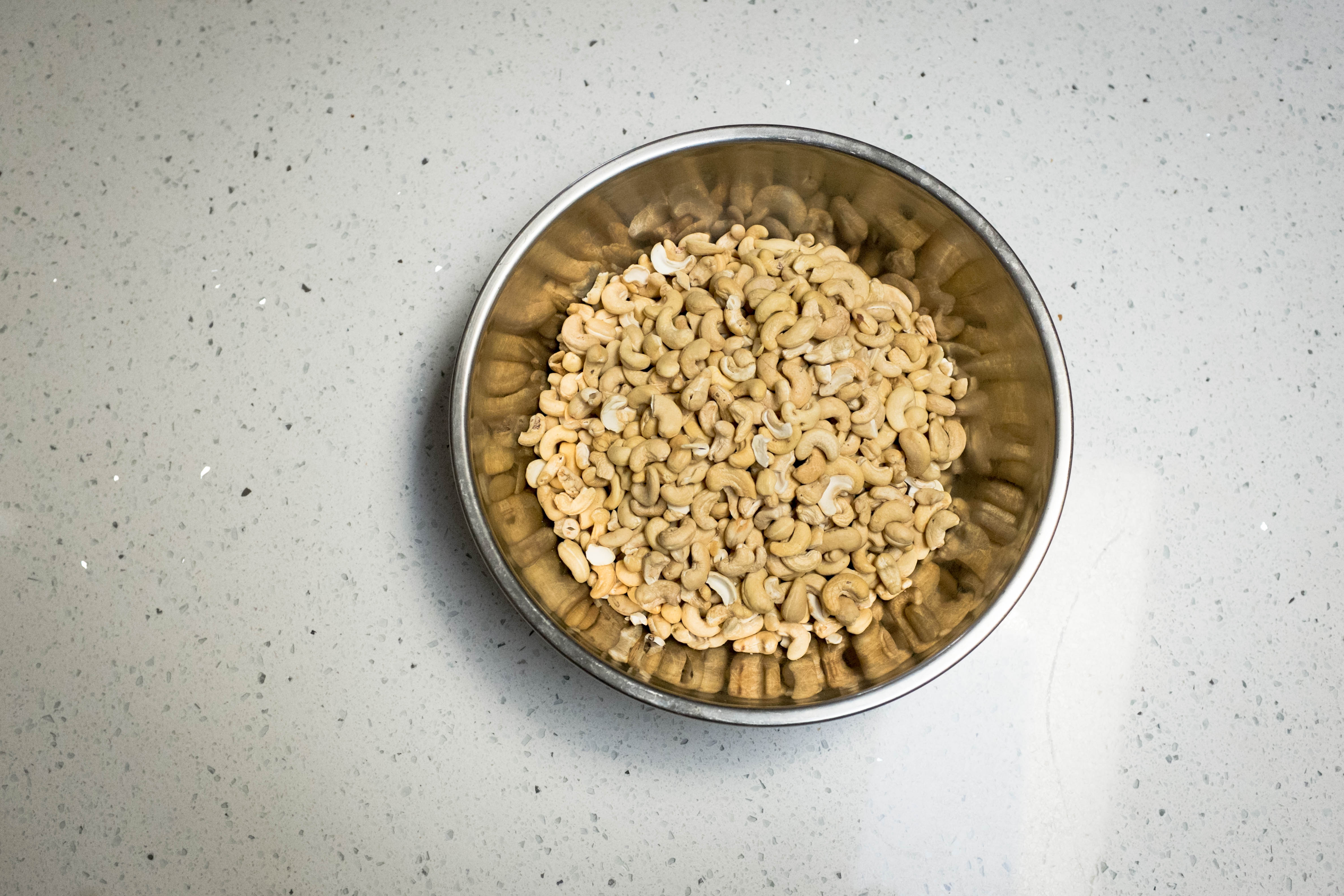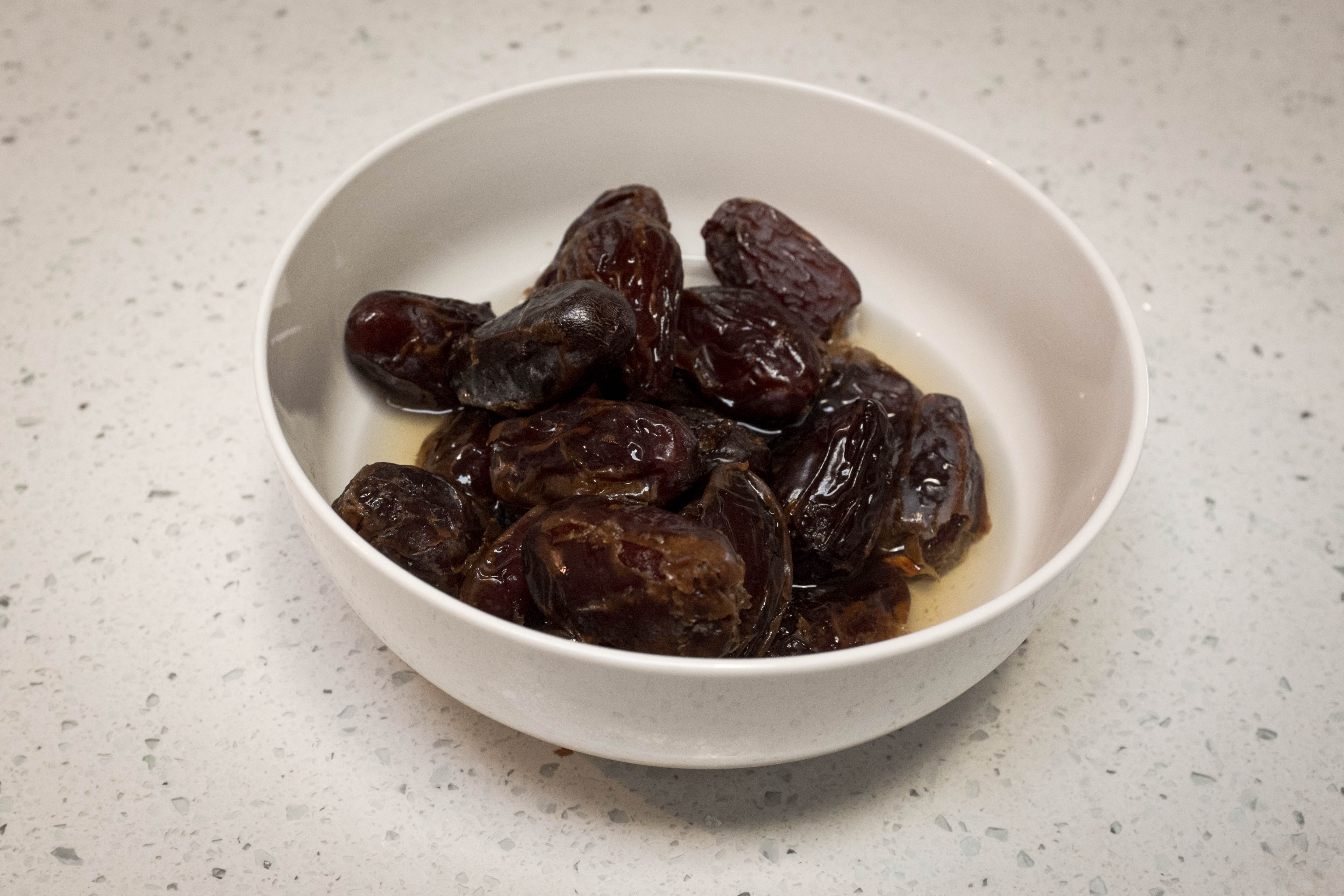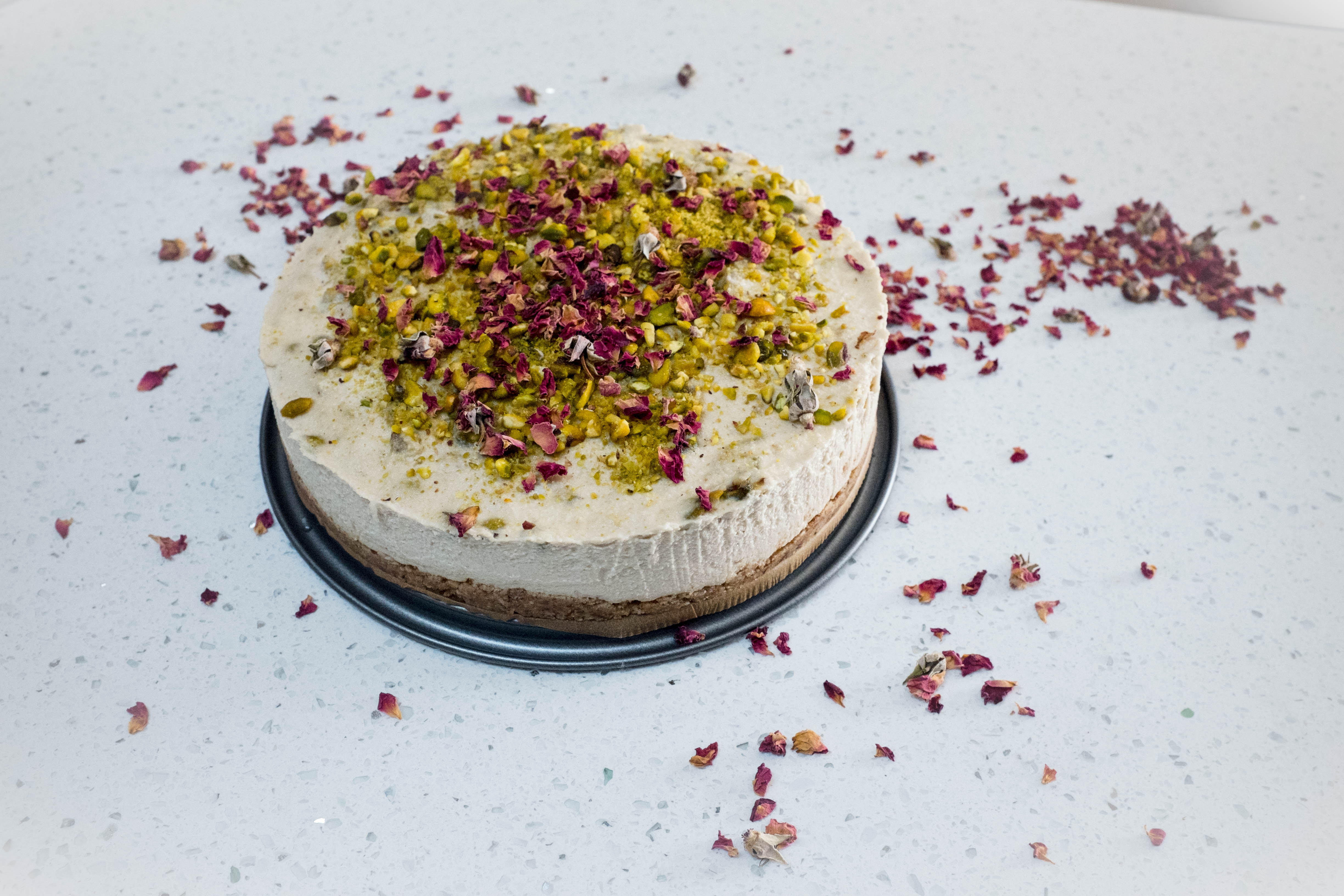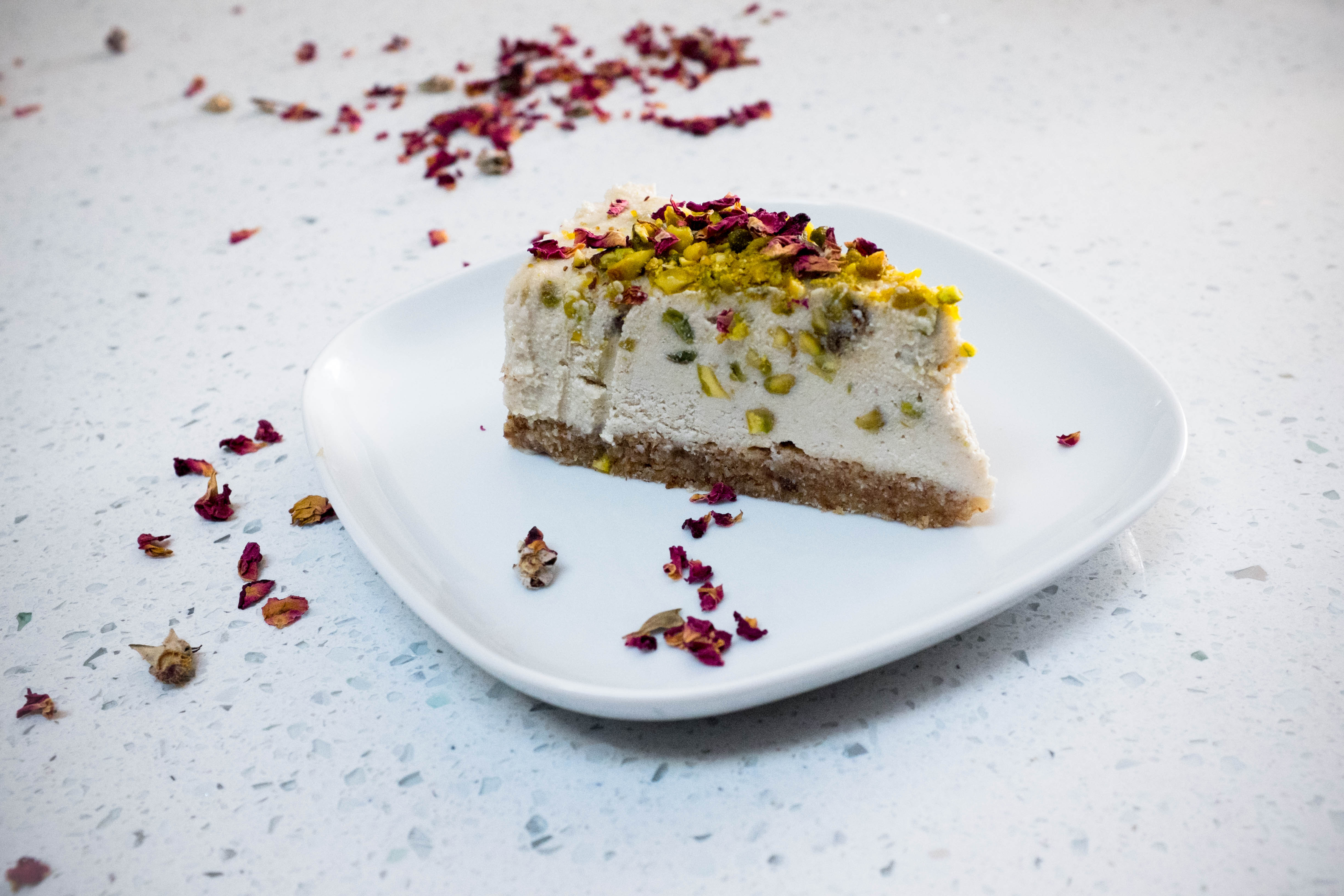 I'm notorious for eyeballing and never using exact measurements when I make food, and encourage you to taste test frequently as you follow this recipe to tweak it to your own liking!
Crust:
8 medjool dates, soaked and pitted
100 grams almond meal (instead of almond flour)
100 grams shredded coconut (1:1 ratio with almond meal)
Filling:
5 cups of cashews, soaked and dried
2 tablespoons rose water
1 teaspoon vanilla extract
1 lemon, juiced
1 can coconut milk
3/4 cup honey
1 teaspoon vanilla extract
2 teaspoons rose water
Directions:
Soak cashews overnight. If you don't have time to do this, soak for 30 minutes in hot water.
Soak dates (15 minutes in hot water). Once the dates have finished soaking, remember to remove the pits. I take a fork and peel the date in half; it should come apart easily after soaking. Do not dispose of the date water.
While the cashews and dates are soaking, line the bottom of a springform pan with parchment paper. I place the bottom of the pan on top of parchment paper, use a pen to outline it, and cut it out with scissors.
In a food processor, blend dates, almond meal, shredded coconut – I like to blend the dates together first to ensure consistency, and then slowly add the dry ingredients. If it's too dry, add date water in half teaspoons as needed to achieve the consistency you're aiming for. mixture should be a sticky, dough-like texture.
Press the crust into a 9″ springform pan, and chill in the freezer while you make the filling.
For the filling, blend cashews, lemon juice, coconut milk, honey, vanilla extract, rose water until smooth. I used a Vitamix, but you can use any type of blender that's able to liquify nuts. Your mixture will be thick, and here's where a lot of the taste-testing comes in. Instead of using sugar or stevia to sweeten your mixture to your liking, use date water, which will slightly thin out your mixture and make it easier to work with.
Pour the filling into the springform pan, stir in some crushed pistachio pieces, and chill the cake overnight. If you don't have that much time, 4 hours in the freezer should do.
Totally optional, but I wanted to make it look pretty, so I added some dried rose petals on top of the cake after removing it from the freezer.