Some days I feel painfully lazy when it comes to cooking dinner. Though I usually see the kitchen as as place of solace, and my time to relax, there are evenings where I'm either working late, or want to do something else, which prompts me to look for a quick, easy recipe.
Shishito peppers are incredibly versatile, and there are so many ways they can be prepared. The form that most people will be familiar with encountering them in is also their simplest–charred, salted, and a bit deflated. A common way to serve shishito peppers at Japanese restaurants is to lightly dress them in soy sauce, but they taste just as delicious when the soy sauce is swapped out for its gluten-free replacement, coconut aminos. Shishito peppers can be found at Trader Joe's, Whole Foods, and Asian supermarkets, and they are relatively affordable.
With this method of cooking shishito peppers, you can leave the peppers on the pan while you're reading a book, working away, or watching TV. If your pan's sounds are within earshot, you'll hear a satisfying pop from the peppers are they char and deflate, which is exactly what you want to achieve that blistered, smoky texture.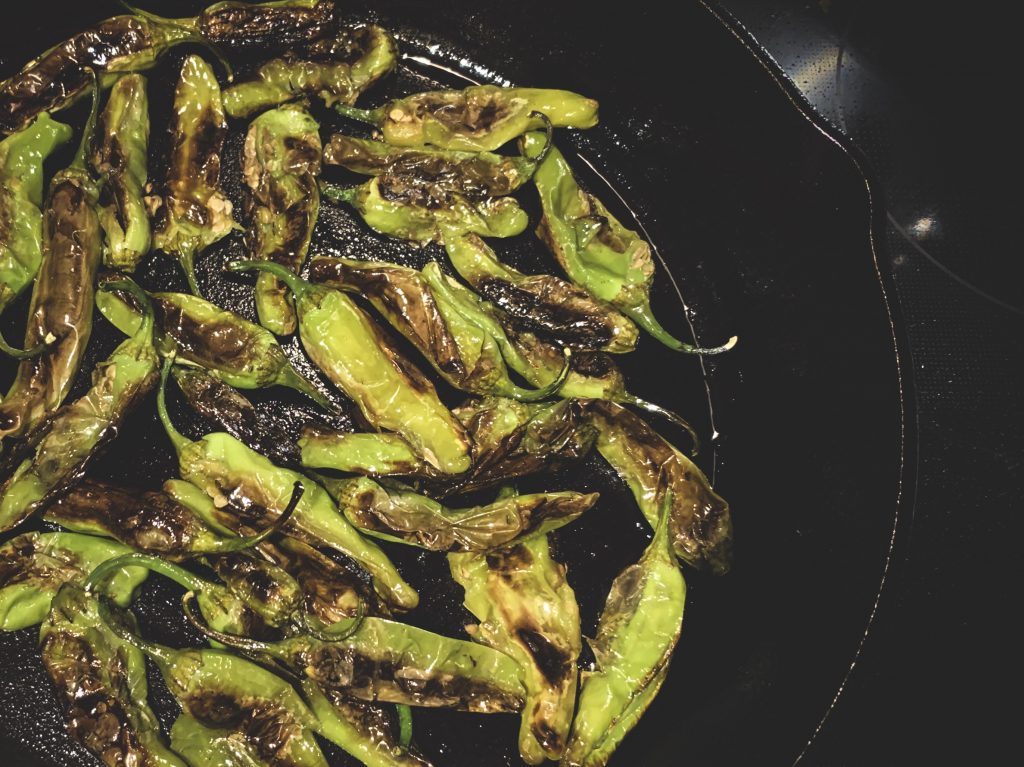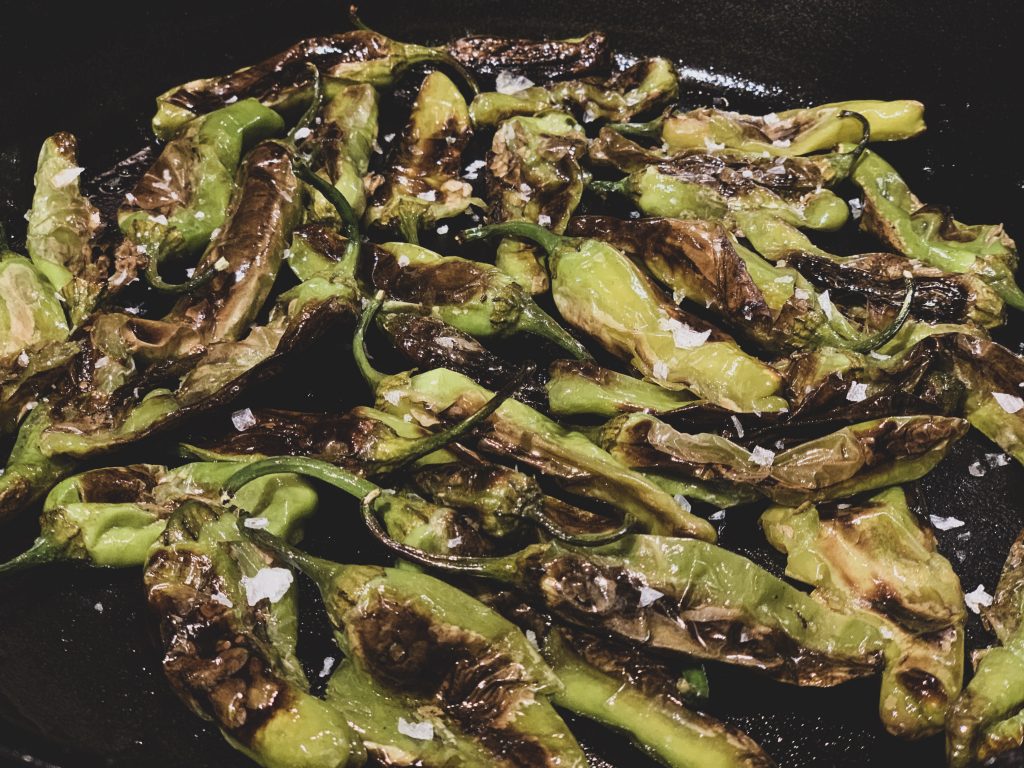 Ingredients:
Shishito peppers (I emptied a whole bag from Trader Joe's into my skillet)
Coconut aminos
Apple Cider Vinegar
Coconut sugar
Olive Oil
Coarse sea salt (I swear by Maldon)
Directions
Drizzle the pan with olive oil, and heat it over medium heat. I recommend using a cast iron skillet for these peppers, as it tends to flavor and cook the peppers more thoroughly due to cast iron's heat retention capabilities.
Once the oil is hot, but not yet smoking, add the peppers to the pan. Make sure they are spread evenly, with each pepper making some contact with the surface of the pan. The trick here is to refrain from touching the peppers until they are ready to be turned.
The peppers will cook slowly, and will expand, pop, steam, and deflate. Once they begin doing this (around 5-7 minutes), use a pair of tongs or chopsticks to turn them, one at a time. They should be significantly charred on one side, and flipping them will introduce the same lovely color on another side.
Sprinkle some sea salt over the peppers.
Let the peppers sit in the pan for another 4-5 minutes, until they are deflated. I like to take the chopsticks or the tongs and help pop the peppers that haven't been able to deflate on their own.
Transfer the peppers to a plate covered with a paper towel to soak up excess oil.
While the peppers are cooling, combine a few tablespoons of coconut aminos, a dash of apple cider vinegar, and a few pinches of coconut sugar. I taste test as I go, and tweak ratios when creating this marinade.
Remove the paper towel from the plate, drizzle your marinade over the peppers and toss them lightly to combine.