Tartine Bakery is one of San Francisco's quintessential foodie establishments. It's made every notable list, and for good reason. In 2016, Tartine Manufactory inherited 5,000 square feet of space next door to Heath Ceramics, dedicating the interior to baking bread, cooking food, and serving drinks. With countless restaurants in San Francisco vying for the same accolades and attention, repeat patrons are a reliable indicator of whether a place feels worth visiting. This was my third trip to the restaurant in the last year, and it did not disappoint.
Weekends in San Francisco are dedicated to brunch, particularly during the summer and fall months, when warmer weather beckons individuals out during the day. Nestled on the corner of Alabama and 18th in the Mission district, Tartine Manufactory has all the trappings of a memorable meal–from the coveted abundance of natural sunlight pouring in through the tall glass windows, to the quirky ingredients and reinventions of classic American dishes. Diners are greeted by the delectable sight of freshly baked loaves of bread, comfortably rising inside of industrial ovens. The ambiance evokes simplicity and elegance with its off-white colors and light wood furniture. Tartine Manufactory accepts reservations for dinner only, so it's highly recommended to arrive early (I believe we waited an hour for a party of 4 on a Sunday at noon). The restaurant sends you a text when your table is ready, and a great way to kill the wait time is to meander next door to Heath Ceramics; besides drinking in a visually stunning display of ceramic pieces, there are also plenty of whimsical knick-knacks for sale inside the shop.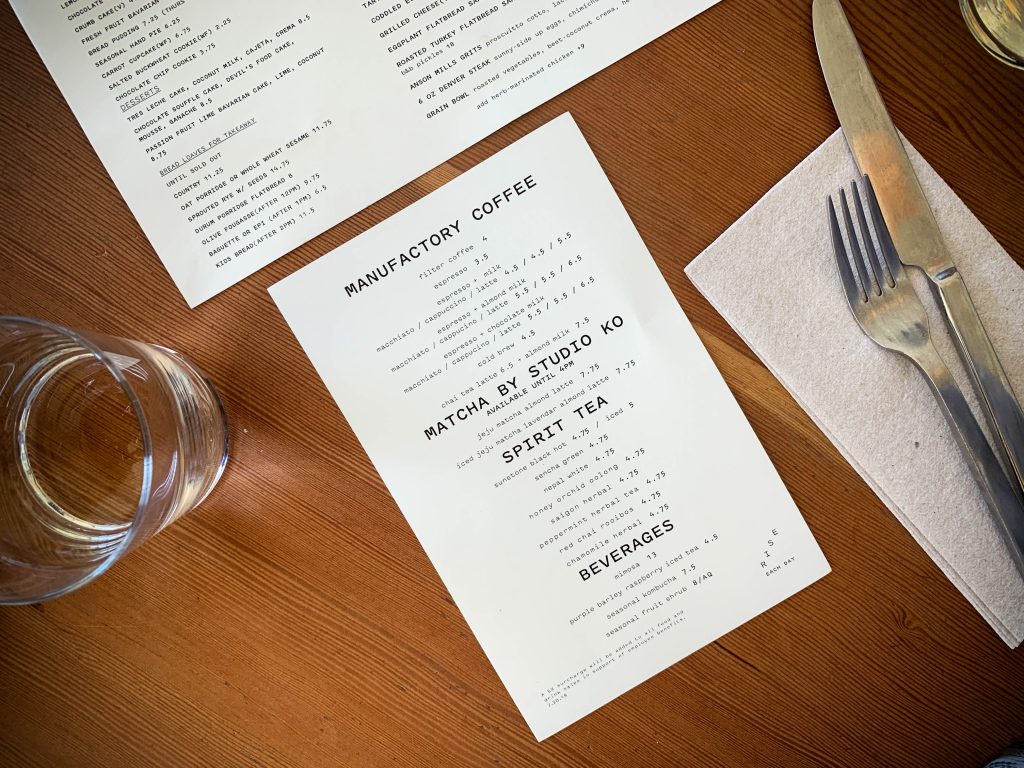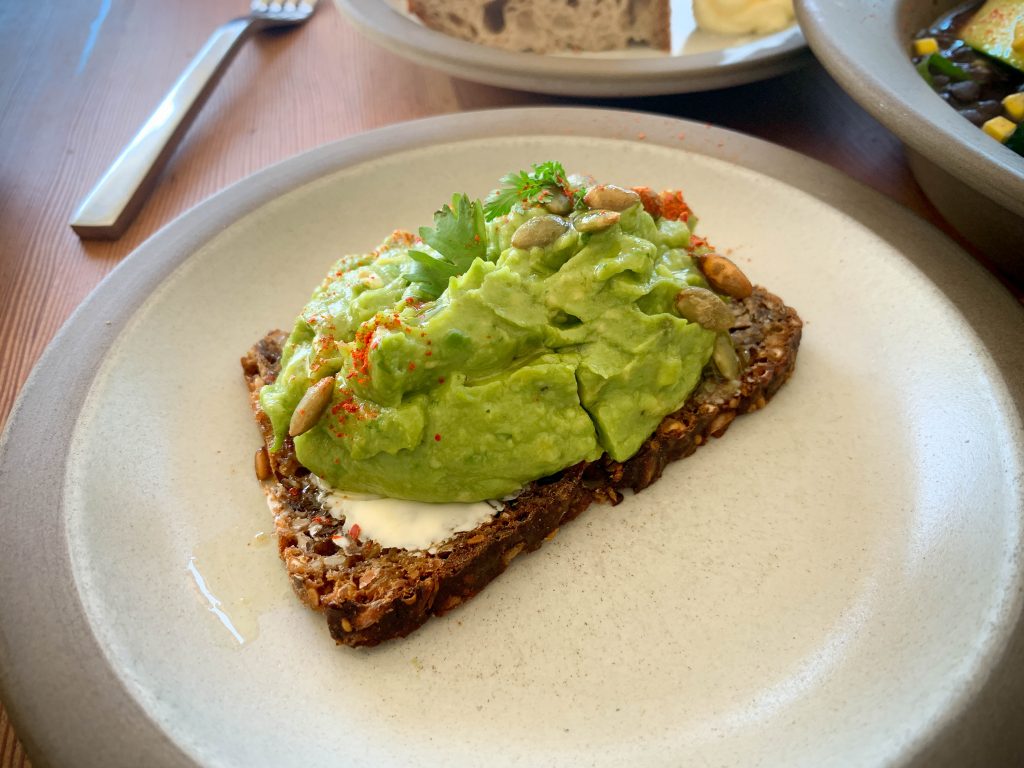 Smørrebrød is an open-faced Scandinavian sandwich. I'm principally against purchasing any permutation of avocado toast at restaurants because it tends to be prohibitively expensive, but you lose decision-making power when you're not the one footing the bill. I'm also yet to discover a restaurant that makes avocado toast better than my homemade version (the recipe for which is coming soon!). That being said, if you are the kind of person who feels compelled to order avo toast at brunch, Tartine's freshly baked bread does it justice, and the pepitas and serranos add nice texture and hint of heat to the dish.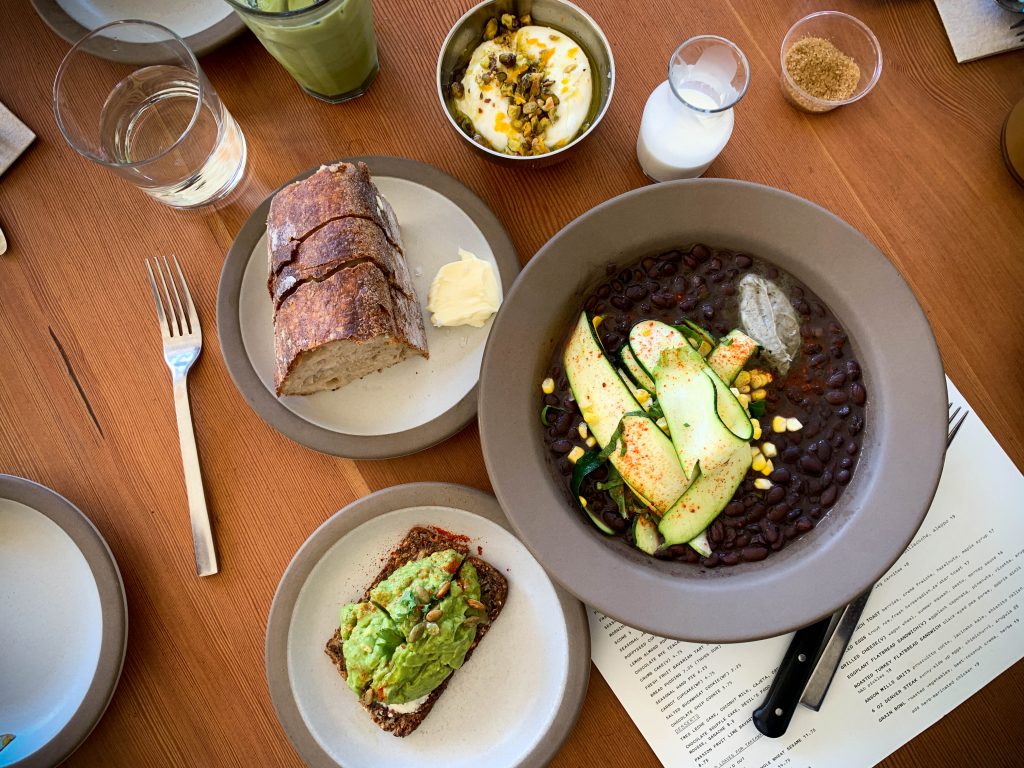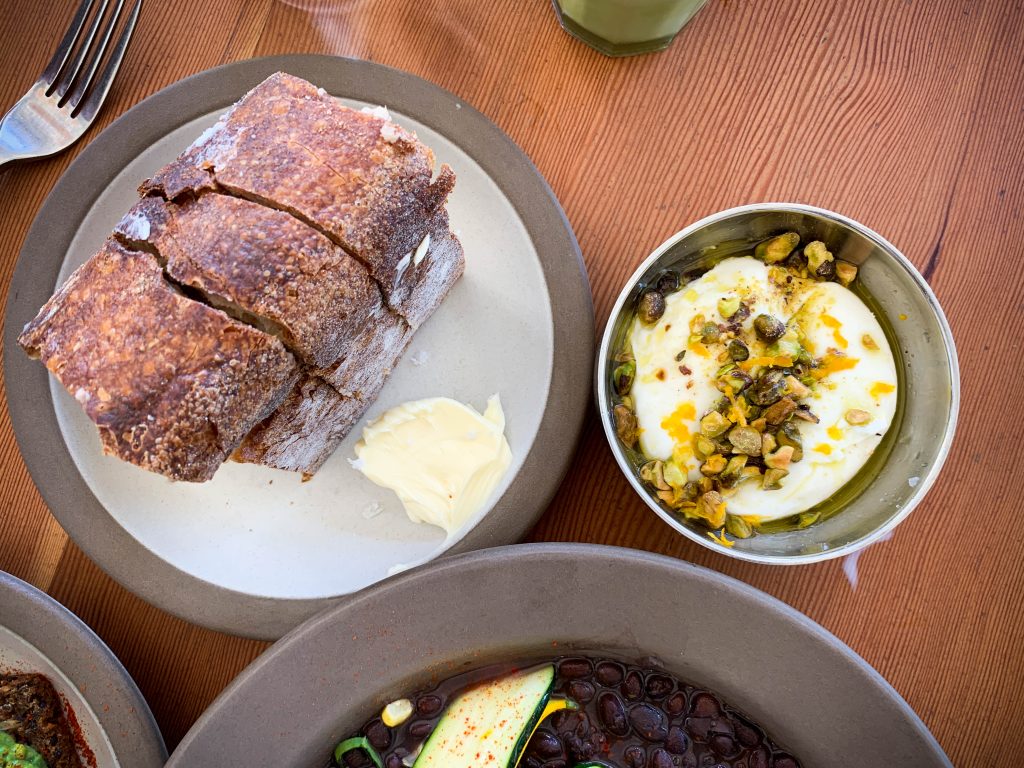 For someone who is somewhat intolerant to both dairy and gluten to wholeheartedly inhale bread and cheese means that this dish is worth ordering. My first taste of this dish was love at first bite. Creamy, delicate burrata cheese was punctuated by a mild earthiness from the pistachios, yet balanced by the brightness of the meyer lemon it was soaking in. I closed my eyes as I savored the satisfying crunch from the slice of bread it was sitting atop, reaffirming a strong opinion that this experience was worth the stomach pains I'd come to endure later.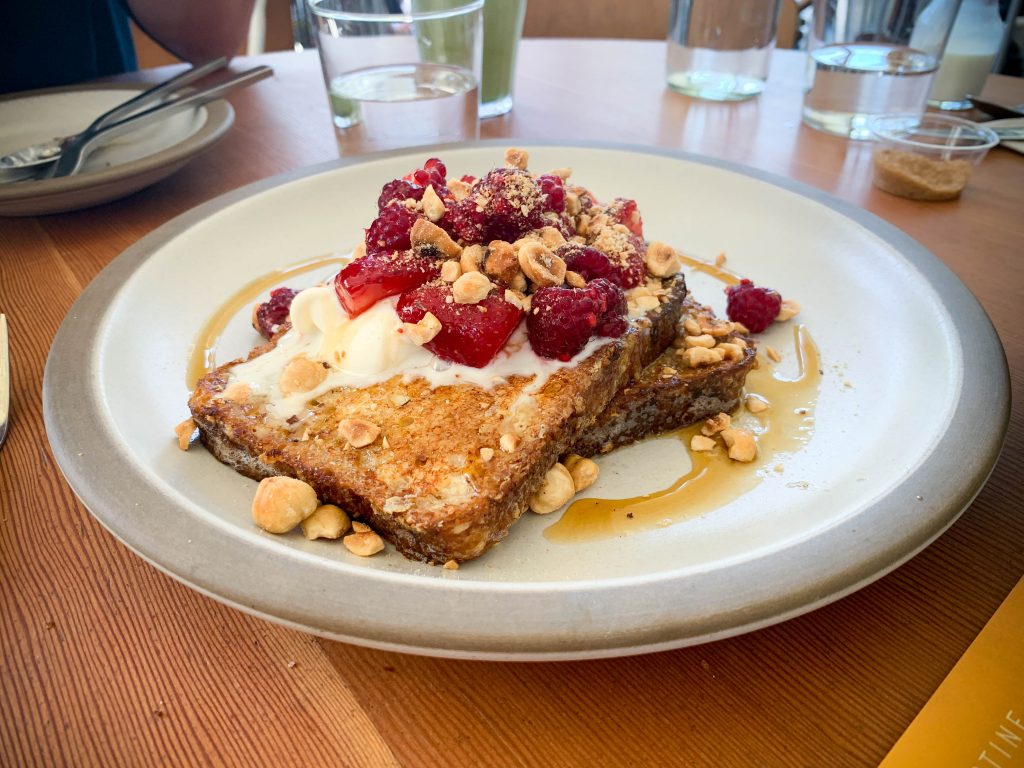 Can you even consider your meal a delectable brunch if it doesn't include French toast? I've tried my fair share of French toast variations at different restaurants in the city. Either this is an impossibly challenging dish to get wrong, or every place I've been to has perfected the art of making it, in their own unique way. Despite the fact that Tartine's French toast isn't made with Challah bread (which is the best type of bread to soak up the coating), what they do have going for them, again, is bread that is freshly baked in-house. Every mouthful was an adventure of subtle, chocolatey crunch (courtesy of the hazelnuts), mild sweetness from the maple syrup, and delicate brightness from the raspberries–all against the backdrop of a crunchy-but-moist piece of French toast that had been swimming under a thin blanket of creme fraiche.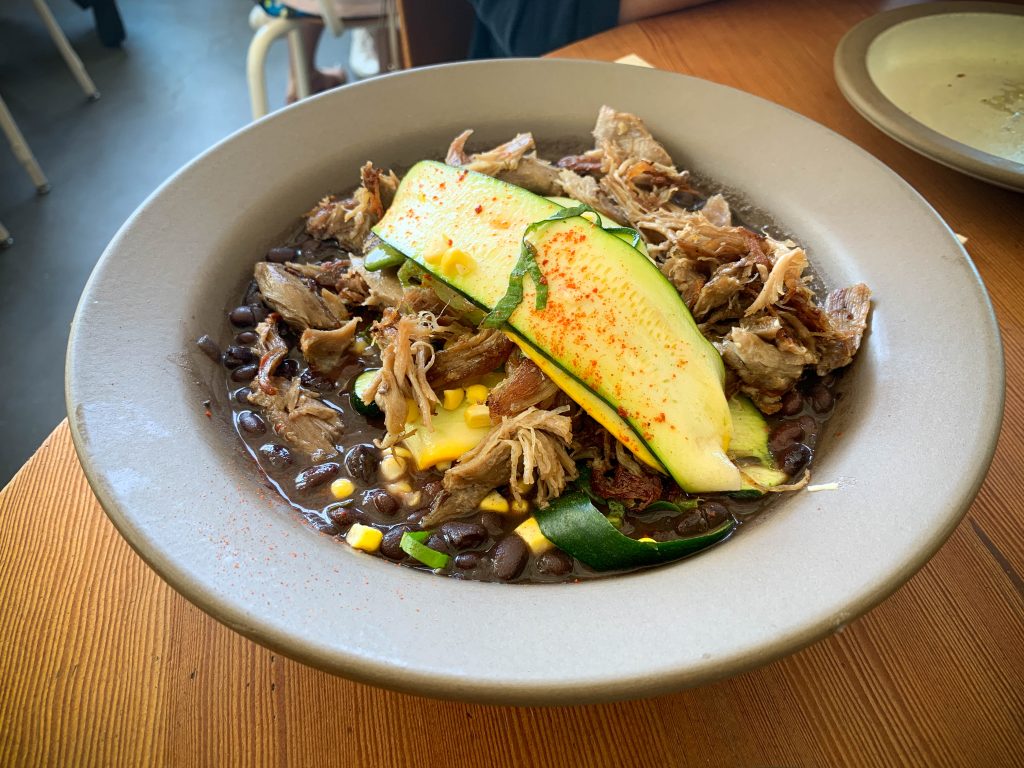 I didn't feel very excited about this dish when we ordered it, and when it came out, it looked rather lackluster; besides the ribbons of zucchini squash plated atop the stew, it looked somewhat unappetizing. It's funny how adding something like duck leg carnitas can spruce up what appears to be a simple vegetable dish, which took my impression of the stew from a 4/10 to a 9/10. The protein contributed a satisfying layer of dimension that was missing in the stew alone; the addition of shredded carnitas-style meat was exactly what the dish needed to come alive against the crunchy corn and soft black beans.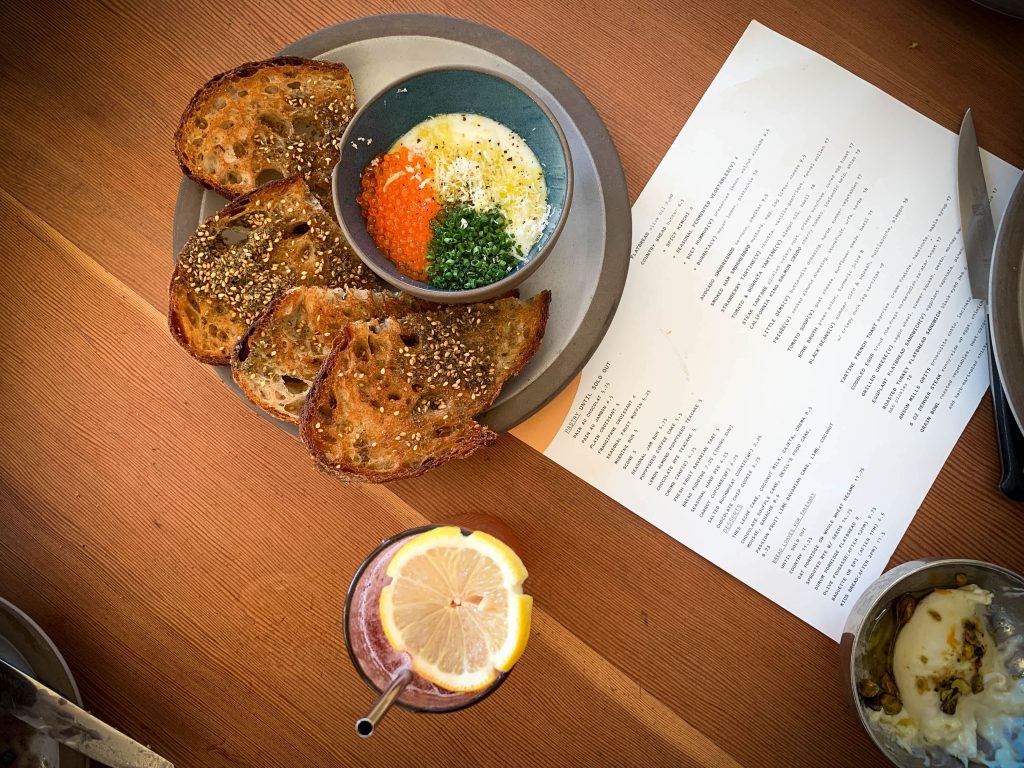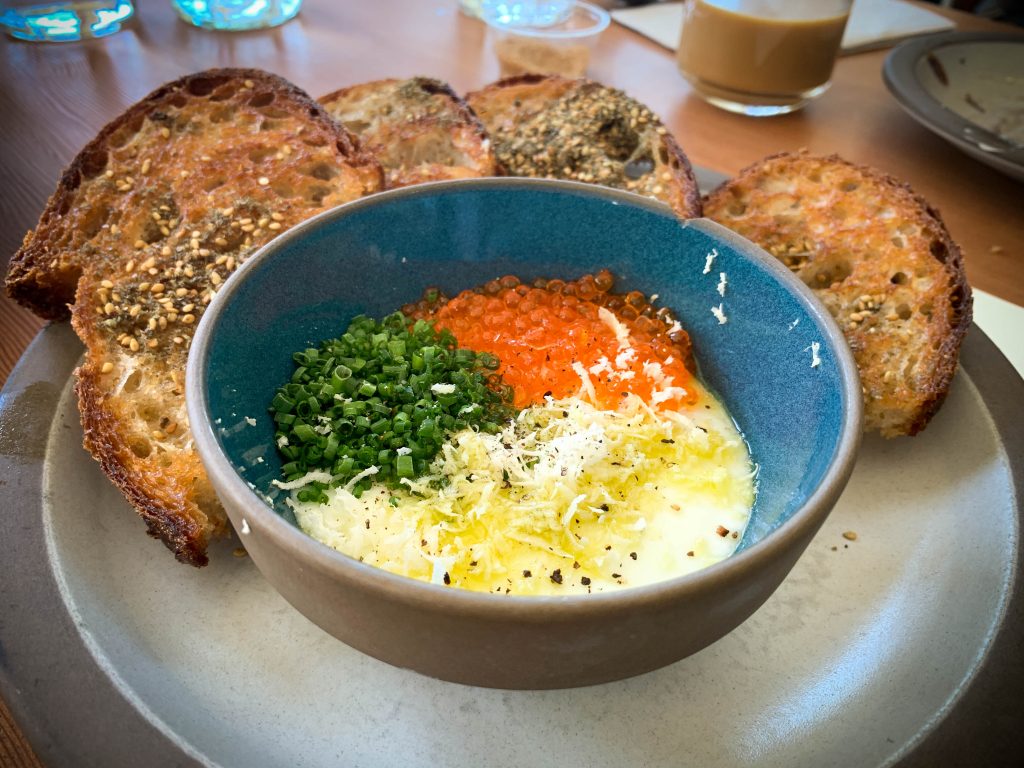 In contrast, I was most excited for the coddled eggs–and while they were good, they didn't blow my mind like I thought that they would. I'm typically a big fan of fish roe and gooey eggs, but for reasons I can't articulate very well, the dish lacked in complexity and pizzazz, and I expected more from Tartine's execution on this one.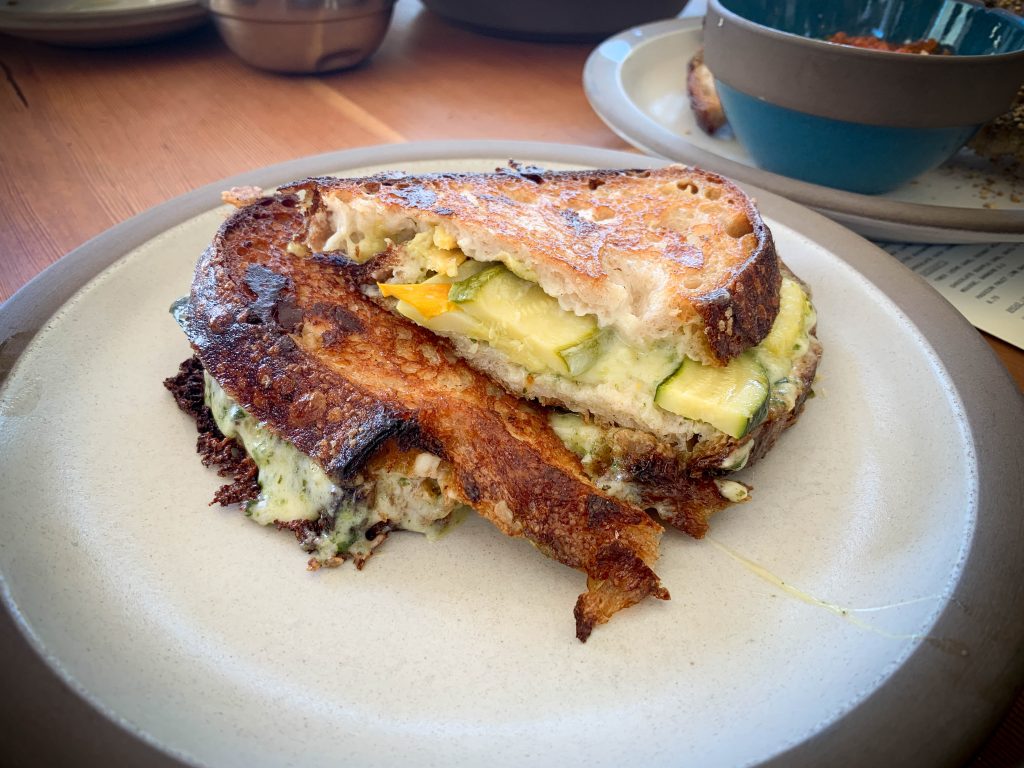 At this point, the four of us were getting rather nervous–we didn't quite remember how much food we had ordered, and we were beginning to feel painfully full. We'd also grossly underestimated the serving size of every single entree we had selected. The problem lies in that, when you venture to a brunch place this good, with friends who are equally dedicated to the act of eating good food, you've implicitly committed to finishing every part of your order.
The grilled cheese at Tartine is one of my favorites I'd had in SF. It might tie with the grilled cheeses that Cowgirl Creamery whips up at the Ferry Building on the Embarcadero (a long-running favorite of mine), except this one included squash, an interesting textural addition that neatly balanced the rich cheese and bread combination. If it wasn't apparent in my opinions about food, I believe that texture can make a huge difference in a dish, including one as simple and classic as a grilled cheese.
If there was one dish I'd come back to Tartine to order over and over again, it would be the grits. I'm just as surprised at myself, because this was what I thought was the least exciting item on the menu.
Tartine's version of grits is the quintessence of what I'd call "elevated everyday food" that fully deserves the hype that moniker generates. The basic combination of ingredients is simple: grits, kale, and eggs, but when you throw in some prosciutto and embellish it with some shishito peppers, a simple bowl of grits suddenly evolves into a multi-sensory experience that combines the best of all cooking elements: salt, fat, acid, and heat. In comparison to other entrees on the menu that were decadent and rich, this item was a perfect balance of nourishment and satisfaction, with some unconventional elements incorporated for excitement and surprise.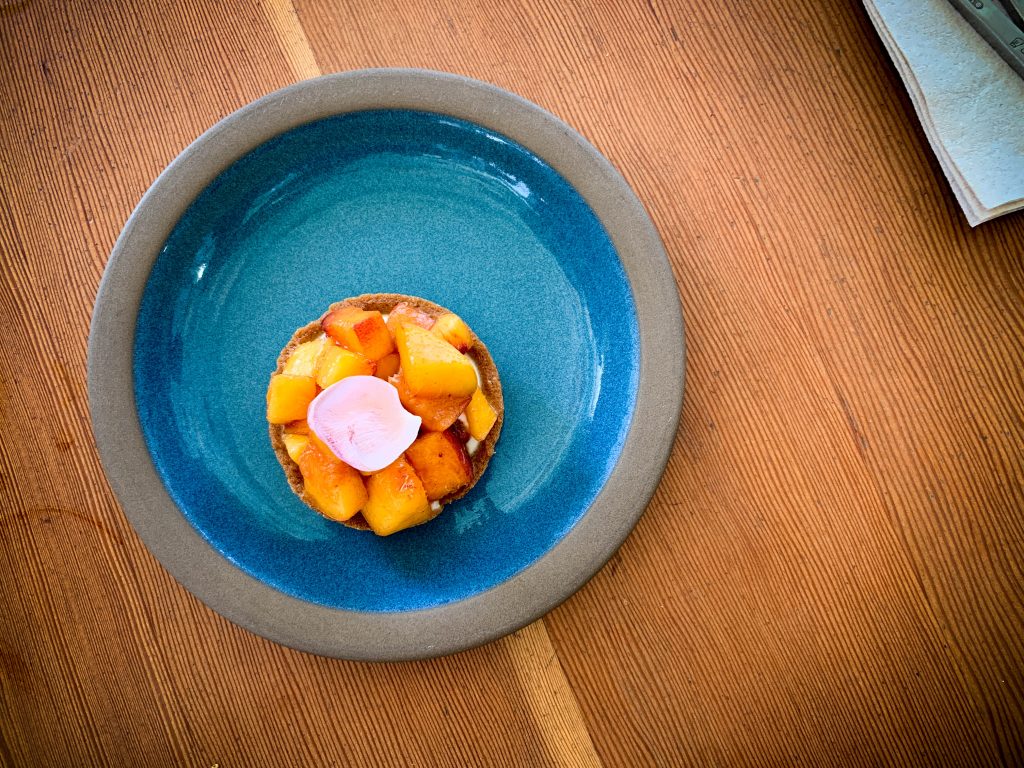 After the grits, we were all but slumped over our dining table, battling drooped eyelids and an uncomfortable fullness in our stomachs. Against all pragmatic principles for dining out, the table collectively decided that we'd already come this far, and should experience dessert, so we ended up ordering a Bavarian fruit tart. To our relief, the tart was miniscule, enough for each of us to enjoy one perfect bite. I'd absolutely order this again.
Consistent with the experience I'd had during my previous visits, enjoying brunch at Tartine blew away my expectations. F&B in San Francisco is highly competitive, and it can be challenging for restaurants to survive and distinguish themselves in the midst of an ever-present competitiveness within the scene. As a foodie, I feel constantly spoiled by my vast selection of dining options in the city. My three experiences at Tartine make me feel confident that this is an establishment that will continue to stand out and thrive against formidable challenges within the industry, and I'm already looking forward to my next meal there!