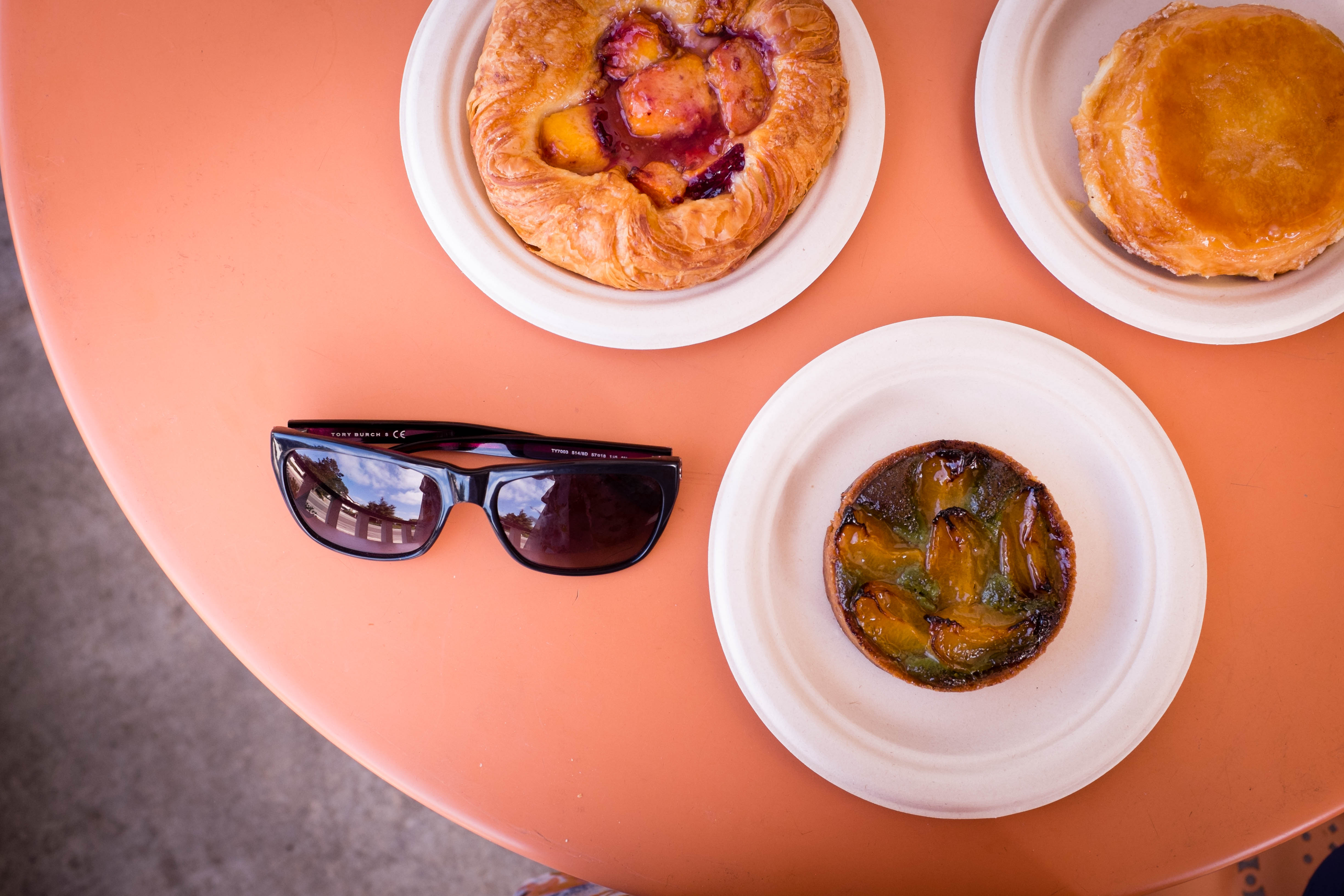 I've been trying to squeeze as many trips into the end of summer as I possibly can, and managed one pretty well-planned daytrip to Carmel–you can find some snapshots and words here. Carmel is a trove of delicious food because almost everything is local. When I go places, I gravitate to places utilizing local, in-season produce, ideally from farmer's markets. Not only are you supporting local farms and agriculture this way, but flavors that shine through are worlds apart.
Although we went to a number of restaurants in Carmel that day, I wanted to single out Parker-Lusseau. The original Parker-Lusseau opened in 1998, and is still a family-run business today. Anne Parker originated from LA, and met her husband Jean Lusseau while she was training as a pastry chef in Belgium. Guess where Jean Lusseau is from? Brittany, France, which also just happens to be the birthplace of my favorite chef, Dominique Crenn (of Atelier Crenn). Parker-Lusseau is the best bakery I've been to outside of France. And France has an absurdly high number of patisseries that are delicious. This quaint little shop bakes fresh bread every morning and it's pretty much unlike anything I've ever tasted. I frequent Vive La Tarte and The Mill in San Francisco, but Parker-Lusseau easily blows them out of the water. It's very much a small shop feel where people ask you what you thought of the pastries and keep up with what's going on in their neighbors' lives. I absolutely loved it and am certain I'll be back during my next trip down to Carmel.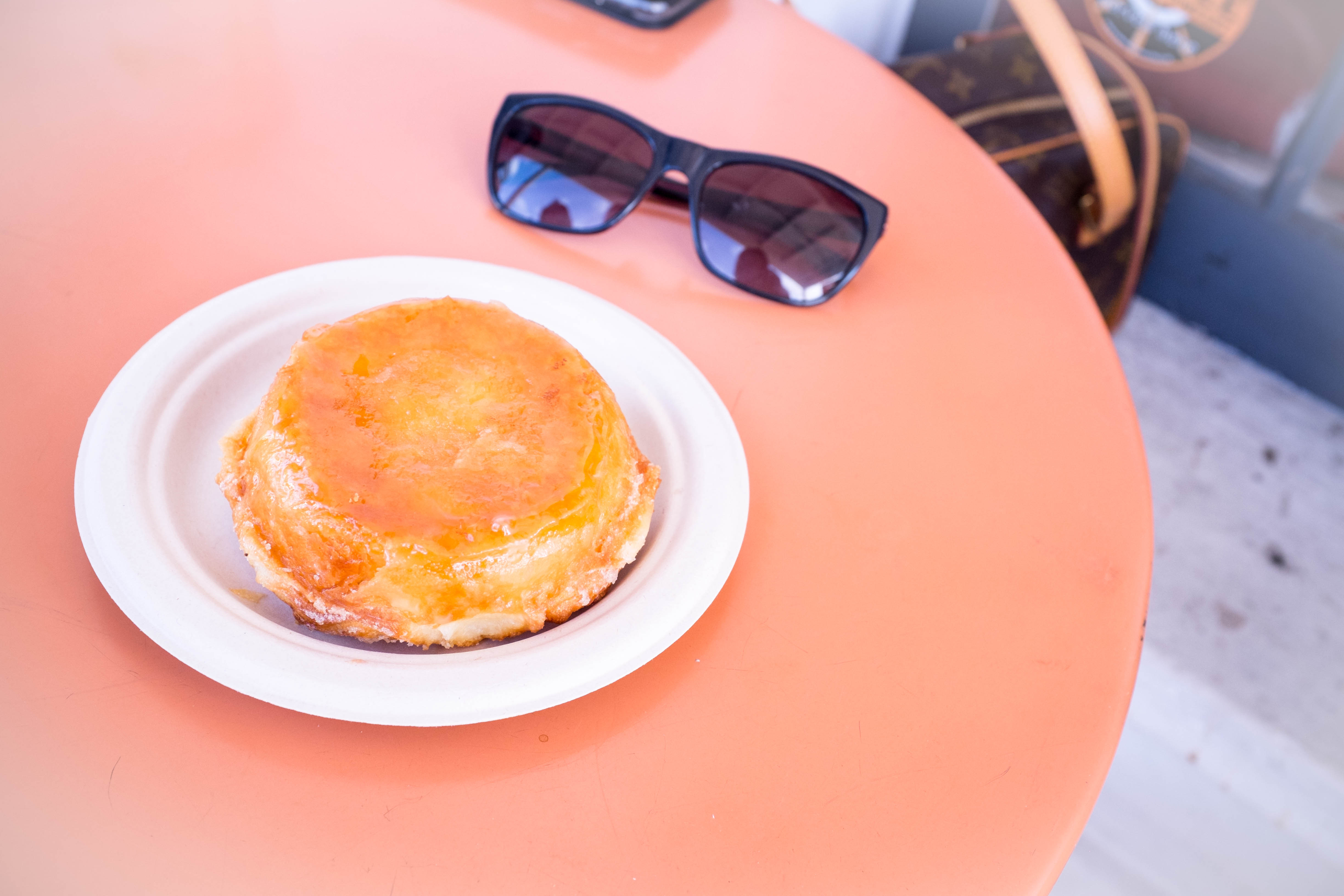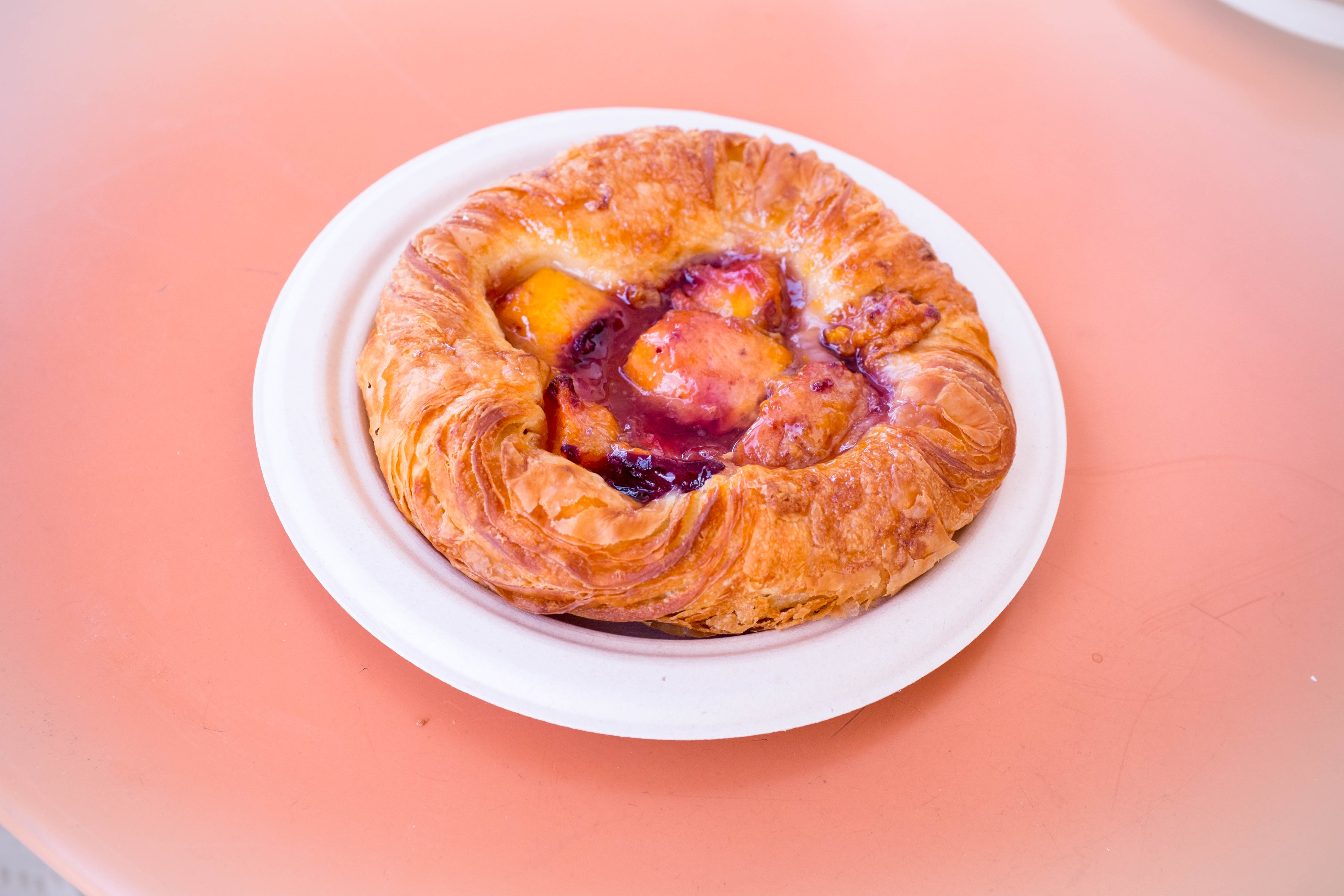 Kougin-Amann: A caramelized croissant made with extra butter and sugar so the outside gets extra crispy. In other words, an accelerated heart attack in baked form–one that is well worth the premature death. I had never had a Kougin-Aman before, and have to say that my life was changed. In the similar vein of how Atelier Crenn and Jiro Sukiyabashi changed the way I felt about fine dining and sushi, the Kougin-Amann at Parker-Lusseau redefined what it meant to be an exceptional pastry. The pastry is actually a specialty of Brittany, where Jean Lusseau is from. It tasted less like a croissant and more like a flaky donut; I think this is what the cronut was supposed to emulate, except the French have been doing better it for centuries!
Fruit Croissant with Fresh Peaches: A quintessential example of local produce incorporated into pastries. Summer is peach season, and the way these peaches from the local farmer's market were folded into a buttery, flaky croissant was fantastic. Croissants are incredibly delicate in their texture and tastes, and I'm actually not a fan of the supremely oily/buttery ones because it tends to overpower the natural sweetness of the yeast. I'm partial to lightly accenting flavors such as apricot or peach. The tough thing about fruits in pastries is that most mediocre pastry shops tend to reduce and glaze them to a point of unbearable sweetness that sends you spiraling into a sugar crash induced food coma. That, and you can tell the fruit isn't fresh, which is what makes all the difference in how Parker-Lusseau executed this gem of a croissant.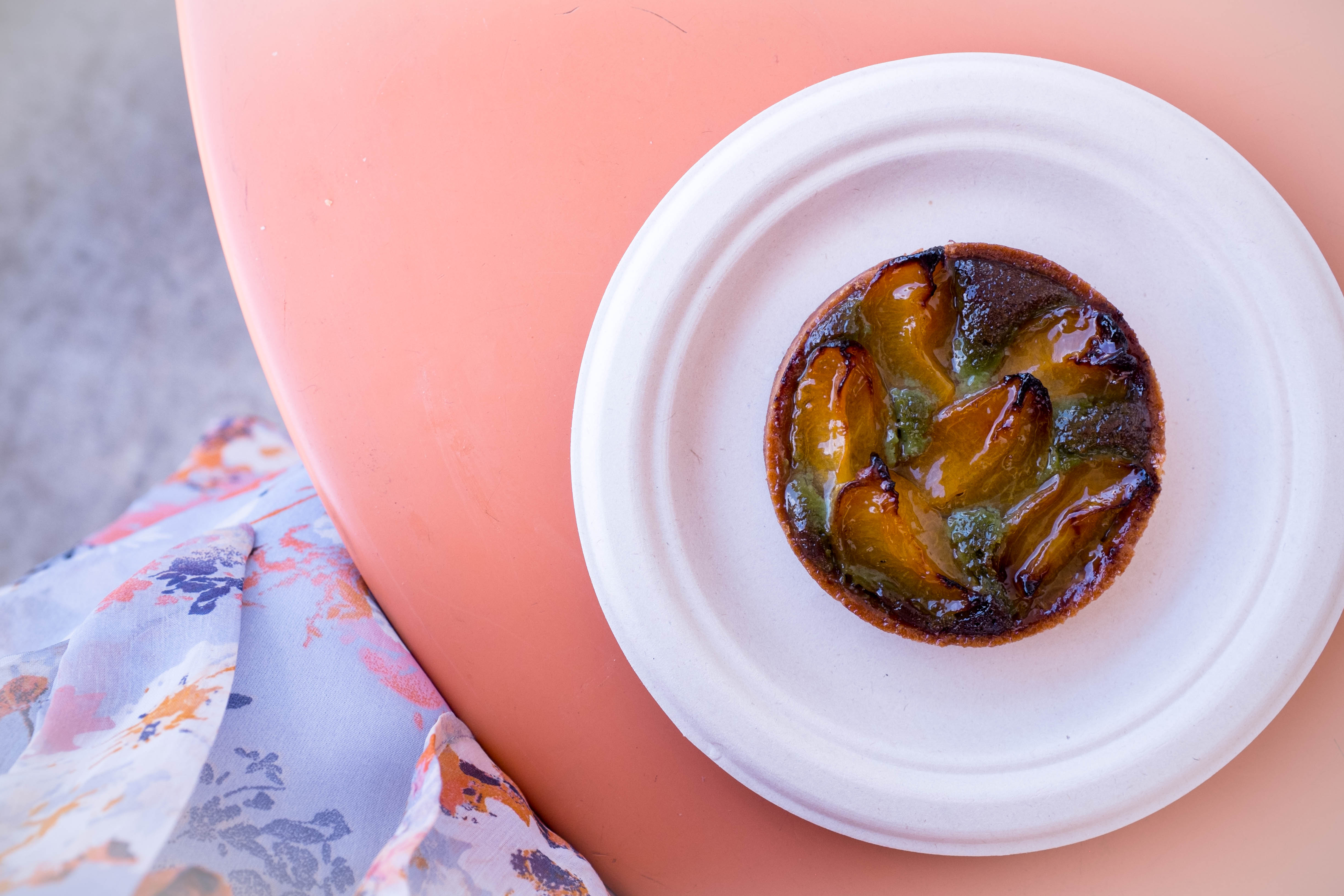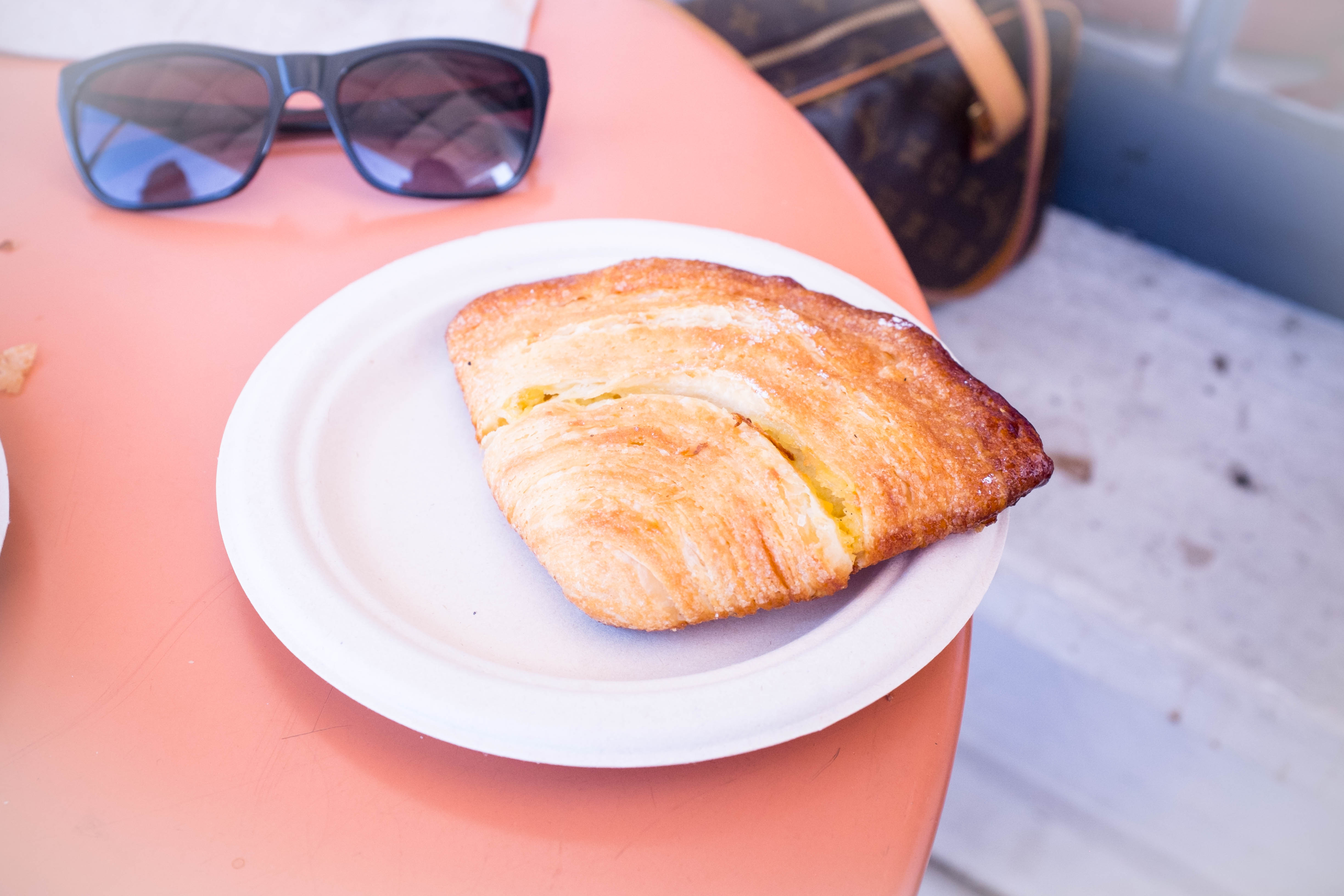 Apricot Pistachio Tart: So we already know I'm a sucker for apricot and peach flavors, but what you also probably know about me is that I have a mild obsession with trail mix, and make my own (because I hate picking out all the pieces I don't like). It's some gourmet trail mix that I do plan on sharing here at some point, and one of my favorite nuts is pistachios! I've found apricots to be slightly more subdued than peaches in flavor, which nicely offsets the density that pistachios can sometimes hold. I hesitated on this one because I tend to shy away from tarts, finding most of them to be horribly overprocessed and far too sweet, but the lady who didn't judge me for coming back for a second order of pastries encouraged me to give this one a go. Unlike most tarts I've tried in the past, this one didn't overpower with glaze and sugar; again, crediting this to their emphasis on fresh fruits.
Bichon (Puff Pastry with Lemon Cream Filling): I ordered this because I've seen a variety of meyer lemon and lemon in all sorts of things lately (ice cream, croissants, etc.). The tart/sweet combination works wonders when done right, and this bichon was no exception. Perfect puff pastry enveloping a lemon cream filling that clung delicately to the different layers of pastry. We have a lemon tree in our backyard, so I know what a good lemon tastes like! Good lemons are almost sweet, but not in the same way that meyer lemons are. The acidity is higher, but there's none of that bitter aftertaste on your tongue.
Conclusion? Go. If there's one place you must stop at in Monterey, it should be this one.