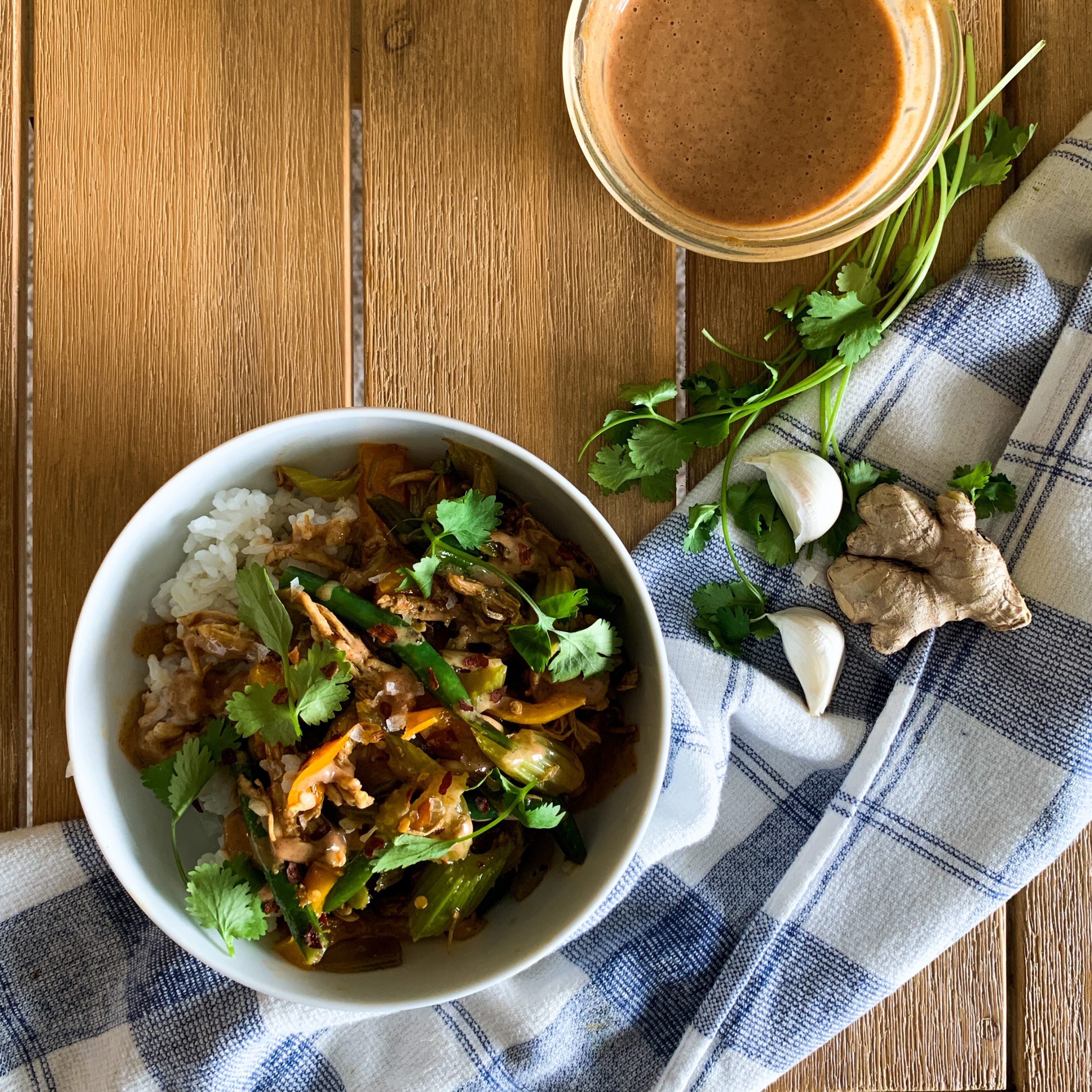 About a month ago, I happened upon this delicious hole-in-the-wall Indonesian restaurant in LA called Borneo Kalimantan Cuisine. I tried gado gado for the first time, which is one of Indonesia's five national dishes. It's essentially a light stir-fry served with peanut sauce, and I loved the depth of the dish–namely, the delicious sauce accompanying it. I had tons of veggies in my fridge that I wanted to use before they went bad, so stir-fry seemed like the perfect option to make use of everything. My favorite thing about this recipe is how customizable it is; it's a solid way to use up veggies that you don't want to throw out, but that you may not find another dish to incorporate into.
This recipe is gluten-free, paleo, keto, and can be made vegan (see modifications below).
Ingredients:
Stir Fry:
3 tsp avocado oil
6 cloves of garlic, minced
1 small nub of ginger, minced
2 medium red onions, diced
2 cups shredded chicken breast
2 medium bell peppers, sliced
2 cups of green beans
3 stalks of celery, sliced long
3 tsp chili sauce
4 tbsp coconut aminos
Sauce (whisk all of these ingredients together):
1/4 cup nut butter (I used almond butter)
juice from 1 lemon or lime wedge
1 tbsp coconut aminos
1 tsp sriracha hot sauce
1/2 tsp coconut sugar
Garnish (optional):
Lemon or lime wedge
Fresh cilantro
Fried shallots
Crushed peanuts
Directions:
In a large pan, heat the avocado oil on high heat, and saute the garlic, ginger, and onions. This helps create some nice aromatics for the rest of the ingredients.
Add shredded chicken breast, then remove these two from heat and set aside.
Add the rest of your vegetables, tossing and sauteing frequently to make sure everything is cooked through.
After about 5 minutes of cooking, reincorporate the chicken mixture that you set aside earlier.
Add the coconut aminos and hot sauce to the pan, stirring to combine everything. Keep tasting, salting, and adding coconut aminos and hot sauce little by little to get the flavor you want!
Serve over rice, drizzling a few spoonfuls of the spicy peanut sauce over the dish, and garnishing with some fresh cilantro, fried shallots, and crushed peanuts.
Modifications:
To make this dish vegan, simply omit the chicken. Tofu also works if you still want some protein in the dish.
You can essentially use any vegetables that would work well in a stir-fry; ones that have lower water content and cook quickly. I would suggest: bean sprouts, cabbage, or bok choy