As autumn rolls around, there's nothing that feels more comforting to the soul than rich, spicy dishes. If I'm being totally honest, I love spicy food year-round. It's as common for Chongqingers to say that they eat spicy food in the summer to sweat and cool themselves down, as it is for them to claim it warms them up in the winter.
Mapo tofu is a Chinese dish that is now ubiquitous throughout the world, but it originated centuries ago from the Sichuan province, in my hometown of Chengdu. So it should come as no surprise that the version nearest and dearest to my heart is the original, numbingly-spicy version of the dish, one that I grew up with in my household.
I've found that there are three ingredients that trademark mapo tofu: chili bean paste (豆瓣), fermented black beans (豆豉), and of course, Sichuan pepper. In my opinion, omitting any of these three ingredients distinctly changes the dish, so I'd caution against substitutions.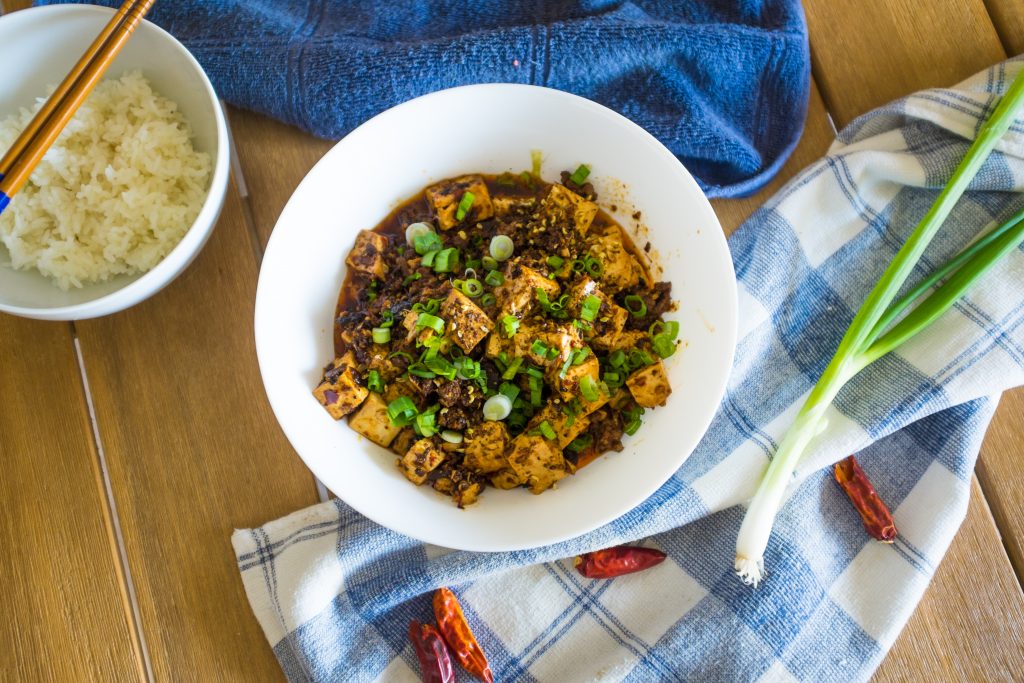 Dietary restrictions:
nut-free
gluten-free
refined sugar-free
paleo
Yield: 4 servings
Prep Time: 5 minutes
Cook Time: 10 minutes
Total Time: 15 minutes
Ingredients:
1 lb (450g) medium-firm tofu*
5 oz (115g) ground meat*
1 scallion stalk, chopped
1 tbsp (15mL) chili bean paste
1 tbsp (15mL) fermented black beans
1 tbsp (20g) minced garlic
1 tbsp (8g) minced ginger
1 tsp (5g) dried chili peppers
3 tsp (3g) finely ground Sichuan peppercorns
1/4 tsp (1g) ground black pepper
5 tbsp cooking oil
Directions
Boil water and pour into a bowl. Add salt and mix well.
While the water is boiling, cut the tofu into medium-sized cubes. Add the cubes to the water to soak and soften.
Grind the peppercorns. Set aside about half for garnish later.
Grind the rest of the peppercorns, black pepper, and dried chilies in a food processor or mortar and pestle.
Chop the scallions, and set aside.
Mince the garlic and ginger, and set aside.
In a pan that can handle high heat (I used a flat-bottomed wok), heat a tablespoon of cooking oil and cook the ground meat, making sure to salt it. Break it up into little pieces. Remove and set aside.
Adjust the heat to medium heat, and add the rest of the cooking oil until the wok begins to smoke. Add the chili bean paste, black beans, ginger, and garlic, stir-frying patiently while the mixture blooms and the colors deepen.
Add the ground spice mix, continuously stirring to make sure heat is being distributed evenly. Add a splash or broth or water as needed to deglaze the wok bottom.
Drain the tofu, and add the cubes and beef back to the wok, gently spooning sauce over them.
Top with the scallions and ground peppercorn.
Serve immediately with rice.*
Recipe Notes
Soft or firm tofu can be used. If using soft tofu, be gentle when cooking the cubes.
Any type of ground meat should work, but I prefer ground beef.
This dish is great as leftovers the next day. It can revive leftover, dried out rice very well!