Fish is commonly prepared whole in a lot of Chinese seafood dishes. The striking appearance, along with the flavors of the different parts of the fish, is a delicate, but impressionable, way to prepare whole fish. While this dish looks complicated, preparation is so easy and simple, and always satisfying!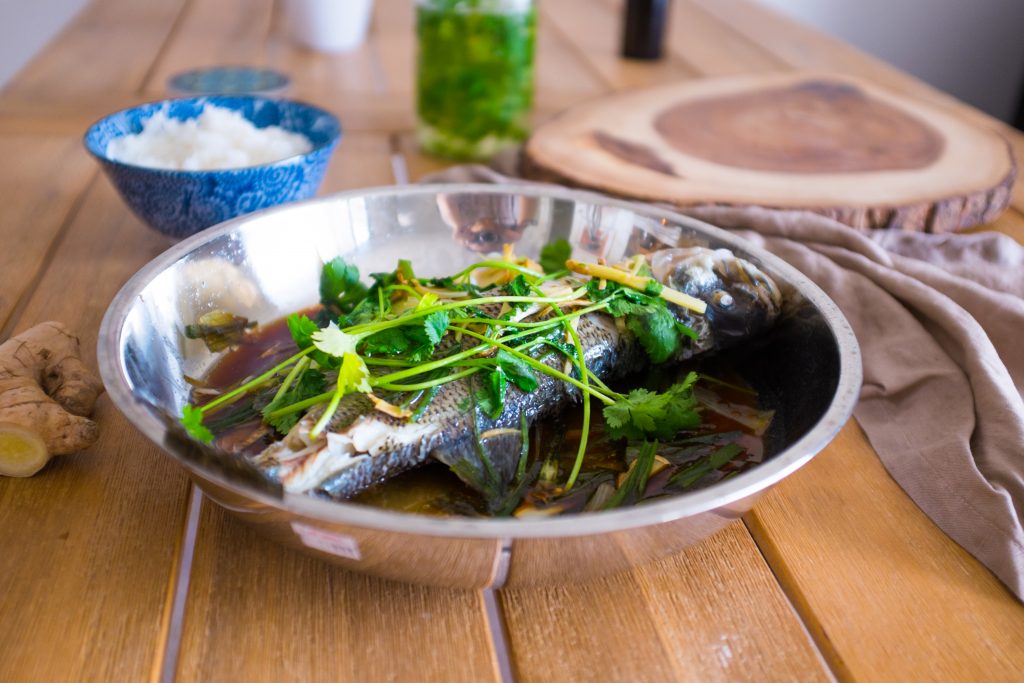 Basic info:
nut-free
gluten-free
refined sugar-free
paleo
keto
Yield: 2 servings
Prep Time: 5 minutes
Cook Time: 10 minutes
Total Time: 15 minutes
Ingredients:
1 whole fish, about 1lb (453g)*
3 stalks scallions
nub of ginger, roughly half the size of your palm
soy sauce
a handful of cilantro stalks
cooking oil with high-smoke point (I used avocado oil)
1 pack firm tofu, drained and cubed (optional)
Directions:
Julienne the ginger and scallions.
Place the fish in a steam-proof pan.
Top the fish with the ginger and scallions, and stuff some into the cavity.
Optional: add cubed tofu in the pan, around the fish.
Douse the fish and tofu with soy sauce.
Steam the fish for 8 minutes.**
Remove fish from steam, and top with cilantro.
Heat oil until it begins to shimmer.
Pour the hot oil over the fish to finish.
Serve immediately with rice.***
Recipe Notes:
I look for black bass or seabass, as their delicate flesh cooks wonderfully with this recipe. I normally buy the fish at a Chinese supermarket, where there's a wide selection of live seafood that the fishmonger can clean and scale for you when you purchase.
8 minutes is for a 1lb fish, but you may need 10 minutes for a 1.2 lb fish, or 13 minutes for a 1.5 lb fish. The fish is fully cooked when the flesh is opaque and flakes easily from the bone. If it's not done, you can steam it for another few minutes.
I love spooning the sauce and scallions from this dish onto my rice to eat with the fish.
Simmer any leftover sauce with tofu for a quick and easy bite.