Congee is a special recipe for me. When I was growing up, if I ever came down with a bout of food poisoning, or wasn't feel well, my parents would make me a bowl of congee to help settle my system. Plain rice congee is a common breakfast in China, but my favorite has always been either chicken porridge, or preserved egg porridge. I decided to try combining the two so I wouldn't have to choose between two flavors I love, and this recipe ended up having my favorite parts of both congee types! It's perfect for warming you up on a cold, rainy, day, but you can really have it any time.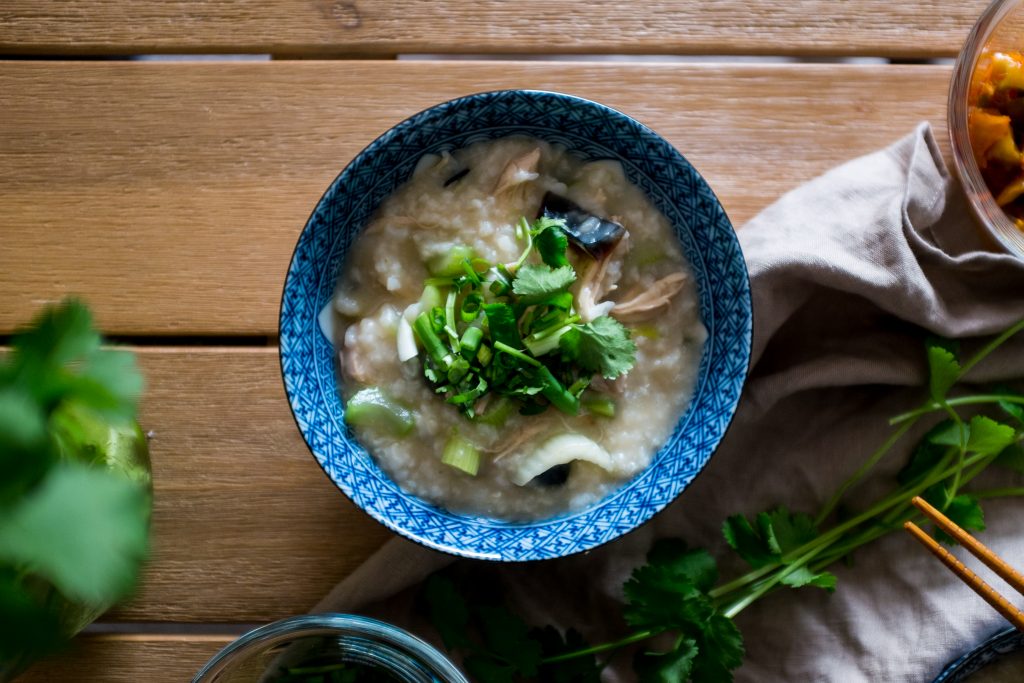 basic info
gluten-free
nut-free
paleo
Yield: 4 servings
Prep Time: 20 minutes
Cook Time: 60 minutes
Nutrition (per serve): 454 calories – 11g fat, 47g carb, 44g protein
ingredients
200g white rice (uncooked)
300g celery
9 cups water
2 cups chicken stock
4 preserved duck eggs
50g ginger root, minced
2 tbsp soy sauce
1lb chicken breast
directions
Add your rice, minced ginger, water, and chicken stock to a pot on high heat, and bring it to a boil, stirring and scraping the bottom of the pot occasionally to make sure rice doesn't stick to the bottom.
Once boiling, add your chicken breasts, and reduce the heat to a low simmer.
Poach the chicken breasts until the internal temperature is 165F (about 15-20 minutes).
Continue simmering the congee for about 30 more minutes. Set a timer!
While the congee is simmering, remove the chicken breasts, and shred the chicken (I use two forks for this).
Marinate the chicken breasts in the soy sauce, and set aside.
Chop the celery and the preserved egg.
Once the congee has finished simmering for 30 minutes, add the celery, preserved egg, and chicken. Simmer for another 5 minutes.
Salt to taste. I personally prefer adding salt to my own bowl because everyone likes a different amount of salt, and if I'm eating it with a salty side (such as 榨菜) I don't want my congee to be too salty either!
Garnish with scallions and cilantro.
I love serving this dish with some salty side dishes, such as smashed cucumber (拍黄瓜), fermented bean curd (豆瓣), or pickled mustard stems (榨菜).
Recipe Notes:
I love the taste of preserved egg, but you can omit it if it's not for you, and it'll still taste like a healthy, nourishing bowl of congee.
Celery isn't traditionally used in either chicken congee or the original pork version, but trust me – it adds amazing texture to this congee.
Poaching is a technique that cooks food in lower temperature water, which is great at getting a more even cook and retaining moisture, especially for things like chicken breast that tend to dry out easily.