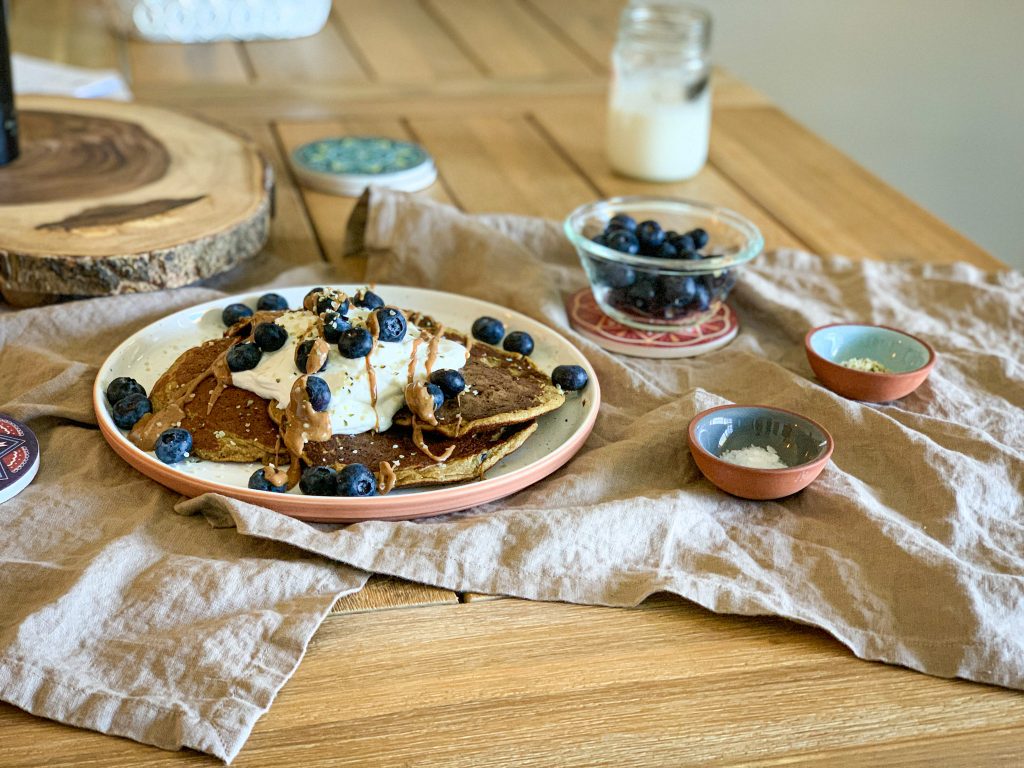 Have you ever had a bad day when it starts with pancakes for breakfast? I haven't either! Protein pancakes have always come out dense and dry for me. Thanks to the dalgona craze that's been taking over the Internet lately, I've developed an interest in egg whites and what they can do to combat dry or dense recipes, and that's exactly what happened with these banana blueberry pancakes.
Ingredients:
1 speckly banana, mashed
2 scoops Tropeaka lean protein powder (40g)
2 large eggs
1 handful of blueberries, mashed
1/4 tsp cinnamon
1/4 tsp baking powder
1/4 tsp salt
Toppings:
Siggi's vanilla yogurt
1 tbsp almond butter
Whole blueberries
Directions:
Separate the egg yolks and egg whites into separate bowls. Beat the egg whites for about 2 minutes, until soft peaks form.
Mix the egg yolk, mashed banana, mashed blueberries, and protein powder until a smooth consistency is achieved.
Gently fold in the egg whites until roughly combined.
Heat a nonstick skillet over medium-low heat. Once it's warmed, add a thin layer of the mixture onto the pan.
Once small bubbles start forming on the surface of the pancakes (about 2 minutes) and the sides lift easily under a spatula, they're ready to be flipped!
Give the pancakes a flip and cook for another 2 minutes.
Notes:
Whipped egg whites and baking powder are what makes these pancakes nice and fluffy, so make sure to beat the egg whites separately before folding them in.
Salt's role in this recipe is to bring out the flavor of the other sweet ingredients – don't omit it!
When folding in the egg whites, the mixture doesn't need to be perfectly mixed. Overmixing will break down the airy strucure of the egg whites.