The first time I encountered the magical mochi muffin was 2 years ago at Contraband Cafe in San Francisco. It was a muffin that had a crispy exterior, and firm, but chewy, on the inside. The muffin had a buttery, toffee-like taste to it, but the best part about it was that it wasn't too sweet (which is the best compliment I can give a pastry or dessert). Especially since some of my close friends are intolerant to gluten, it's one of my favorite sweet treats to bake. I've been making this recipe for a few years now, and recently decided to tweak it to test out two of my favorite flavors when it comes to pastries and desserts: matcha and black sesame!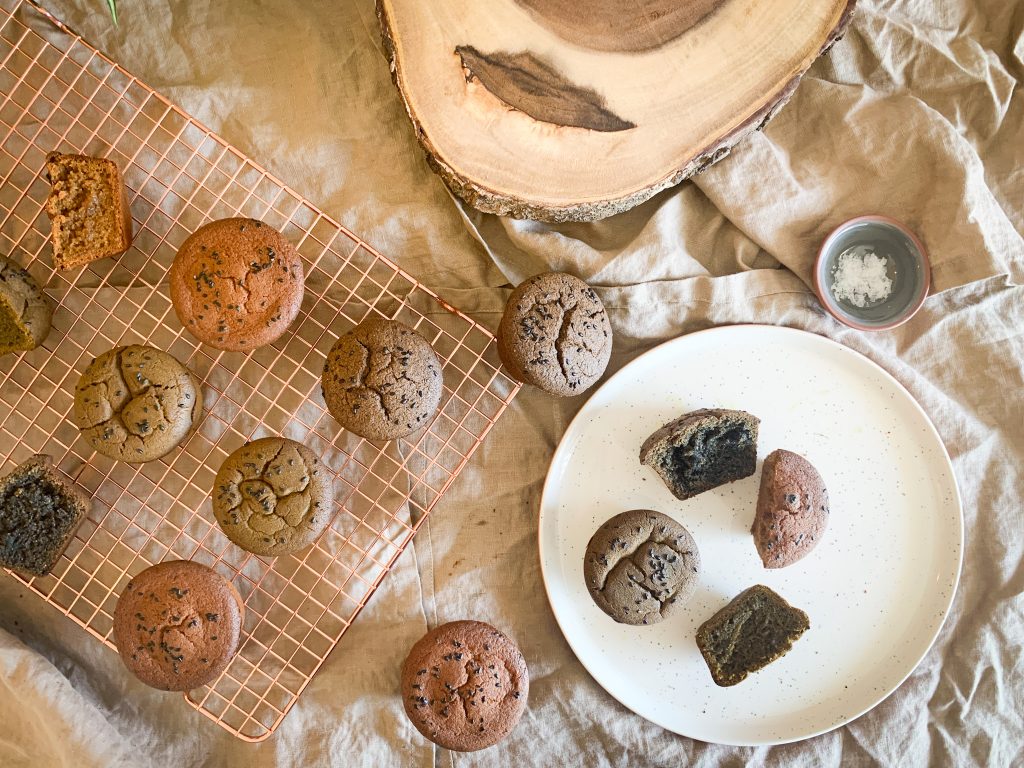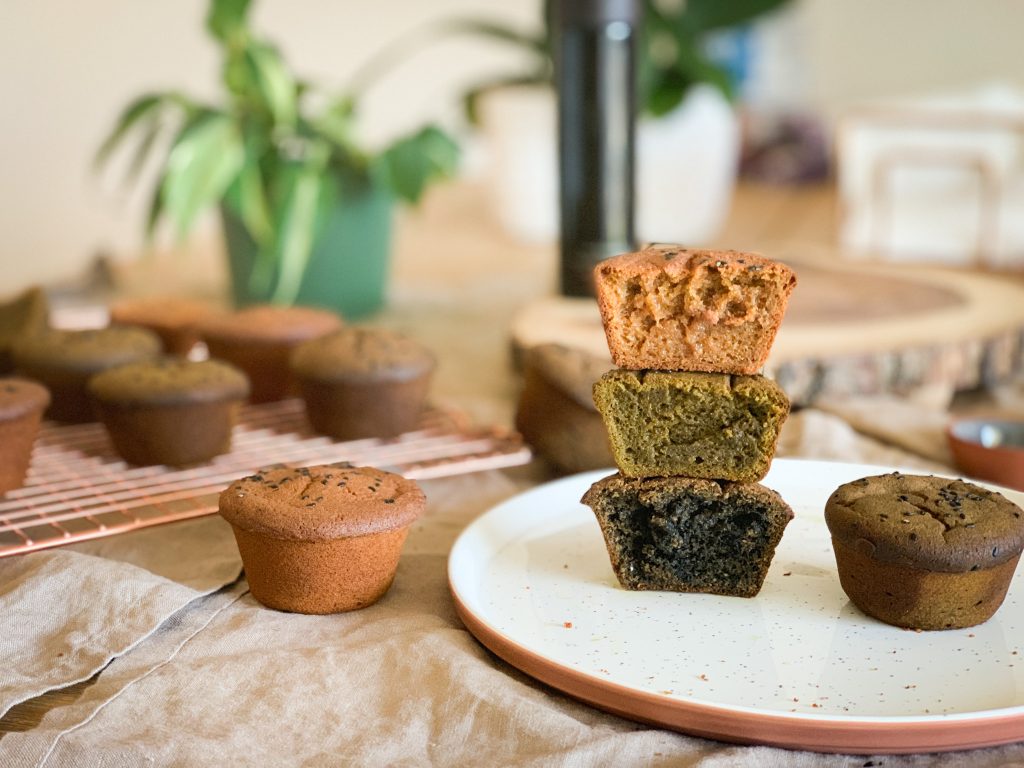 Mochi Muffin base (makes 12 muffins)
350g mochi flour (I use the Mochiko brand)
1/3 cup coconut oil, plus 2 tbsp coconut oil to add into the flavored muffin mixtures later
180g sugar; I usually use monkfruit sweetener, but cane sugar works too
2 tsp baking powder
1/2 tsp salt
1 can of coconut milk (full-fat is best!)
2 large eggs, room temperature
3 tsp agave nectar
2 tsp vanilla extract
Additional ingredients for flavored muffins:
Matcha: 1/2 teaspoon of matcha powder per muffin
Black sesame: 50g black sesame seeds per muffin, ground
Directions:
Preheat an oven to 350 and either grease the sides of a muffin tin with coconut oil.*
Mix the dry ingredients together and make sure there are no clumps: mochi flour, coconut sugar, baking powder, salt.
In a separate bowl, mix the wet ingredients together: the coconut oil, coconut mlik, eggs, agave nectar, and vanilla extract.**
While stirring the dry ingredients, slowly pour in the wet ingredient mixture and mix well, ensuring there are no clumps in the mixture.
Split the mixture into 3 separate bowls.
In one bowl, mix in 2 teaspoons of matcha powder, and 1 tbsp of coconut oil.
In another bowl, mix in 200g of ground black sesame seeds***, and 1 tbsp of coconut oil
Divide each bowl's mixture across 4 muffin tins, sprinkling a few whole black sesame seeds on the top of each.****
Bake for 50 minutes, or until a toothpick inserted into the center comes out clean.
Remove the muffins and let them cool for 30 minutes on a wire rack. This part is really important so the inside of the muffins can set to a chewiness that is firm, but not soggy.
Notes:
* You can also line the muffin tins with baking cups, but baking right against the metal creates a darker, crispier outside.
** I beat the eggs before adding other wet ingredients to make the wet mixture smoother.
*** To grind sesame seeds, I measured out 200g into a food processor and blitzed it.
**** You can also split the mixture based on how many of each flavor you want to make. Each muffin will require about 85g of the mixture.