Since quarantine began, dining options in San Francisco have become limited. Many restaurants have pivoted towards delivery and takeout options. Despite my love for cooking, I sometimes find myself craving dishes that aren't feasible to replicate at home. Uni over rice is one of those specific, but infeasible options, because the magical experience uni provides is only found in fresh uni.
I hadn't heard of Oma until I stumbled across eatthissf's Instagram post about their omakase option. While I was browsing their website, I noticed that they were within walking distance of my apartment in Japantown, and that they also offered an uni bento option. While I'm a sucker for uni, I'm also cautiously optimistic about ordering it from 1) new restaurants, and 2) as takeout, because it's such a delicate ingredient.
After I had scheduled a pickup, I walked over to the plaza (Oma is located on the second story of the Japantown plaza east of, and adjacent to, Webster St.), climbed the stairs, and was given my order. The bento was adorable, and the uni was a light yellow color, with a sweet, mild fragrance coming off of it.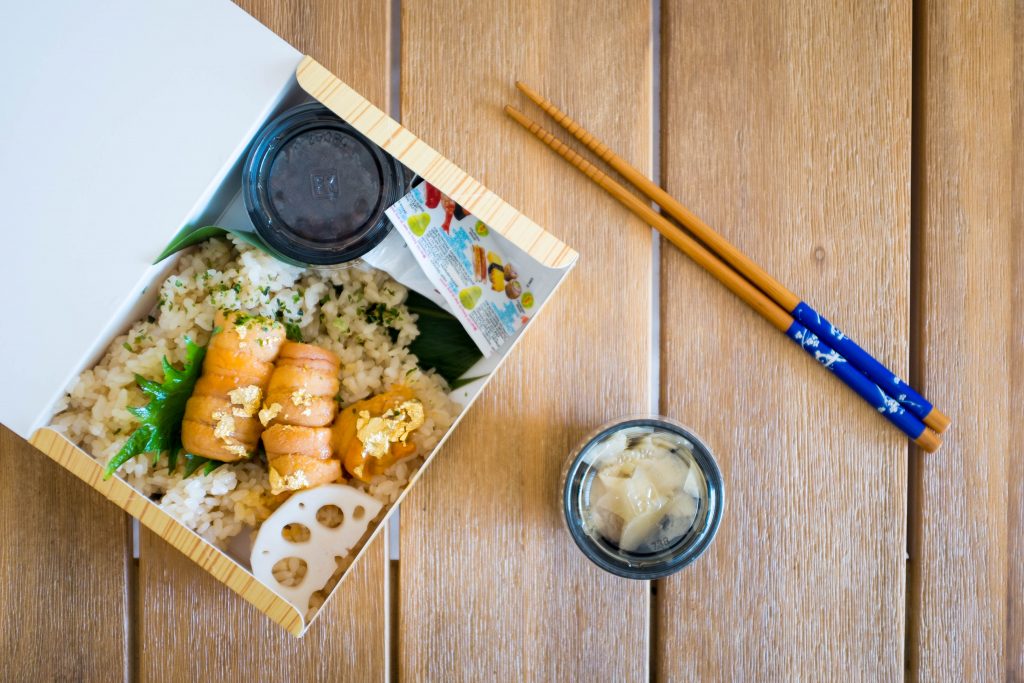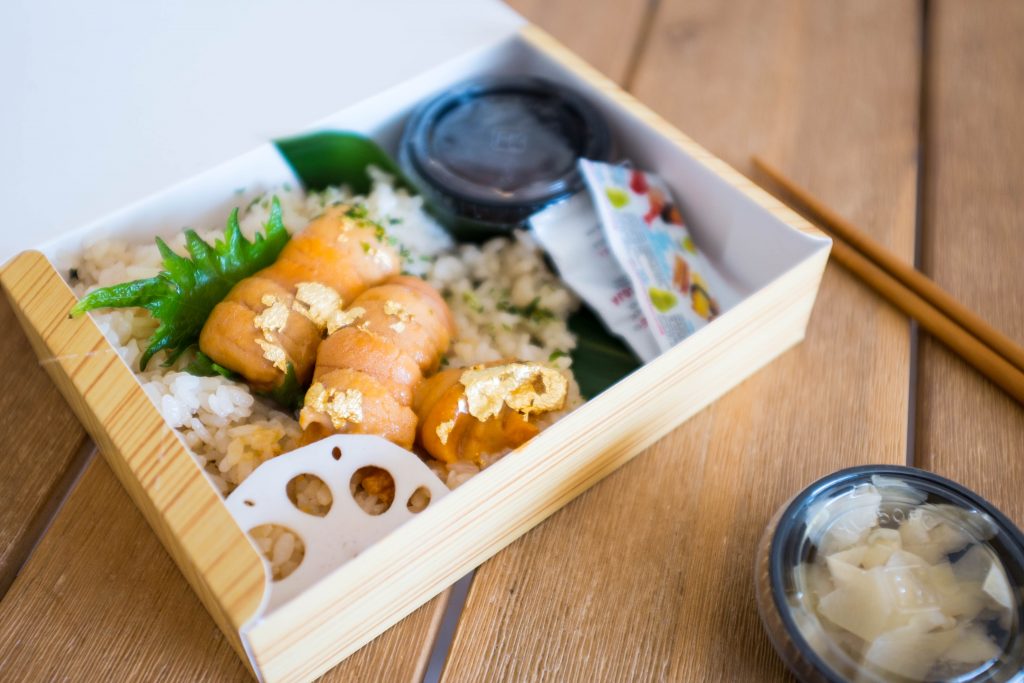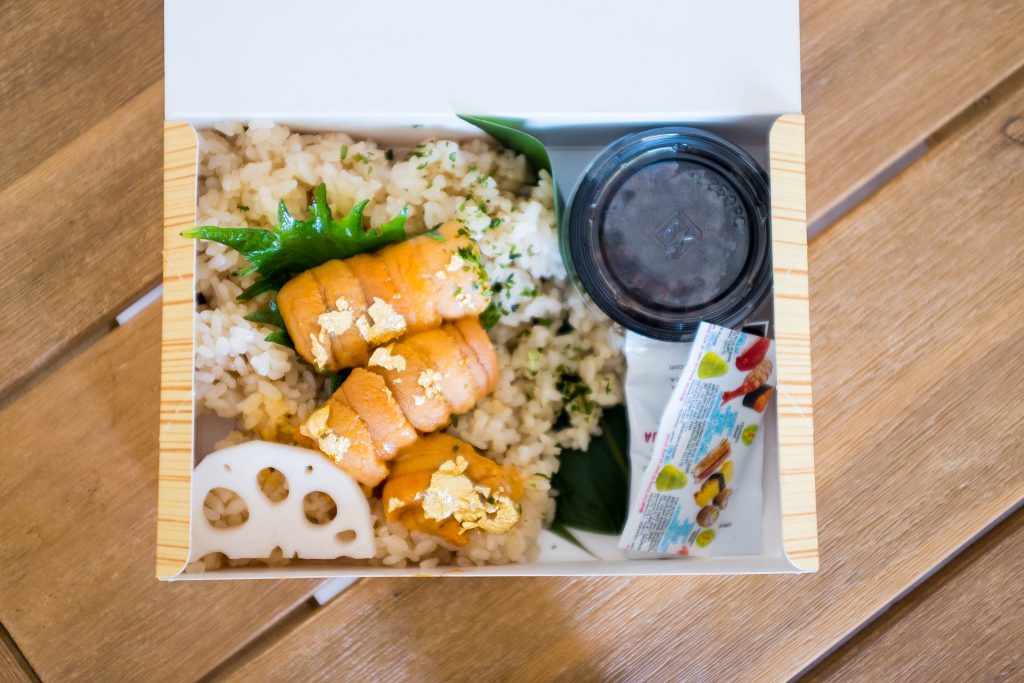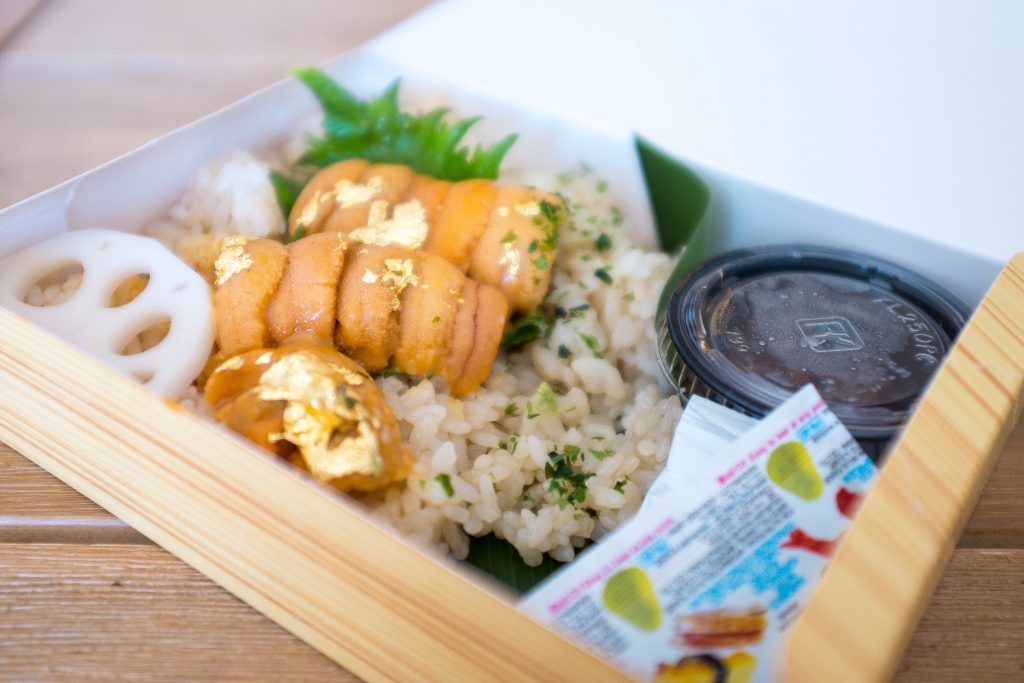 The uni was creamy and sweet, with no hint of the bitterness or briny flavor that I expected. The rice, lightly seasoned with furikake, was also sticky, not soggy. The black container had ikura in it, and I combined a little uni, a little ikura, and a little rice in each bite for a fresh, creamy, textured taste each time. In short, it was positively delightful.
I'll just go out and say that, even though this uni bento knocked my socks off, I'd have to think twice about ordering it again because it costs $52. The amounts of uni included were about enough for 3 sizable pieces of nigiri, and the amount of ikura was about enough for one nigiri. At very high end Japanese restaurants, where ordering nigiri a la carte is permitted after omakase concludes, Hokkaido or Santa Barbara uni (reputed as the best in the world), costs roughly $24 for two pieces. Ikura nigiri costs about $12 for two pieces at high-end sushi joints. So no matter how you calculate this, the maximum this bento should have cost, if it was from a Michelin-grade restaurant, is $42, 20% less than what Oma sells the box for. Given the fact that there aren't a lot of fresh sushi options to choose from during the pandemic, and the fact that sourcing is more difficult, there might be additional factors driving the cost up.
In conclusion, I'll say that, if price weren't a factor, I'd willingly splurge on this bento at least once a week. It hits my craving for top-grade sushi with creamy uni and fresh, sweet ikura, and if quarantine lasts too long, I might have to make another stroll across the street to Oma for another uni bento.